Very big and exciting news LifeStyle readers! We've got a podcast event in the Little Museum of Dublin on Thursday March 8th to celebrate International Women's Day.
Our very own Taragh Loughrey-Grant will be hosting an incredible panel of women including comedian Katherine lynch, Women's Aid director Margaret Martin and Psychotherapist Siobhan Murray.
The event will be recorded for a special podcast programme as part of The Hourglass series and will be broadcast on RTÉ Radio 1Extra's The LifeStyle Show. Tickets, which are now sold out, were just €5, with all profits going to Women's Aid. Plus, we'll have free refreshments and treats on the night! 
The lovely Katherine joined Brenda Donohue on RTÉ Radio 1's The Ray D'Arcy Show yesterday afternoon to chat all about it. Listen to the interview in full above.
"It's fantastic, it's going to be a great event. It's going to be RTÉ's Taragh Loughrey-Grant who's going to interview us all and we're going to be joined by Margaret Martin - she's the director of Women's Aid - and Siobhan Murray who is a Psychotherapist and Life Coach. And myself, Katherine Lynch.
"So we really are looking forward to it."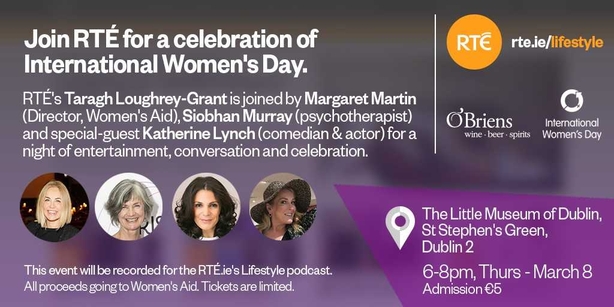 "It's going to be a celebration of women and I suppose, you know us, women, we're unstoppable once we realise that we deserve better."
"I'm going to be talking about positive stuff - the whole theme is 'Press for Progress' and in my opinion, I think we've progressed a lot.
"International Women's Day was originally... it's very first day was in New York in 1909, would you believe? And at that stage, [...] they thought that it would take about 100 years for equality to happen. Now, there is a problem, they think for global equality, it's going to take another 200 years for men and women to be equal.
"Of course there are all sorts of gorgeous men out there that I love and it's not about having power over men, it's about having power over yourself."
Speaking of her own career, Katherine insists that the comedy scene has come a long way for women.
"Comedy especially. I mean there are so many people that you can celebrate on International Women's Day, you know? 
"Apart from all the women that we love from Katie Taylor to [Independent TD] Katherine Zappone, in my world, we have everyone from Alison Spittle and now we have Derry Girls happening and we have Sharon Horgan and Deirdre O'Kane who is quick-witted - and quick-stepped now."
For women in entertainment and comedy, Katherine believes that we are in a golden age thanks to those who came before us.
"I think it is quite a golden age but you still had the heroes to look back on. We have Maureen Potter to look back on, we have Rose Linehan who is one of my favourite comedians."
Alison Spittle, Jennifer Maguire, and indeed, Katherine herself have all had their own shows on television but the comedian was quick to point out that it wasn't always easy.
"There was a lot of negativity even when I started. Twitter was a terrible cesspool when it started first."
"It was the first time that the regular Joe Soap could come in and make a comment on a female [online] and that was tough because there was a lot of 'get that silly cow off the telly' blah blah blah"
At the same time, the actress admits that she has always been surrounded by supportive men - especially thanks to her connections with the LGBTQ scene.
"I have to say that, maybe because I came from the gay scene, I've always had the support of good men around me and I come from a lovely family of good men.
"So I never had to deal with massive inequality but that doesn't mean that other's have had not to and I'm willing to fight for them."
Listen to the full interview on RTÉ Radio 1 above and get your tickets for International Women's Day here.