Social media influencer James Patrice shares his Toy Show traditions, Christmas day plans and style tips for the holiday season.
The Late Late Toy Show has become a monumental occasion in Irish culture. As soon as Tubridy dons a Christmas jumper, we know its time to whip up some hot chocolate, get into our jammies and start writing our letters to Santa.
We caught up with the Snapchat star to find out how he would be watching the Toy Show.
"So I had quite the Toy Show routine when I was younger, we watched it every year - me and my sister and my mum and dad at home - and we all still do it, we all get our matching pajamas."
"I'm really looking forward to the Toy Show now, it's great every year, it really is, so many memories and I'm twenty-eight and I'm still doing it in the pajamas so there you go," he continued.
We need your consent to load this Instagram contentWe use Instagram to manage extra content that can set cookies on your device and collect data about your activity. Please review their details and accept them to load the content.Manage Preferences
As a Celeb OT leader, James says he  will try to stick to a his healthy eating plan for as long as possible but when it comes to Christmas day, all bets are off.
"I've a bit of weight gone off me now so I can't too mad but Christmas day - anything goes. I want to wake up Stephens Day and not be able to move and lie there, in maybe new pyjamas, you know? I'm very excited for that and it's a great time to sit at home, relax and do nothing."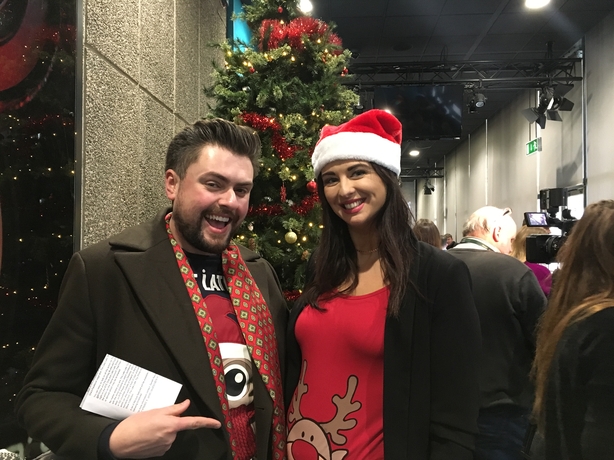 The very fashionable James gave us some top style tips for men this holiday season. 
"Christmas day, personally, I wouldn't be doing the Christmas jumper.
"I think the Christmas jumper is great for the lead up to it and there's loads on the high street now, loads of different options like with pugs on them, there's glitzy bits - I always go for the glitzy bits, I wonder why - and then Christmas day itself I try to keep it simple.
"I go for a little bit of opulence so I love black skinny jeans, black T or a crisp white shirt and a velvet blazer. You can't go wrong and there's loads around at the moment."
We need your consent to load this Instagram contentWe use Instagram to manage extra content that can set cookies on your device and collect data about your activity. Please review their details and accept them to load the content.Manage Preferences