Despite being Star Baker last week, talented Stacey Hart is the latest evictee from this year's Great British Bake Off after a 'disaster' in pastry week.
The semi-final took place last night and the former teacher struggled with the choux bun task when she ran out of time and couldn't decorate her creation.
Gotta love these two:
The stress of watching Bake Off 🙈 #PatisserieWeek #GBBO pic.twitter.com/f1mXKR3APG

— British Bake Off (@BritishBakeOff) October 24, 2017
The mum of three summed up events: "I was just setting myself up for disaster."
Stacey tying to get the egg moulds out 😂  #GBBO pic.twitter.com/MYWNBdsD9t

— Heidi 🌊 (@littlelattelib) October 24, 2017
Something that has come as a bit of a surprise to fans of the show, and of Stacey, is that she is married to multi-millionaire James who, along with two colleagues, founded Asos in 2000. According to The Mirror they sold their shares for a reported £50 million in 2012.

Stacey and James now run another company, the childrens clothing and products site, kidly.co.uk 
Poor Stacey tweeted...
Not meant to be 😢 but ⭐ Baker, 2 Technical wins, 2 handshakes, that broken oven & left-in parchment, I loved it all! Thx for having me #GBBO pic.twitter.com/zEbajOe4CI

— Stacey Hart (@Staceydeehart) October 24, 2017
The family of five live in £6 million mansion in Hertfordshire in Southern UK and speaking about returning home Stacey said: "Going back to being a full-time mum to three boys was actually quite nice.
"I thought at the end of my time in the tent I wouldn't bake for a while, but I did the very next day and I haven't stopped since.
"My sons love my glittery biscuits, marshmallow cookies, brownies — they love it all."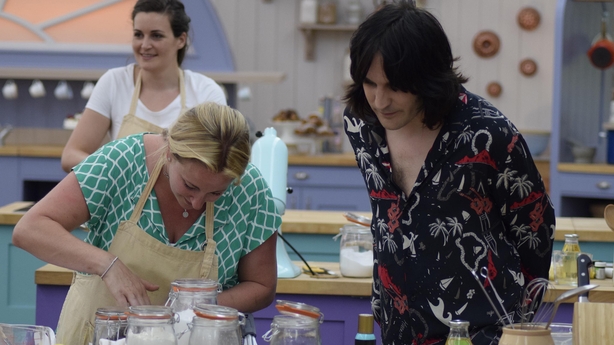 Back biting back lash:
Seems a lot of people were happy to see Stacey go:
Scenes in living rooms around the UK as they announce Stacey is going home #GBBO pic.twitter.com/PDxZSCyWfB

— Laura Alice (@laura_alice24) October 24, 2017
 And this one...
Me when When they said Stacey on #gbbo pic.twitter.com/NR3YlvJnVL

— Kian fell (@kian_fell) October 24, 2017
Another...
But then we started to see a bit of balance...at least we hope that this is sarcasm in Stacey's favour
The whole country when Stacey left #GBBO pic.twitter.com/JQKNZopVFF

— mayalaoxxx (@mayalaoxxx) October 24, 2017
I think it's truly beautiful how everyone has come together to just purely hate on every single thing Stacy does #GBBO

— Sophie Mason 🎃 (@SophieMason_95) October 24, 2017
 

Warning...a classy one!
Sometimes its tempting to get involved with slagging on social around fab shows like Great British Bake Off but the reality is that you're still speaking in a public forum. With that in mind...we liked this one: -
Those being unkind to someone you've seen on an edited TV show remember 2 things, you don't actually know them & your words are public #GBBO

— Kate Bottley (@revkatebottley) October 24, 2017
Star Baker
Sophie Faldo was crowned the winner of last night's episode, putting her in the lead heading into next week's finale.
The Grand Finale
Kate Lyon, 29, Steven Carter-Bailey, 34, of Herts, and Sophie Faldo, 34, will join hosts Noel Fielding and Sandi Toksvig for the big event next Tuesday evening.