"Left long enough, you will become paralyzed": The words that Ronan Collins was left to ponder as he lay in Beaumont Hospital.
Just as he was about to go on stage in Trim, Ronan's right leg went from under him. He was quickly brought to hospital where the neuro-trauma team scanned his body and discovered that he was in need of emergency surgery.
"Quite frankly, I'm terrified," he said as he awaited the results of tests that would reveal a cyst sitting on his spinal chord.
Ronan's ordeal was captured on camera for RTÉ2's four-part documentary series, Trauma. A show that follows the high pressured world of the medical emergency in Ireland. Unfortunately, Ronan just happened to fall ill and arrive in Beaumont for emergency treatment, when the crew were there.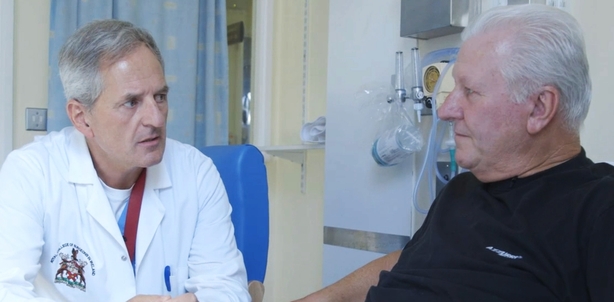 During the programme, the radio personality was determinedly hopeful despite his diagnosis.
"I'm a little bit maudlin and sentimental and I don't want to be teary-eyed about it, I've got a chance here".
Speaking to Ryan on The Late Late Show, Ronan praised the hospital staff for their positivity and professionalism.
"It was all pretty positive because you're surrounded by very positive people."
"There's no point in giving into it [fear]. I'm surrounded by positive people and they reckon they can do something with it."
From surgeons to nurses and intensive care specialists to patients - Trauma will bring viewers an inside look at cardiac and spinal trauma in The Mater Hospital, neuro-trauma in Beaumont Hospital; emergency care in St. Vincent's Hospital and orthopaedic trauma and emergency in the Adelaide and Meath (Tallaght) Hospital.
Don't miss the first episode of Trauma tonight on RTÉ2 at 9:30pm.