Singer Kayleigh Cullinan lost an impressive amount of weight on last night's episode of Celebrity Operation Transformation. We chatted to the singer about her new lifestyle, mental health, and motivations.

You lost the most out of everyone this week, how do you feel?
"It's amazing, I have to say. I was a little bit concerned going into the weigh in just because I didn't feel like I had lost a huge amount of weight so going in and being told that I had lost five and a half pounds was ridiculous but I'm delighted"
"I'm not really the competitive type so it was nice to lose the most but I was very proud of the rest for losing what they did."
Karl taught you some great breathing tips this week. Do you use these for your anxiety or for working out or both?
"I think it was helpful for both.

"I do suffer quite badly with my anxiety but I thought I was getting a wrap on it but then I've noticed when I'm working out that it's an awful lot easier"

"... when I first started working out, I had a tendency to panic an awful lot if I was getting sore or too out of breath"
"I think just being taught how to breathe in those types of situations has really helped."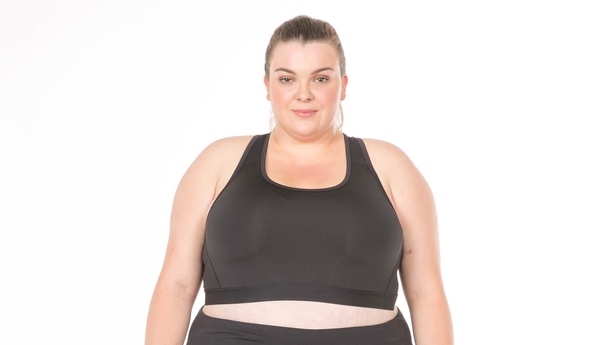 Have you found Karl and the other experts helpful on your journey so far?
"They're great, I mean they're a great support for us all. I mean, they really are at the end of the phone and you know if you need anything from any of them, they're always there.
"I find them great, I have yet to have a fall out with any of them".
Dr. Moyna told you some worrying facts about your health and BMI last week. Did that motivate you to work a little harder this week?
"Well, I actually hadn't really heard of BMIs and stuff like that before.

"Hearing that my body fat was 45% was incredible to me. I just didn't realise it had been that bad, I knew it was bad, but I didn't realise it was that bad."
"That's what I motivate myself off now, I really want to get that BMI down and I really want to get myself healthy and happy I suppose. I'm happy with my weight, but more so happy with my help."
You have a lot coming up - tell me about the new album.
"Yeah I have a new album coming out, it's in the process of being launched at the moment so we kind of have a huge amount going on in the next couple of weeks, just getting ready to go out and tour with this and do a full radio tour hopefully in October and just get ready with that.
"I mean it's the perfect time for me to get healthy and lose weight, I mean I have so much coming up in the next couple of months."
Missed last night's Celebrity Operation Transformation? Catch up on the RTÉ Player.
Want to join the leaders to follow their plan or find out more about Celebrity Operation Transformation, click here.