It's autumn, which means the return of The Late Late Show this week. The chat-show – now in its 56th season – is helmed for the ninth year by Ryan Tubridy, who talks to Darragh McManus about telly, politics and difficult guests.
Is it true that there are some changes to The Late Late Show format this season?
There are. I often look at the Late Late as being like a band and their albums: you have your debut, that went quite well, then some good seasons, some not so good. Now we have what I'd call a rejuvenated look.
A few people I've worked with down the years are on it as producers, both on radio and television, so they know me very well. They know where I'm coming from. As soon as I walked into our first meeting for the new season, I got a good feeling. We're in business with this team, no doubt about it.
Do you think about what you're going to do on the show in very broad terms?
Right now, it's broad. We're in a situation of change at the moment, around the world, so there's a lot to talk about. I'd love the show to really reflect those changes, as well as the fun stuff, of course, like the Toy Show and the Valentine's special.
I'd like more talk about who we are, where we are, with interesting voices and new faces. We can bring politicians into the mix too, interview them, challenge them. For the last 56 years, people have gone to the Late Late to see what's happening and they still do. These days, everyone's a critic online – and that's fine – but they're still watching.
Audience numbers are healthy, the viewing-share is really strong and would be the envy of many broadcasters. That's all good in terms of event television, which people want to watch live, rather
than catch-up. They're commenting online while watching on TV.
So do you think social media is helping traditional TV?
Yeah, they're complementary. Even if people are tweeting and giving out…they're watching. They're not haters, they're just consumers of television. We all do it, I do it myself; I just don't commit it to my phone! Anyway, people still watch television, they just do it on their phone or laptop. The box in the corner isn't used as much, except for those big news moments, which is where I come in and why I'm excited about the new season.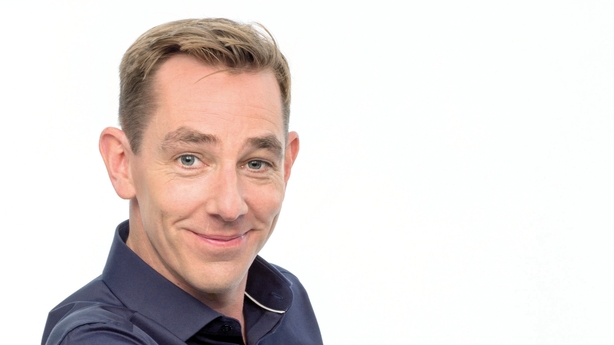 Are you a news junkie?
I love the news. At night, I'm on Fox News and CNN and MSNBC, because the news has become this dystopian drama-slash-entertainment.
I like to read and I watch dramas, but this is really happening and it's like being in a mad science fiction dystopian episode of The West Wing.
It's bonkers and unsettling. I don't think it's as dark as people say, but it's utterly compelling. I've had politics in my life, all my life. I grew up around it, studied it in college, I've been reading the paper since I was a kid. I've the same interest in politics as other people have for sport. 
Consumption of news in Ireland is huge, people are really interested. So we do the news on the Late Late, but different to Prime Time. It's like you get the boardroom discussion there, and we're more of a conversation in the living-room. It's not about nitty-gritty details, we're trying to get to the humanity behind the stories.
Speaking of politics…would you run for office?
What I do for a living, it's really public and I like that. When we go on tour with the radio show, say, I dive right into the crowd and I love that sort of campaigning side of it. I don't know whether that's a political gene or what.
Media is quite political anyway: your face on a poster for the show is like your face on an election leaflet. You're only as good as your last gig and can be turfed out at any point. But running for office myself…that's enormously unlikely.
Do you love broadcasting as much now as when you started?
I'd say I like it more, because I'm confident in my skin now. I've been thinking about this quite a lot recently. In your 20s you're having fun. The next decade, you're fighting to get somewhere: relationships, jobs, houses. It's a scramble, it's tough. By your 40s, you tend to be more reflective, more comfortable…and confident but not cocky, which I was before.
…and more philosophical about things not working out?
Definitely. You develop more empathy too – you've seen things happen. Say, the scourge of suicide: everyone knows someone who's been affected. The Late Late interview that really stood out for me last year was Catherine Corless, the Tuam Babies historian. I couldn't get over it.
I never usually watch interviews back, but with her, I found myself watching Gogglebox, watching people's reactions to watching her. They were so upset by what she said, this extraordinary woman who didn't want to be there but felt the need to explain this awfulness in our history.
I think that's where the Late Late is at it's best; lifting the rock a bit. Campaigning, but not too much in your face. Show, not tell, as they say in Hollywood.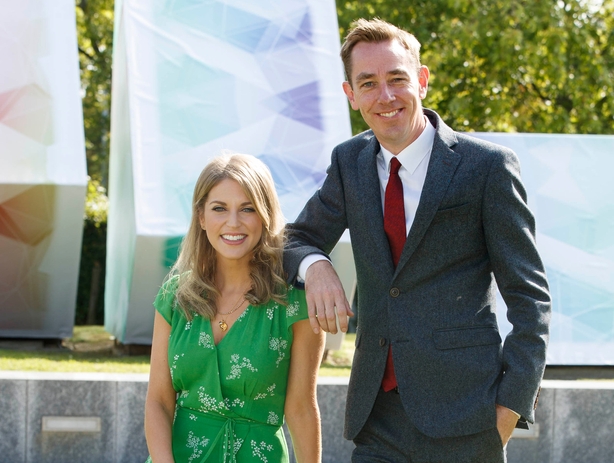 Did you always want to be a broadcaster?
I did. I watched too much television as a kid. TVAM with David Frost and Anna Ford: they'd talk about everything, from Ronald Reagan to Roland Rat, and I found it fascinating. Then, I got older and it was Wogan, Parkinson, shows like that. And the radio was on in every room, all the time.
I was listening to Paddy O'Gorman and Queuing for a Living, how he'd prompt people very gently. It was all about them, not him – that was very instructive. As was Gerry Ryan, in a different way. These were all slow-burning influences. 
Do you feel a responsibility to the Late Late's 56-year legacy?
I felt that weight when I started, but now it feels more like my living-room because I've been there so much. That desk and couch, it's like we're hosting people in our home.
I tell guests it's not an interview, it's a conversation. This is my ninth year and I've become more comfortable with the legacy.
If you see that shadow as too big, you get overly nervous. I still get nerves, but they're channeled into excitement, not fear. Do you sometimes feel like punching difficult guests? Well, the great thing about being live is that you can turn a 15-minute interview into a nine-minute interview! Of course you get difficult situations, although it's rare – usually people are perfectly civil. But if you're getting the sense they don't want
to be there, then we might be saying goodbye early. 
Then, on the other hand, you have those special moments where there's a real connection between you and the guest, the audience, everyone.
Music is a big part too…
I love music and very few programmes still have a live house band. That makes it more interesting. 
I like that little frisson of 'the brakes are cut'. This is live, anything could happen.
This season we're going to mix things up a bit. We're not fi xing it, it's not broken, but we'll have a few surprises. 
Did you get to take time off this summer?
A few weeks. Nice downtime. In the past, I've gone to the UK (working on BBC Radio 2) but I didn't this year or last, so I wasn't working at all. I stopped and drank coffee, read, caught up with people and had a lovely time. 
Do you need to decompress regularly?
Absolutely, you need a break from it all.
When I leave the gate of my house, with phones and everything nowadays, you're being photographed. If you're queueing for more than two minutes, it'll be recorded by someone.
Which is fine, that's part and parcel of the job – it isn't just being on TV from half-nine every Friday.
In the modern world, you're always on. Getting the Dart into town and you'll be approached. In the pub, the airport, wherever, but in fairness, people are fine: you take a photo with them and then go back to what you're doing. If you really want privacy, stay at home. I don't mind once people aren't rude, and they rarely are.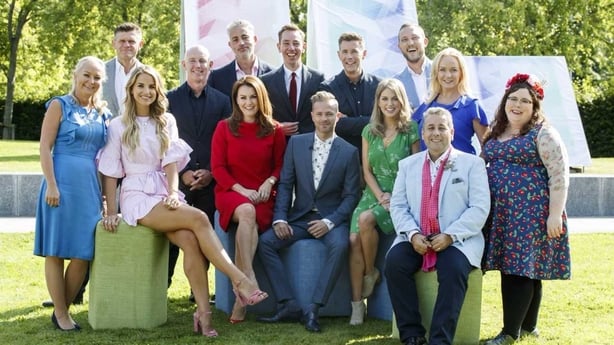 You are a big reader and are constantly pushing books on radio…
Books are my passion, certainly. They were my friends growing up, passports to other worlds. Every book is the wardrobe to Narnia, you know? It's magic. My parents had books everywhere and I was always comforted by the spines, the names: A Clockwork Orange, Jude the Obscure. I knew nothing about the books but those names almost became part of my DNA. When I go on radio, I might mention a book and people would ask about it, or for recommendations. 
But you don't loan books?
I don't like lending books and I don't like borrowing because I have to give them back! I have these magnificent bookshelves and when watching TV, my eyes will often drift over the spines and I'm going, 'Oh yeah, I remember that one and that one..' I love the look of a book-shelf: the spines are like a majestic painting.
The different shapes and colours…for me, a house without books is a house without a soul.
Reading is a real joy. You'll never be sad or lonely once you have books.
Have you ever thought about writing a novel yourself?
I've thought about it – for around 1.2 seconds. I don't have the ability or the story. I'll stick with the kids' books and histories. I'd love to write more of those.
Will you ever go back to Twitter?
No. It's time-consuming and too much of an echo chamber.
My social media now is limited to Instagram, which I joined a few months ago and really enjoy: it's benign, it's pictures.
If I want news, I'll go to news media, rather than finding out third-hand on Facebook or Twitter. Anyway, the best thing about being online is that you can get off-line.
Finally which of the following is the most prestigious honour you've received: having a wax dummy made of yourself, a muppet in your likeness, or a calf named after you?
I'm probably the biggest Muppets fan in Ireland. On the Toy Show, I channel Basil Fawlty, Gene Wilder as Willie Wonka and Kermit the Frog. So I'd say 'muppet' is the answer.
Although Tubridy the Cow was a distinctly Irish honour, and one I won't forget too soon.