In his eighth year as host of the Rose of Tralee, Dáithí Ó Sé says he still has a lot to offer. In this week's RTÉ Guide, the Kerryman chats to Janice Butler about family, fitness and being part of the Rose legacy.
Dáithí admits that each year, the looming Rose of Tralee gives him the motivation he needs to drop a few pounds.
"I've dropped about a stone over about two months. Losing it is the easy part, keeping it off is the hard part. If I'd one drink now it would go straight to my chin," he laughs.
"I've looked in the mirror and I've seen the same thing for 40 years now, so it's not a vanity thing. I just felt fatigued and rubbish so I decided to do something about it.

"That and the fact that I've a three-year-old whose wild as a March hare and I do want to be fit for him. I felt I can't be one of those dads that watches from the sidelines. I want to be in the thick of it with him, for my benefit and for his."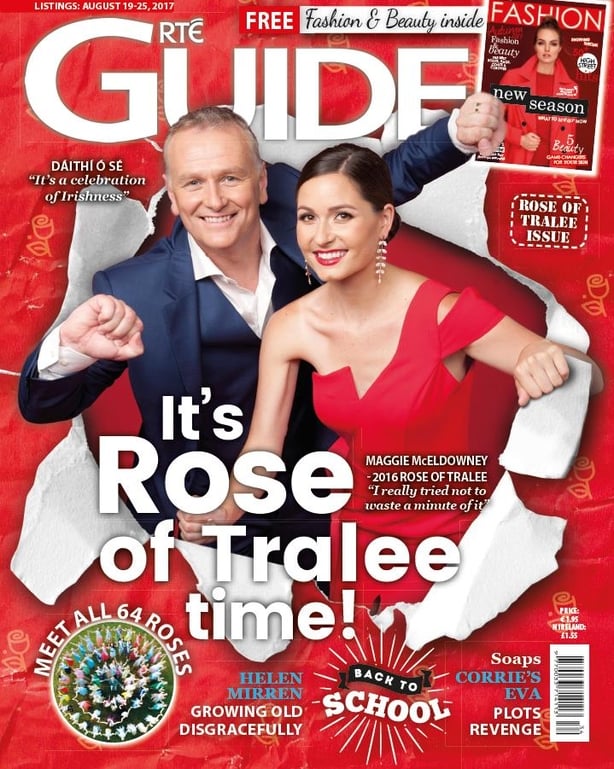 Elsewhere in this week's RTÉ Guide:
Rose of Tralee 2017: This year's crop! Meet all this year's candidates!
Rose of Tralee 2017: Mary Kennedy The Rose judge on what it takes to shine in Tralee
Rose of Tralee 2017: Escort John Slowey What does it take to become an ideal Rose escort? This man certainly knows.
Helen Mirren Donal O'Donoghue meets one of Hollywood's most celebrated actors in Monaco