"My heart is low... My heart is so low..."
To people familiar with Ireland's golden age of female-fronted music, the lyrics above will be instantly recognisable as the opening lines of the title track of the landmark 1992 compilation album, A Woman's Heart.
Although Mary Coughlan, one of Ireland's most formidable singers and activists, did not sing that particular song on the near million-selling album, she was an integral part of the 'Woman's Heart' movement that saw Irish female vocalists come to the fore. "I was singing the blues when I was born," she said today on RTÉ Radio 1.
Only a Woman's Heart, the song which those lyrics open, was performed on the album by Eleanor McEvoy and Mary Black.
At the beginning of September, Coughlan's fiercely loyal fan base saw her post those lyrics on her Facebook page in response to a comment by her friend and namesake, Mary Black.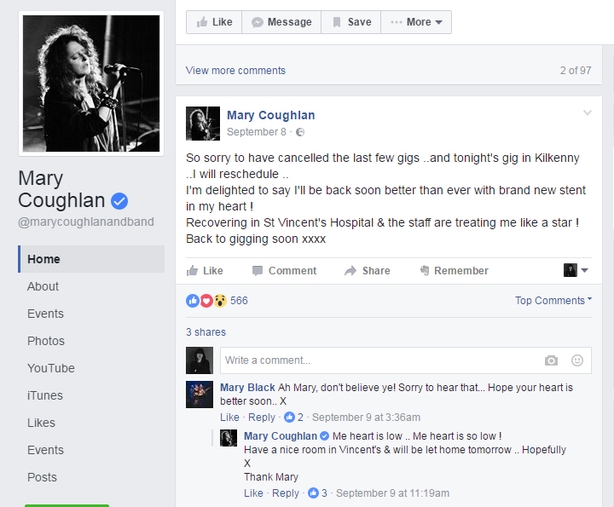 Coughlan had announced that she would be cancelling her upcoming gigs because she needed to have an operation to place a stent in her heart. Mary Black expressed her sympathy and Mary Coughlan, ever the dark humourist, responded with the famous lyrics, ironically used in the literal sense.
"They did an angiogram... he [the cardiologist] told me I had a 99% blockage in one artery, 97% in the other, and I had two blockages in the other one, and you only have three of them running around your heart. So, he said, 'part of your heart would have had little or no blood supply for years. Plaque, he said it was," Coughlan told Ray D'Arcy.
Mary had no idea. "He said I'd dodged a very large bullet – or two," said Mary. On the Saturday night that she was due to perform at Electric Picnic, a gig that she had to cancel, she spoke of how she had been out in the car and returned home with a pain that she described as being "like an elephant standing on your chest."
"I lay down on the floor. I wear a FitBit [a bracelet that measures vital statistics including heart rate] sometimes and my heart rate went from 180 to 100 to 80 to 50... and this pain was unbelievable, and I couldn't breathe."
Mary had a pre-existing respiratory condition as well as high blood pressure, but "nobody joined the dots," she said.
Mary Coughlan is no stranger to pain, both physical and emotional. In 1994 she went into rehab in Dublin and, with her family's support, defeated her alcoholism. But the anxiety she felt over her health this time around was all-encompassing.
"I knew something was wrong. I thought I was becoming a hypochondriac. I was terrified of being 60," said the singer, who reached that milestone last May.
"I was terrified of going to sleep; I wouldn't sleep on my left hand side because I could hear my heart pounding in my ear; I would set my phone to wake me up every hour in case I died in the middle of the night."
"The doctor said I had anxiety and she wanted to prescribe medication for me. I knew; imagine setting your clock to wake you every hour!"
Women experience heart problems in very different ways to men. Men typically experience the classic, movie-like tightening in the chest and pain down the right arm, whereas women can experience a number of varying symptoms including pain in the jaw, stomach pain, fatigue and hot flushes.
"When I used to go for a walk I would put on this really tight vest," said Mary, "because I used to feel that my heart was going to fall out of my chest. The thumping used to be so bad that I reckoned if I put on this vest... I mean, what was I thinking?!"
For years, Mary cancelled gigs and didn't turn up to gigs because she was drunk. In one case, The Rolling Stones were in the audience waiting to hear her – she never showed up. "I hate cancelling gigs now because I'm afraid people will think I've fallen off the wagon," said the singer, who has been sober for over 20 years.
"I didn't think I had a heart problem because my cholesterol was OK. And I would have gone by that," said Mary, before encouraging women to educate themselves on the signs and symptoms of heart disease.
Listen to the full interview between Mary Coughlan and Ray D'Arcy here:
We need your consent to load this SoundCloud contentWe use SoundCloud to manage extra content that can set cookies on your device and collect data about your activity. Please review their details and accept them to load the content.Manage Preferences