"Every year you get a different presenter," says Ryan Tubridy of The Late Late Show. For a second, I wonder if the real Ryan Tubridy is about to stand up, or sit down or maybe put his left foot on the red Twister circle and his right hand on the blue circle? He clarifies: "It's the same guy but he changes and age is the big thing. Age changes you for so many reasons and in so many ways. It changes perception, it changes attitude, it changes your approach to work and to life and to family and to everything. There was a time when I was younger than most of the guests. Now I'm the older lemon to some of them."
Mr. T has dropped by just after his cover shoot; hair ruffled and toting a motorcycle helmet (he drove to RTÉ on his 'fair-weather' transport, a Vespa scooter). Now 43, the man who was once known as a young fogey, has grown up to look, in a certain light, like a naughty schoolboy. What age does he feel? "Hmm" he says and answers with an anecdote. Last week, he was in a coffee shop with his eldest daughter, Ella (17) when he spotted some marshmallows. Nothing else in this world would do but to have one. So he did. "Afterwards, Ella asked me: 'What age are you?' and I said, 'I think I'm nine' and she said, 'No dad, you're four.'"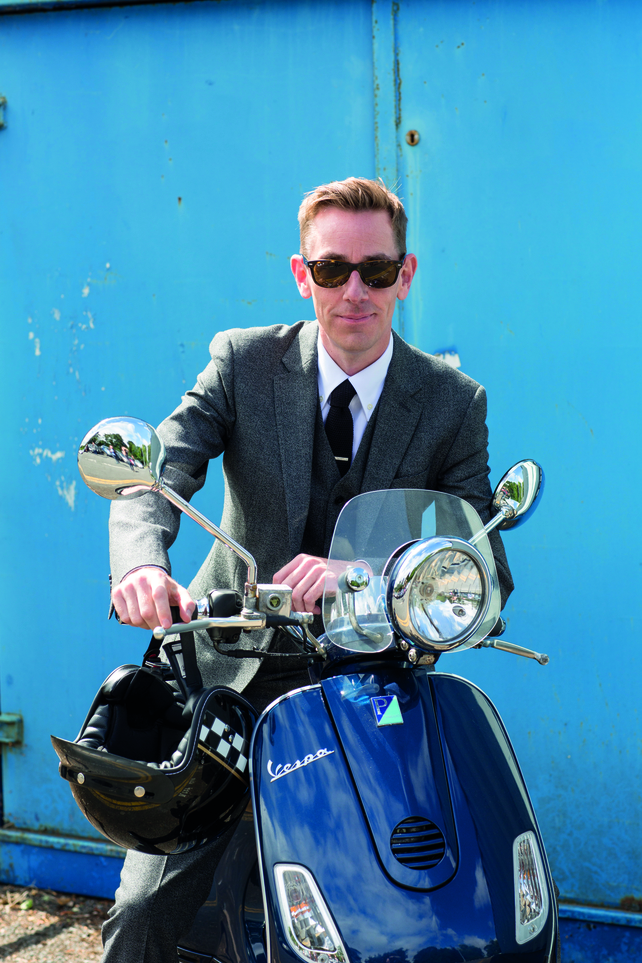 Young at heart and curiouser than Curious George, Tubridy's return to radio after his summer break was greeted by one reviewer's opinion that the broadcaster is now 'less hesitant to let out his inner brat'. He nods and smiles. "My inner brat is something that many people don't see on air but lots of my colleagues, family and friends would know," he says. "On TV, you're limited because people would just think you're a goofball, whereas in real life people just have to tolerate that because they are stuck with you. But I have found that since I came back to Radio 1, I have more confidence to speak my mind and have an opinion and comment on things." Older, wiser and definitely more reflective, Tubridy is a man assessing his place in the world, a mid-life crisis of sorts maybe, although he's cagey with it. "I'm now at the age that men of my generation have become Taoisigh or presidents or so on," he says.
"What am I doing? I'm presenting a TV and radio show in Ireland, which I adore doing, but now I think, 'You're of an age now that you are entitled to have an opinion and share it and have it disagreed with or agreed with. But I don't want to be beige or vanilla. I think that broadcasting is always in danger of becoming sanitised and that's boring".
For years, there has been speculation, stoked by the media and deflected by the broadcaster, of an imminent move to London and the BBC. It was not an unlikely scenario as Tubridy worked for a few weeks each summer filling in for Chris Evans, the late Terry Wogan and others on BBC Radio 2. But for the past two years he has stayed put. "I was invited to do something for (the BBC) but felt, much like last year, that I have made my bed in this country and with RTÉ and I don't feel the need to be anywhere else," he says. "I have got my commitments here and family is the main thing. The past two summers I have been hanging out with the girls. Now I have a Leaving Certifi cate coming up in September with Ella."
Ryan's daughters, Ella (17) and Julia (11), as he has often put it, are what keep him on the sunny side of the street.
"Best thing in my whole life, no doubt about it," he affirms. "I love hanging out with them.
They are great fun, much more entertaining than adults, and much less impressed by stuff. They like to play boardgames and jigsaws. That makes them sound like 19th-Century kids but that's my fault. I like books and boardgames and when parents ask me, 'How do you encourage children to read?' I say that Hansel and Gretel is the answer. If you leave books and board games, like breadcrumbs, dotted around the house, it will lead to a whole new adventure. Some day it will be raining and they will wonder 'What is this?' and it will be Cluedo."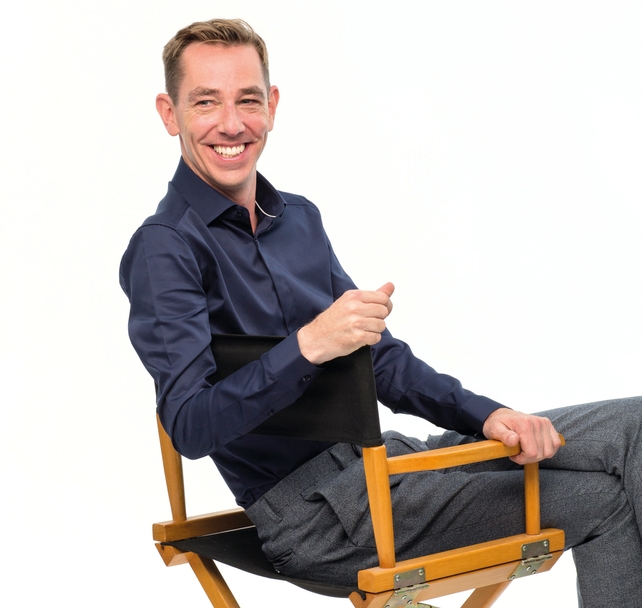 Indeed, books are where it all started for the fledgling broadcaster. He was 12 when he reviewed books on the RTÉ show, Poparama, and the rest is Google history. He remains passionate about print. "On my holidays I read Famine by Liam O'Flaherty and The Silent People by Walter Macken. I found them in my mother's house, but had never read them. I was obviously a very pretentious child. I had written on the O'Flaherty book: 'Ryan Tubridy, 31/1/87." He still writes his name, date and place of purchase on books.
"I often find my dad's books and he would do the same thing: 'Pat Tubridy, 1967' and I'd have a moment. So I'm hoping that when my girls are in their 40s they'll see my books and maybe think "what an eejit writing his name in the books,' but also have a moment."
Ryan says he still has those occasional moments remembering his late father. "I think of that Patrick Kavanagh line, 'Every old man I see reminds me of my father', a lot, because firstly, I love Kavanagh and secondly, I sometimes see men of a certain vintage wearing a jumper or a hat or a coat that my dad would have worn and I stop and look and think and then move on. You can't be too wistful, though, because if you spend your life being wistful you could get quite low." Does he ever get low? "I don't get impossibly low," he says. "I have a fairly sunny disposition but not unquestioning. I will always see a curling lip of humour even in the darkest places, always. You have to because you'd go bonkers if you didn't."
Nerves rarely affect him except when he's about to step into the spotlight. "I get nervous going onto the show and I say that to the guests, particularly ones who are doing what we call the human interest story. I tell them you're not really meant to be on television because your story is a terribly sad story and you must understand that I'm nervous too, but I'm going to protect you tonight out in that strange goldfish bowl and I'll look after you. But I'm nervous and at about ten past nine every Friday night I tend to gulp and think, 'Jaysus this is a big gig'. I never go out there with a swagger. I go out there with confidence based on the hope I'll get it right this time."
So far, so good, with the show regularly sitting in the number one TV spot: but where do you go after you get to the top in broadcasting in this country? "You try and make it better," says the natural-born politician. "I wouldn't have an eye over my shoulder wondering where to go next. I don't think that I have peaked on The Late Late Show." So if he had Ryan Tubridy as a guest on The Late Late Show what would he ask him? "What are you reading? Or you're weirder looking in real life! But what would I ask?" He pauses, momentarily lost for words. "That's a very peculiar question. I don't know what I'd ask myself because I'm not that interested in me as a story."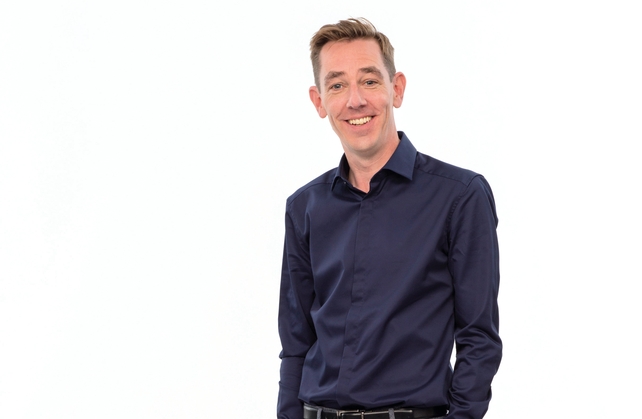 Other people are, though: interested that he sold his big house (he recently moved into a "perfectly sized home"), that he once dated a Rose of Tralee and is now rumoured to be seeing X or Y or Z. Despite the rumours, he says he is still very much single. Would he like to be in a relationship? "Can I just say to you I'm doing my own thing?" he says. "I'm getting on with things and I have a very decent life and I'm not rushing around looking for anything." That the life and loves of Ryan have long been picked over with a fine toothcomb is something he doesn't understand. "I don't have an awful lot to say about myself personally. You can watch the TV show and listen to the radio show and does it really matter what happens beyond that?"
I ask him about ambitions and he plays it down the line. "I have two dream jobs on TV and radio," he says. "The next thing is that I have this children's book coming out in March with illustrations by PJ Lynch. I don't think I have seen pictures as beautiful in my whole life. The book is called Patrick and the President and it is nearly done and dusted. All I have left to do is the dedication: the icing on the cake." Did his daughters help when he was writing it? "They would have been editors of sorts from the kitchen table," he says, adding that he'd like to write some more children's books. "When I get passionate about something I want to do something on it or about it. When that passion starts to wane I'm in trouble."
He leaves shortly afterwards, helmet in hands, bike jacket pulled on and gunning for a new season of his TV show. If age is weighing more heavily and ambition is a niggle, he doesn't let it weigh on his shoulders. With Ella beginning her Leaving Certificate, he's already thinking about her leaving home. "She is going to be 18 and going to university," he says wistfully. "But I think I will be fortunate because I don't think she will go that far away. And Julia is only 11, so I have money in the bank there as she will be with me for a while yet." Top of the broadcasting heap, a book due for publication next year and back with the biggest TV show in the land, things are looking good for Ryan Tubridy, whatever age he feels.
For more articles like this head over to RTÉ LifeStyle - Living.