Suzanne Leyden, qualified nutrition, health and wellness coach and owner of The WellNow Co. outlines what's in season this month and highlights some healthy, simple and delicious recipes.
We are coming out of what's known as the hungry gap, the time between growing seasons. We are beginning to see more fruit and veg available to us now and it will keep increasing over the summer months.
I am definitely not a veg grower. Although, I have dabbled in the garden over the years with varying degrees of success. Using Bord Bia's resources to examine what's in season, this series takes a look at the highlights. It might also include what's coming into season and what's trailing out of season.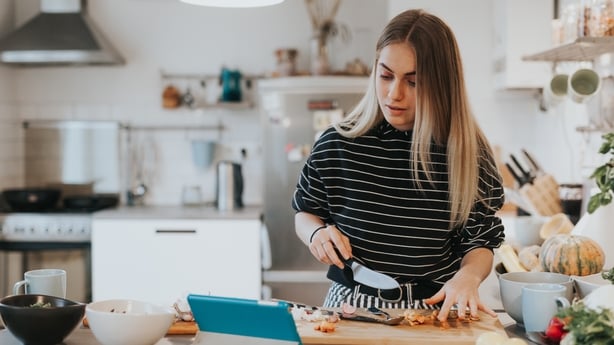 This series is about what we might find in the shops, grown by Irish commercial farmers. So, from year to year this may vary a little. It also might vary from what can be grown in my back garden, or even a small holding.
From a health coaching perspective, the main focus of this series is to increase our awareness and encourage consuming more vegetables and fruit. Checking and drawing awareness to where they are grown when we buy them is also an important aspect of shopping.
Consuming more of a plant based diet is about both our personal health and wellbeing and also about thinking more sustainably when we shop, cook and eat. And then of course we pair the particular month's line-up with some inspiring archive recipes from equally impressive chefs.
So, what is in season this month in Ireland?
Apples - cooking (out of storage from last year's crop)
Butterhead Lettuce
Cabbage
Cucumber
Mushrooms
Peppers
Rhubarb
Scallions
Strawberries
Tomatoes
Mushrooms
Savoury Oats with mushrooms and eggs. This definitely sounds like one to try. I'm always looking for savoury breakfast options and I'm possibly the biggest fan of oats. Mushrooms have quite a high protein value and depending on the variety can be high in iron and selenium as well as other vitamins and minerals.
Savoury oats with mushrooms and eggs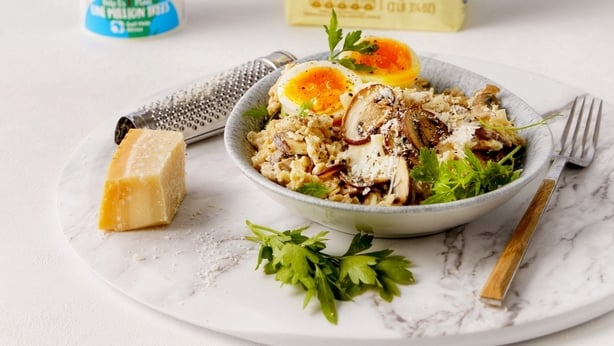 Butterhead Lettuce
This salmon egg salad with capers from Operation Transformation is simple yet packs a punch. Butterhead lettuce is a good source of fibre and is rich in vitamin A and folic acid. It also contains calcium, iron, potassium and a range of phytonutrients.
Salmon & egg salad with capers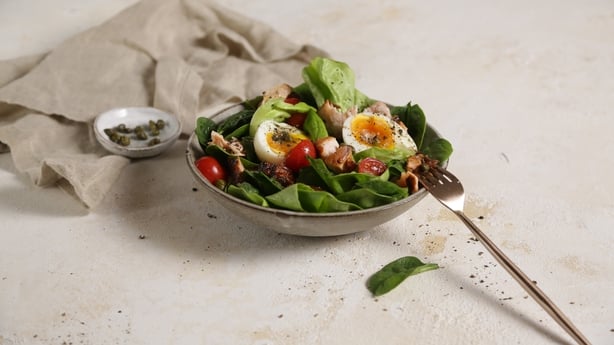 Cucumbers
Kevin Dundon's Cucumber Vegetable rolls sound perfect to liven up your lunchbox. Cucumbers are low in nutrients, and have almost no calories. Their seeds are high in vitamin E and they contain some vitamins A and C in addition to a variety of phytonutrients.
Kevin's cucumber vegetable rolls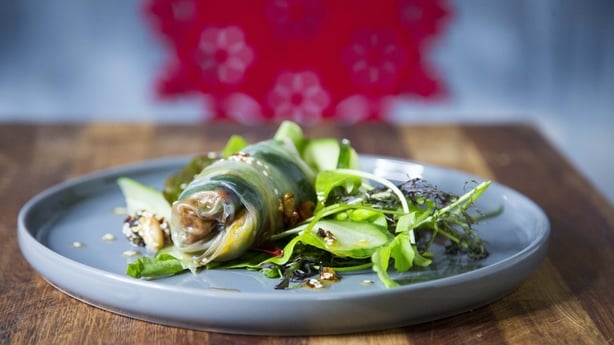 Overall approach
Aiming to eat as broad a variety as possible of fruit and veg is beneficial to your overall health. It's important to be aware of what's in season so your choices when shopping reflect your support for shopping sustainably. Always check where your fresh produce have been grown and aim to support Irish growers and businesses whenever you can.