It's the summer of the 'laethanta here-a', and if my Instagram feed is to be believed, the entire country has headed to the gorgeous peninsula of Dingle.
I was lucky enough to live there for a time and never tired of visiting the many delicious restaurants the town has to offer. If you are heading that direction this summer, here are some of my favourite spots to visit.
Mex-West
The newest addition to the Dingle food scene is the food truck serving 'Mexican Food, West Kerry Style'. Located in the yard of Paddy Bawn Brosnan's pub, the enticing menu includes a selection of tacos, quesadillas, and tostadas.
Tacos include grilled prawn, with wilted cos, charred pineapple and jalapeno tartare and the tostadas are made with local Bacús sourdough.
The food truck is run by local star Louise Brosnan, whose food has always been something special, and this is her first solo venture. Bawns have one of the best beer gardens* in town so get yourself a Dick Mack's pale ale, some tacos and enjoy.
Solas Tapas and Wine
Just across the road from Bawns and Mex-West is Solas, run by chef Nicky Foley. If you ask anyone for a recommendation on where to eat in Dingle, you can be sure that tapas restaurant Solas will be high on the list. Chef Nicky uses the best of local ingredients, including some he'll have foraged himself, and his flavour combinations are out of this world.
The menu changes regularly but favourites include the tomato confit, chorizo and manchego croquettes served with a paprika and hazelnut aioli, and octopus carpaccio with shellfish aioli, soya and mirin.
It's closed for a few weeks but they'll be reopening early September with some new dishes and wines. It's a small space so booking ahead is strongly advised. If you want to treat someone to a night on the town, this is the place.
Danno's
You could almost miss Danno's on Strand Street so be sure to keep an eye out for the arched blue gates as you walk out of town towards the harbour. It's both a bar and a restaurant, which makes it the perfect casual dining experience for a night out with friends, especially if you manage to snag a seat outdoors.
While it may be a more relaxed ambiance, however, Danno O'Keeffe's standards are anything but. This is a man who knows what he's doing in the kitchen, using only the best of local ingredients. His burgers and steaks are up there but it's the prawns and crab that keep me coming back.
Do yourself a favour and order the Dingle Bay scampi but be sure your dinner date gets the mussels in white wine and garlic cream sauce (sharing is caring after all). To end the night, if the weather allows it, pop across the road for a walk along the harbour.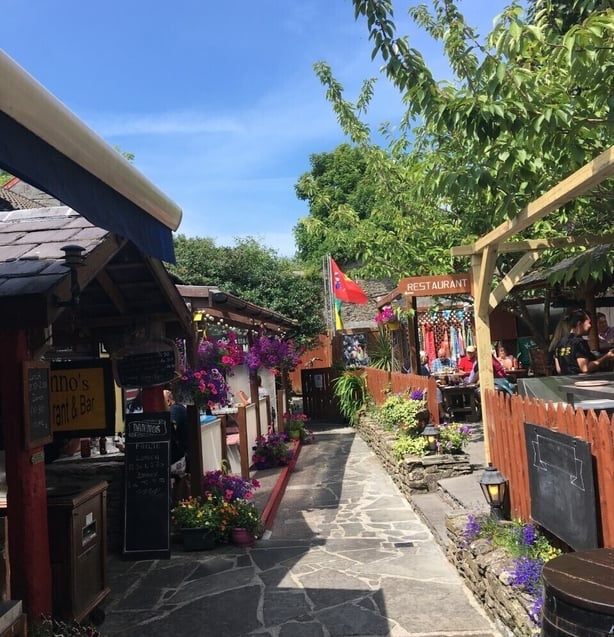 The Fish Box
This aptly named restaurant is a family run business serving seriously fresh fish. The seafood is supplied by Patrick Flannery, who is the skipper of the Cú na Mara trawler, with mum Deirdre as the main chef in the kitchen and brother Mícheal and sister Eimear running front of house.
Expect your regular seafood fare such as chowder and fish and chips, along with more unusual specials like a Monkfish Spice Box and the Fishito Bowl of paprika breaded prawns with pinto beans, guac and rice.
You can eat in or take away from this tasty spot but, either way, the extensive menu is sure to keep the whole family happy.
Doyle's
Doyle's has always been one of my favourite places to eat in Dingle. The menu has recently changed its focus to small plates so if, like me, you always want to taste a bit of everything on the menu, now you can!
Having trained in some of the best restaurants in Ireland and Europe, chef and proprietor Sean Roche creates an array of modern dishes with global influences from Ireland, Europe and Asia.
This is the perfect spot for a birthday treat or special occasion and I would highly recommend ordering the duck spring roll, Ventry Bay lobster and slow-braised beef but, admitedly, it's hard to go past old favourites like the seafood linguine and seafood risotto.
Thyme Out
This gem is hidden away in a cute whitewashed building on Dykegate Lane. It is home to a plant-based kitchen offering delicious vegetarian and vegan food and is a great spot for a late breakfast or wholesome lunch.
Favourites include the Buddha Bowl, filled bacús baguettes and the Breakfast Burrito with onions and mushrooms and a smokey bean mix with fresh spinach. When you've had your fill of healthy goodness you can pop around the corner to Fiadh Handwoven Designs and do a spot of shopping.
If you're not looking to sit down to a meal, there are plenty of small spots in Dingle offering up delicious coffee, snacks and treats.
For ice-cream
One of Dingle's better-known food destinations is Murphy's ice-cream and, let's be honest, they're popular for a reason. Their extensive ice cream list is downright delicious but I'd recommend trying the sea-salt.
For coffee
Bean in Dingle is a coffee shop and roaster playing good tunes and serving nice treats for when you're having a stroll around the town.
For cream buns
Courtney's bakery was established in 1972 so they've had plenty of time to truly master the cream bun. Although my favourite is the custard slice, the apple and cream slice is a very close second. Treat yourself to a selection and stick the kettle on.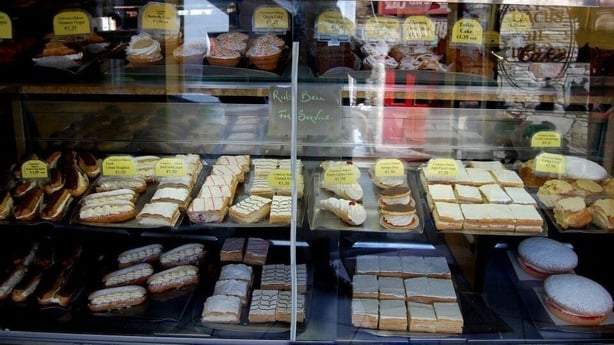 For lunch on the go
Tig Áine in Gráig has some of the best views you'll find, alongside lovely home baking. Worth a stop if you're doing the Slea Head Drive while you explore the Wild Atlantic Way. This spot is particularly worth a visit if you have kids in the car, as the owners boast a selection of farm animals to entertain little ones as well as telescope to view wildlife from afar.
For a slice
If you're feeling like something more casual, The Beast in Dick Mack's Yard makes some exceptionally mouth-watering wood-fired pizzas. Alternatively, Novecento on Main Street has a great offering of pizzas, which are often sold by the slice if you're only feeling peckish.
*If you are affected by any of the issues raised in this article, visit Ask About Alcohol