Author of The Irish Cookbook, Jp McMahon explains how "bicarbonate of soda helped to feed bread to a generation of soldiers at war in Europe and afar. It is the bread we are most familiar within Ireland," he adds. "Many say this was because of the coarse flour in Ireland. Bicarbonate of soda suited it better than yeast.
"My own grandmother would make similar bread every second or third day. It is a tradition worth continuing.
Ingredients:
Makes: 2 loaves
Rapeseed oil, for greasing
800g strong brown (wholewheat) bread flour
200g strong white bread flour
1tbsp bicarbonate of soda
20g sea salt
3 handfuls of mixed seeds (such as pumpkin seeds, sunflower seeds and linseeds/flaxseed)
200g treacle
2 eggs
850ml buttermilk
200ml stout
50g pinhead oats, for the topping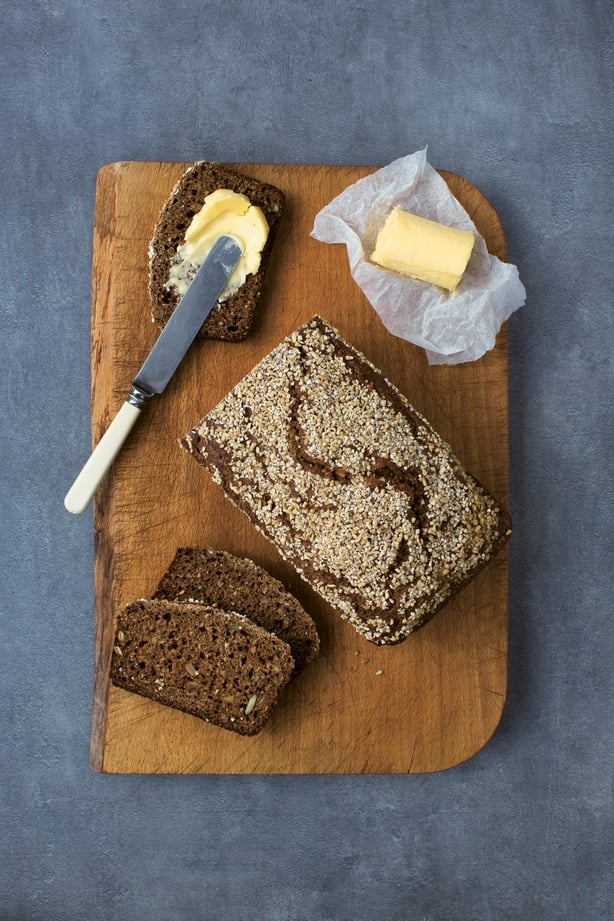 Method:
1. Preheat the oven to 130°C/265°F/ Gas Mark 3⁄4. Grease two 23 × 13 × 7-cm loaf pans.
2. Stir all the dry ingredients together in a large mixing bowl. Add the treacle, eggs and buttermilk and combine, then add enough stout until you achieve a wet dough.
3. Pour the dough into the two prepared loaf pans, sprinkle the oats on top and bake in the preheated oven for one hour 30 minutes to one hour 45 minutes, until the loaves sound hollow when the bottoms are tapped or the core temperature is greater than 85°C/185°F on a meat thermometer.
The Irish Cookbook by Jp McMahon, photography and styling by Anita Murphy and Zania Koppe, is published by Phaidon. Available February 28.