If you want to follow the Operation Transformation leaders' meal plan, print off this shopping list for your next trip to the supermarket. Following the vegetarian food plan? Click here.
Thursday: Caramelised Onion & Bacon Pasta
Friday: Salmon in a Parcel
Saturday: Peanut & Sweet Potato Curry
Sunday: Chicken & Broccoli Bake
Monday: Huevos Rancheros
Tuesday: Vegetable Fried Rice with Chicken
Wednesday: Smoky Pork Chops with Baby Potatoes & Green Beans
Note: Herbs used can be fresh or dried and always remember to wash raw vegetables.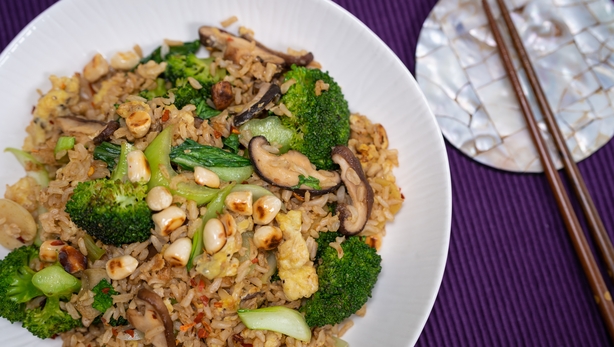 Fruit & Vegetables
Baby new potatoes (850g)
Baby plum or cherry tomatoes (20)
Basil (5g)
Bay leaf (1)
Broccoli (1 head + 1/2 small head - you need 600g florets in total)
Carrots (7)
Celery stick (1)
Chives (5g)
Flat-leaf parsley (10g)
Garlic cloves (6)
Green beans (900g)
Lime (1)
Onions (2 small)
Orange (1 small)
Pak choi (120g)
Potatoes (250g)
Red chilli (1)
Red onions (2 small)
Red pepper (1)
Root ginger (1 knob - you need 1 tbsp thinly sliced)
Scallions (2)
Sweet potatoes (300g)
Yellow pepper (1)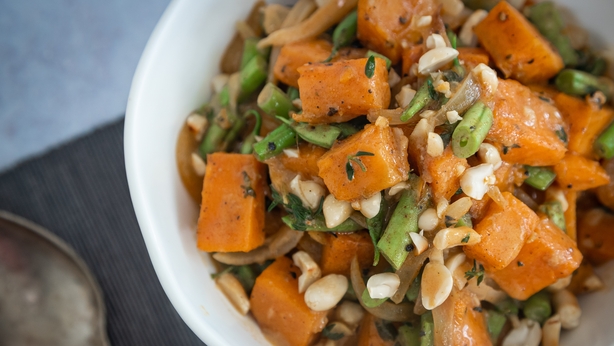 Fresh Produce
Butter (30g)
Chicken fillets (skinless – 2)
Cooked diced chicken (leftovers or shop-bought – 100g)
Eggs (6)
Fresh breadcrumbs (15g)
Low fat milk (1.5% fat- 135ml)
Pork loin chops (well trimmed - 2)
Rindless bacon rashers (well trimmed - 3)
Salmon fillets (boneless and skinless – 2 x each about 150g)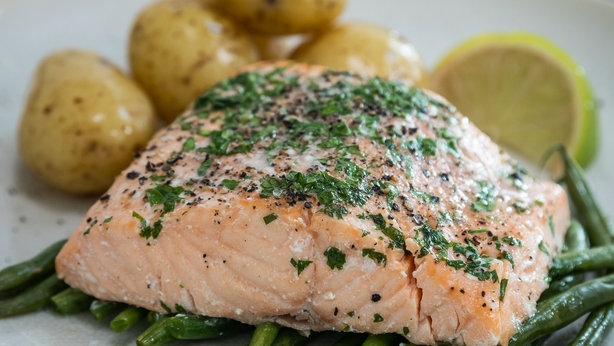 Dried Goods
Balsamic vinegar (30g)
Chopped tomatoes (400g tin)
Coconut milk (160g tin)
Dried chilli flakes (2.5g)
Dried oregano (5g)
Dried thyme (5g)
Freshly ground black pepper
Ground cumin (1.25g)
Natural skinned peanuts (25g)
Paprika (sweet or smoked - 7.5g)
Plain flour (15g)
Rapeseed oil (82.5g)
Reduced sodium soy sauce (10g)
Salt (if using)
Wholegrain brown rice (100g)
Wholewheat spaghetti (100g)