Irish actress Saoirse Ronan is no stranger to the red carpet. From the Oscars and the Golden Globes to film festivals and fashion awards, the Carlow native has gone from strength to strength in her red carpet style.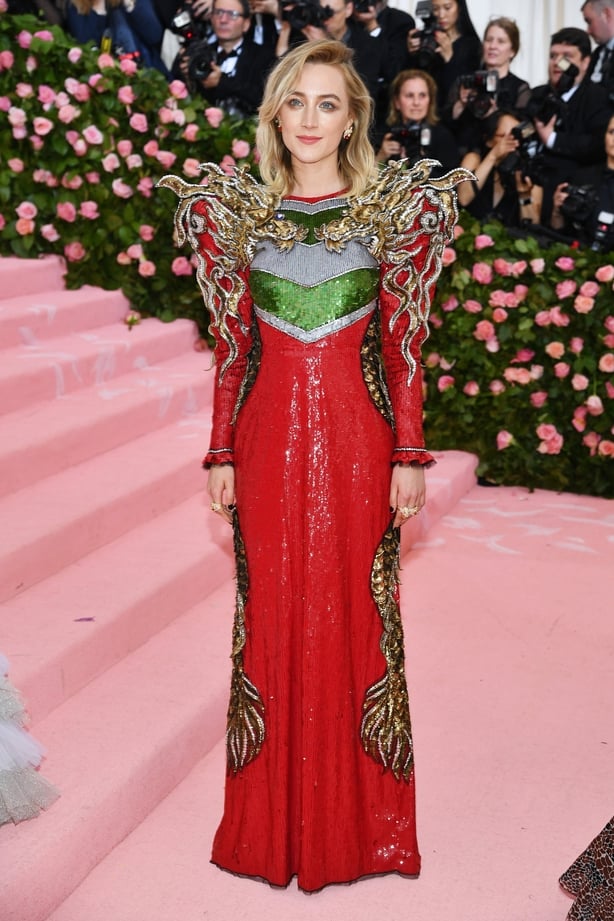 Last night, at the 2019 Costume Institute Gala, the Mary Queen of Scots actress went a step further wearing one of her most daring looks yet. The full-length Gucci gown with exaggerated shoulders and dragon detailing looked worthy of Game of Thrones and was one of the most outstanding looks on the night.
And that's saying something when you think of Lady Gaga and Billy Porter's ensembles.
According to Saoirse's make-up artist, Kara Yoshimoto Bua, the 25-year-old completed the look with Mineral Golds, Crystal, and Opal tones because the colours "exist in nature and become an energetic smudge" resulting in soft yet dramatic eyes.
To begin, she applied Chanel's Les Beige Foundation in Light, all over the face and blended under the jawline and neck. Next, she used a Bronzer And Highlighter Duo in Medium to create contour and drama to accentuate her bone structure.
To finish, she used Première Gloss Top Coat Eyeshadow in Lunaire and Solaire to highlight the mask areas on the bridge of the nose, upper cheekbones, brow bone, and temples.
In her Instagram captions, the MUA goes on to say that those particular shades compliment the beautiful crystals and dragons flaming off Saoirse's shoulders and the opalescence of the white and green chevron sequence.
With this year's theme being 'Camp', the celebrity make-up artists explained that she intended to keep the Irish woman's look raw yet refined: "I chose to deconstruct the camp element to elevate the art and still compliment Saoirse's delicate beauty. Simple yet bold."
Lining the eyes with a soft golden brown eyeliner, along the rim of her upper and lower lashline, then blending past the outer eye, the make-up created a soft yet dramatic shimmering elongated almond dragon-shaped eye.
Using brown instead of black mascara to keep a softer feel, feathering out and elongating the lashes to expand the eyes, the artist managed to enhance the glowing golden crystalline feel.
The final look was branded as 'guilded dragon queen' by the make-up artist.
Slay, Khaleesi.