Following her nomination for Lady Bird Saoirse Ronan lost out on the night to Frances McDormand for Three Billboards Outside Ebbing Missouri but our talented Irish star was a big winner on the red carpet.
Saoirse was nominated in the Best Actress category, which was her third Oscar nomination following nods for Brooklyn (2016) and Atonement (2007).
She attended the 90th Academy Awards, in the Dolby Theatre Los Angeles, with her Mum Marion, pictured below.
Read more: Oscars 2018 red carpet: All the fashion & dresses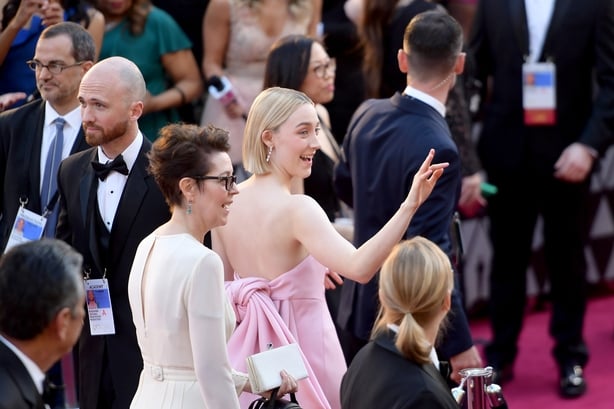 Working with stylist Elizabeth Saltzman, Saoirse wore a Calvin Klein gown with Christian Louboutin heels, Cartier jewelry and Roger Vivier heels.
"It's almost like everything disappears and there's Saoirse," Saltzman said about the actress.

"The dress is absolutely simple, clean, and then you turn around! But it's all about the art of dressmaking at its finest. This was about, 'How do you make all the attention just be on Saoirse? How do you make it iconic and memorable? '
"We started by thinking of words like 'clouds' or 'the sky' which made everyone think of billowy and big. But then we realized that it was more about angelic and ethereal. So that's where we went. And then we went for timeless.

"It won't be dated. It could be any era but it's still very modern. I'm sure that people will think it's simple, but if they only understood the construction and how much work and time and talent it actually takes to make a simple dress, to keep deconstructing while constructing - I'm in awe of the team that made it."
You can watch highlights from the 90th Academy Awards on RTÉ 2 tonight, Monday at March 5 at 9:30pm.
Read more: No third time lucky for Saoirse Ronan at the Oscars