Every Friday on RTÉ One, Bláthnaid Treacy goes behind-the-scenes of Dancing with the Stars Ireland to chat to the judges, the dancers and the stars to talk about all things glitz and glam.
When it comes to fashion, there's no better woman for the job as Bláthnaid is well known for her boho-chic style and fashion filled Instagram. She told RTÉ LifeStyle's Soraiya Ryan that she works with an amazing team to pull her look together including Dancing with the Stars stylist Clémentine MacNeice.
Clémentine MacNeice, she is the main lady in charge of all the outfits. I'm working very, very closely with her, I'm kind of been sending her lots of different looks that I like."
The fashionistas work together to find pieces that they love and send them to each other over WhatsApp throughout the week before pulling an outfit together for the show and Bláthnaid says they have "the exact same vision".
"My style icons are Sienna Miller, Alexa Chung, I love all of their vibe and even actually, I love Chelsea Handler as well. I like her vibe."
Next up is hair and makeup! The Can't Stop Dancing host says she loves using Pinterest for inspiration.
"I literally just showed the make-up idea that I had to the make-up artist and they just went for it, rocked it.
"I'm really boring with my hair, I usually just throw a little bit of a wave into it but downstairs they're so creative so I'm kind of just like 'do whatever you want!'" she continued.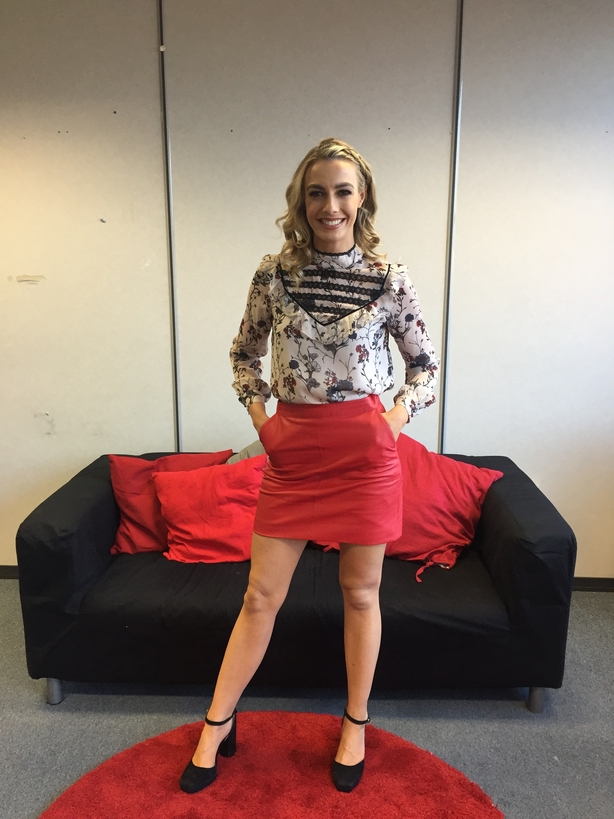 We absolutely loved Bláthnaid's look on the day we were speaking to her behind the scenes of Dancing with the Stars so we had to find out what she was wearing! The presenter told Soraiya she "loved a good mini" and any outfit that is practical, as well as gorgeous.
"I absolutely love it, it's very Alexa Chung - my style icon."
Bláthnaid's mini-skirt and shoes are from TopShop and her top is from River Island.
Tune into watch Bláthnaid Treacy on Can't Stop Dancing tonight, Friday 3rd of February on RTÉ One at 8:30 pm. Catch up with the show on RTÉ Player now!