Soil is a living thing, full of micro-organisms that exist in their own extremely delicate ecosystem. For those not in the know, soil can be written off as just earth but it is, literally, the foundation of any farm. 
In recent years, big animals and bigger machinery are sucking the life out of soil, leading to smaller yields and decreased fertility. As machinery and robotics become more common on farms, this is an area of great scientific research. 
Using the O'Sullivans' farm as a testing ground, David Wall of Teagasc created a DNA profile of the soil, revealing how diverse the soil's ecosystem is. 
Working out of the lab at Johnstown Castle, state of the art DNA profiling is done, including developing microbial fingerprints of the soil and DNA extraction, to assess the health of the soil. 
Back in the studio, David explained that soil surveys such as this are useful in figuring out the biological quality of the soil. 
Saoirse Tracy from UCD dropped by the studio to demonstrate how her use of CAT scans to produce 3D images of the soil has been used to address problem sites in the O'Sullivan farm.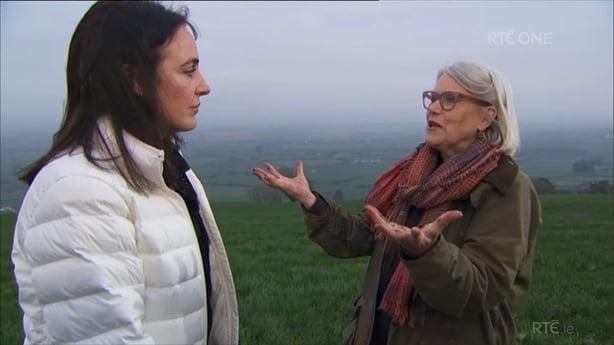 With clips from her research showing a "root's eye view" of the earth, Saoirse's research gave viewers perhaps the most intimate look at soil they've ever gotten!
She said: "Using this technology we can get non-disrupted 3D views inside the soil."
Making good on their promise to give all perspectives, Darina Allen - the "queen of soil" as Ella McSweeney introduces her - gives some insight into how important soil is for farms from the perspective of a world-renowned cook. 
Perched on a hill in the wilds of Waterford, Darina explained how on the first day of her Ballymaloe cookery course, she gathers her students around her, plunges her hands into some soil and says "Remember, this is where it all starts, in the good earth. And if we don't have rich, fertile soil, we won't have good food and we won't have clean water." 
She added that the health of the soil, the food, the earth and the human are all one and connected. 
As a devoted organic farmer, she noted that central to that was feeding the soil with compost. She even adds in some seaweed from the beach near the school! 
To learn more of Darina's tricks, as well as the fascinating science behind looking after your soil, watch the clip above!
Tune into Big Week on the Farm every evening on RTÉ One at 7pm.