It's World Children's Day and we are introducing you to some amazing kids who have stepped in to help run After School Hub.
We learn about animals, Bollywood dance routines, a volcano and more! Múinteoir Ray is still here and we finally get to see the Martin's Shed band (name TBC) perform.
AND the wait is nearly over to get your hands on the Homework Pass. Education Minister Norma Foley is in and chatting to Seamus about how great everyone is doing in these strange times!

Don't forget: Go Blue for World Children's Day

In another Music Hub, singer Gemma Dunleavy tells us all about where she grew up and how it's important to be proud of where you come from - Up De Flats!
Now, let's see what is in store for us! And you can check here what you might have missed and catch up on RTÉ Player.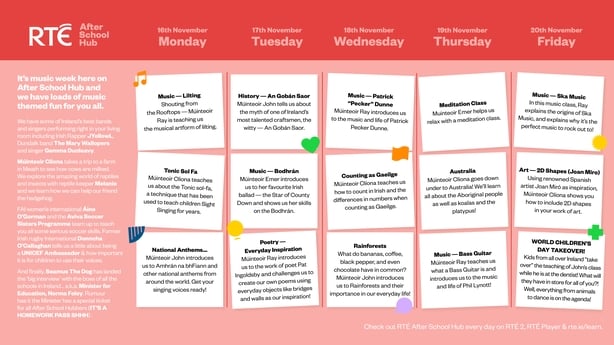 Download the timetable here and share it with it everyone: After School Hub
Agus as Gaeilge ANSEO
On Friday's show...
Múinteoir Ray has been taken over by Madness! No, there is nothing wrong with him, they are the name of a very famous band who played music called Ska. It's really fun and really simple to dance to, so Ray is going to bounce to the beats and also tell is where the music came from originally!
But that's enough about those grown-ups! We have some very special guests as we meet the new Muinteoirí, although they must have graduated when they were very very young!
Múinteoir Elsie has a very important message about how it's good that everyone is different. She has a condition called Cerebral Palsy and she is going to explain what that is too.
We look at some endangered types of wildlife and how we can help them make a comeback with Múinteoir Cian. Did you know our own Martin Pine was nearly extinct at one stage in Ireland?!
Múinteoir Shriya is showing us some Bollywood moves with an Irish dancing twist. It's a fun way to get up and get moving, so she wants you to join in at home.
Múinteoirí Rachel and Elijah have an explosive science lesson, as they show everyone how to make a volcano, and make it erupt.
To make yours you will need:
Card
Water
Glitter
A basin
Vinegar
Blue tack
Sticky tape
A plastic bottle
Red food colouring
Bicarbonate of soda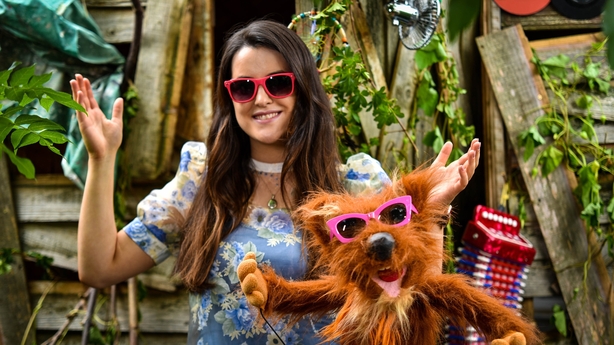 It's SHOWTIME in Martin's Shed as the band with no name, no songs and no real idea what's going on are taking to the stage...well at least that's the plan.

MC is suffering from nerves and is hiding in a hedge. Martin will need to settle it all down and get the show back on the road.We all love it when a plan comes together, but let's see if it's going to be alright on the night.

If you want to get an idea of what else will be in his collection check out his Top Five Musicians HERE
 
One person who we know will perform and rock it anywhere she goes is Gemma Dunleavy.
The star from Sheriff Street in Dublin City features in Music Hub. She talks about growing up in the city and being proud of where she is from.
It's not all about music as Gemma tells us about her her 17-year-old parrot who tells her dogs to sit!
Tune in every weekday at 3.20pm on RTÉ2 and catch up on RTÉ Player