Winner of the best international feature film at this year's Oscars, Danish film Another Round is a bittersweet tale of midlife crisis and the seductive danger of booze
Some people drink for eh, medicinal purposes. The disenchanted and quietly desperate group of middle-aged teachers in Another Round drink for eh, scientific and philosophical purposes.
This quiet and elegantly shot film by Danish director Thomas Vinterberg, co-founder of the bluntly naturalistic Dogme 95 movement in the mid-nineties, treads a fine line between black comedy and tragedy, serving up a mildly inebriating cocktail of good times and the often crushing consequences of hitting the bottle too hard and for too long.
We need your consent to load this YouTube contentWe use YouTube to manage extra content that can set cookies on your device and collect data about your activity. Please review their details and accept them to load the content.Manage Preferences
Mads Mikkleson, who worked with Vinterberg on The Hunt, plays Martin, a history teacher in a suburban Copenhagen secondary school who has accepted his mid-life crisis with mute resignation. Even before he starts experimenting with drink, he already looks like a ravaged husk of humanity. Ennui wreaths his face and he teaches his bewildered and worried students in a distracted haze. He is drifting both professionally and personally. In a nice touch that alludes to Mikkleson's own former life, we learn that Martin was once a jazz ballet dancer, but he has long departed such joy and is now one of life's detached observers, watching from the wings.
His home life is on the rocks and he is slowly becoming estranged from his wife. His friends, all fellow teachers, tell him with great concern that he "lacks self-confidence and joy" but that he is also "all fired up and laid back at the same time".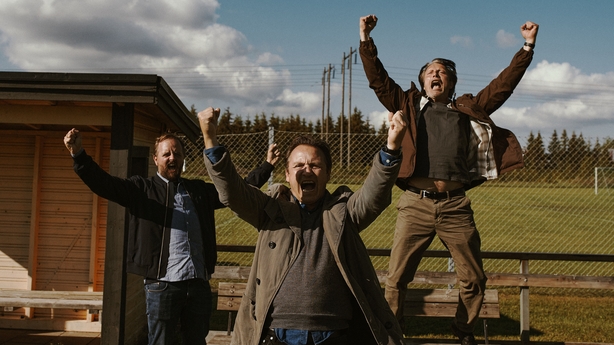 The school he works in has a drinking game tradition in which teams of students must run laps of a local lake while consuming a crate of beer. It's not the only time during Another Round that you'll wonder why we're often loftily informed that our continental friends have a more enlightened and restrained attitude to the demon drink, a respect for its potential danger that the Irish have apparently washed away in a flood of post-colonial pain and self-prescription. Or something.
When one of Martin's equally downtrodden colleagues informs the rest of the group of an apparently real theory that claims a constant blood alcohol content of 0.05 makes humans more creative and relaxed, the burnt-out teachers decide to conduct a secret micro-dosing experiment of their own.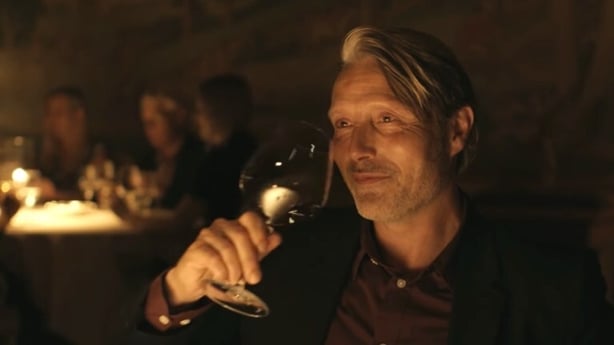 Inspired by veteran drinker Ernest Hemingway, they insist on an 8.00pm booze curfew and Martin's interest in famous imbiber Winston Churchill is a reassuring historical prop for this own excesses. They even keep a semi-academic log of their progress and findings (Vinterberg regularly runs an on-screen graphic of their alcohol intake). With purely scientific parameters like this, what could possibly go wrong, right?
Bottles are secreted around the school so that these alcoholic guinea pigs can top up between classes, morning vodka buzzes enliven staid lectures, and alternative (and sometimes unethical) teaching methods yield startling results. Perpetually giddy, Martin and his friends seemingly unlock hidden parts of their minds and find untapped reserves of energy. Tasked with molding young minds, these thoroughly likeable chaps can't seem to muster any love for it without first altering their own.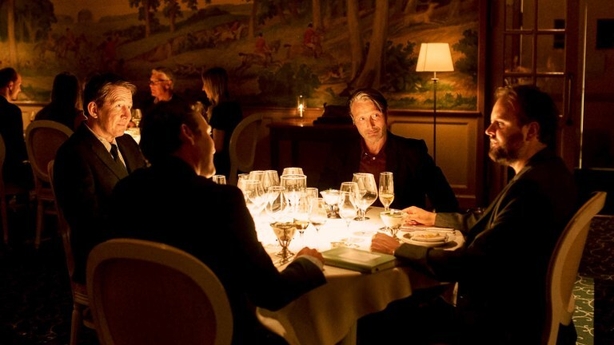 You may spend most of Another Round waiting for some profound lesson to arrive but Vinterberg's script is kept ambivalent. It has something in common with Sideways, a story of how middle-aged man delude themselves into thinking that their appreciation of fine wine excuses their excessive consumption of it.
Striking the right life/drink balance has become somewhat of a jokey lockdown lament and while Another Round doesn't wag any fingers, it does point out the dangers of what Homer Simpson once called the cause of and solution to all of life's problems.
Alan Corr @CorrAlan2
If you've been affected by any of the issues raised in this article, please see RTÉ's list of helplines.