Tom Hanks plays another decent man in a bad, bad world in a cast iron western that is essentially The Searchers in reverse
Surprisingly, given the scope of his CV and his many everyman roles, this is Tom Hanks' first full western (sorry, folks, Sherriff Woody in Toy Story doesn't quite count).
Here is the ever reliable and ever watchable Hanks burnishing his credentials as a modern-day Jimmy Stewart, playing yet another honest man in a bad, bad world.
We need your consent to load this YouTube contentWe use YouTube to manage extra content that can set cookies on your device and collect data about your activity. Please review their details and accept them to load the content.Manage Preferences
He plays Captain Jefferson Kyle Kidd, a Civil War veteran, who now earns a basic crust travelling from remote town to remote town in 1870s Texas, reading snippets from newspapers (the thoroughly analogue Hanks is well known for collecting typewriters) to townsfolk too busy with the burdens of the day to keep up with world events (imagine that?). However, this being a Tom Hanks movie, he does deliver some editorialising among the reports of war, famine, floods, and the doings of European royalty. And even a spot of socialist preaching.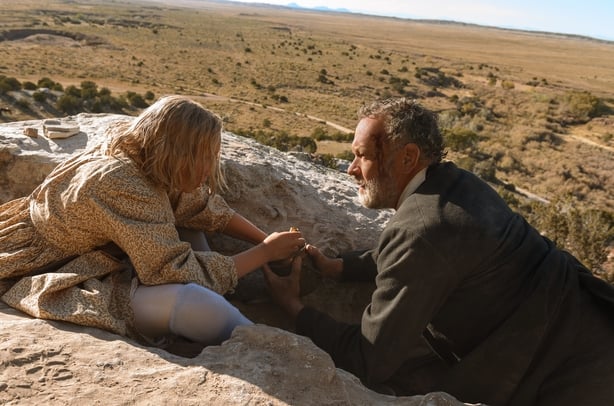 Post-Civil War tensions are still high in secessionist, anti-abolitionist Texas, and the road is beset by treachery so when Kidd chances across a young girl abandoned on the trail, his basic decency kicks in and he finds himself agreeing to escort her cross country so she can be taken in by her only surviving relatives.
This is Johanna (Zengel) who is twice orphaned following the slaughter of her German pioneer family by Kiowa Native American warriors, who then took her away and renamed her "Cicada" but who were then wiped out by white settlers.
In a reverse of The Searchers, Captain Kidd already has the missing girl. He just has to bring her home.
RTÉ Arena on the evolution of the Western
Hanks is more than willing to give the screen over to the real star of Paul Greengrass's first horse opera. Making her English language film debut, 12-year-old Helena Zengel truly shines as Johanna, and whether she's standing in stark silhouette against the badlands she traverses with Kidd or squirming her way out of the many scrapes they find themselves in, all eyes will be on the striking newcomer.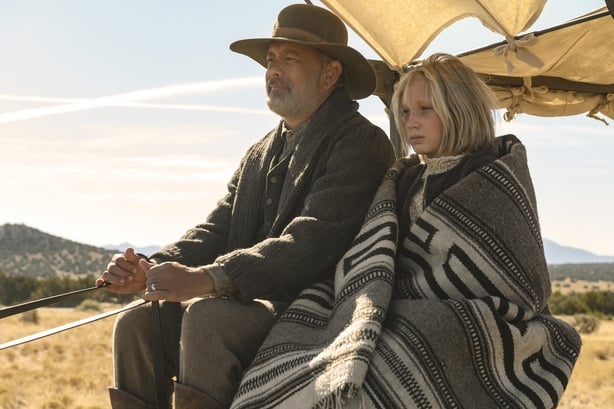 Greengrass (reunited with Hanks following Captain Phillips) has more than proven his talent for jarring verité with Bloody Sunday, 22 July, and United 93, but he gives his frenetic camera style a rest for a more contemplative and restful style. This is a story - and, as we learn from Kidd's profession, the story is everything - that flowers gracefully and this is both a good and a bad thing, particularly when the film drifts into a ponderous third act.
There is a suspenseful shootout in a ravine in which Greengrass gets to work his flair for action and a moving sequence when Kidd undergoes a spiritual epiphany when he witnesses a bedraggled Indian nation making their way through a sandstorm as they navigate the Trail of Tears.
We do care for Johanna and Captain Kidd and their backstories are heavy with an unspoken tragedy and sadness but there is rarely any real sense of jeopardy and an overreliance on convention. By the standards of the modern western, News of The World just doesn't grab the headlines.
Alan Corr @CorrAlan2
News of The World is available to stream on Netflix