Leave your cynicism behind your mask for this zesty rom com starring break-out Australian actress Geraldine Viswanathan
You've heard of meet cute. Well, here's meet kook. This zippy rom com from writer and director Natalie Krinsky takes a meta approach to an ironclad genre and tickles all the obvious boxes in an almost self-parodic style.
Watch our interview with Dacre Montgomery and Geraldine Viswanathan
But it also serves up a winning performance from leading lady, rising Australian star Geraldine Viswanathan. She plays Lucy Gulliver, a twenty-something and very ditzy gallery assistant in a kind of idealised New York, who has a talent for self-sabotaging her romantic relationships and then curating her blues with a growing collection of mementos (snow globes, cinema tickets stubs, toenail clippings) of her lost loves.
After she loses both her job and her current beau when she delivers a drunken exhibition opening speech, she runs into Nick (fellow Australian Dacre Montgomery of Stranger Things), a solid sort who is struggling to convert an old YMCA into a boutique hotel.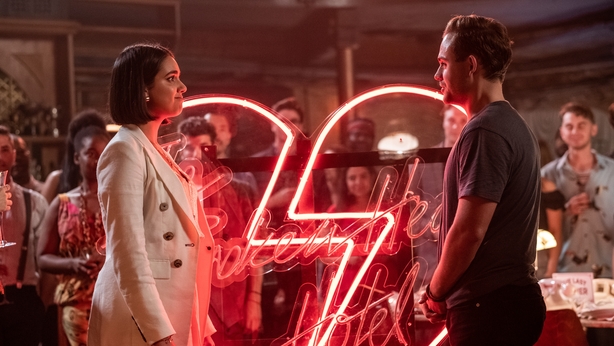 Before you can say "hey, kids! Let's do the show right here!", Lucy becomes the ghosted whisperer and her growing collection of tear-stained souvenirs becomes a viral sensation that sees lovelorn New Yorkers offer up their own love junk and the foyer of Nick's new swanky hotel becomes a repository of broken dreams. All this despite the universally acknowledged truth - burn everything your ex leaves behind.
The wide-eyed Viswanathan, one part Rebel Wilson, several parts Beanie Feldstein, gives her best while playing opposite a wooden Utkarsh Ambudkar as her slippery ex (he has a man bun for god's sake!), and knows to play it straight in front of the always fierce and funny Bernadette Peters as her mad as a bag of spiders gallery boss.
It's overlong and hits numerous dud notes. Krinsky's winking use of rom com clichés isn't exactly Nora Ephron and it all reverts to a very dull default mode in the third act. There is lots of hugging and lots of learning.
However, the one-liners keep zinging and it all buzzes by in a blur of telegraphed inevitability. Only a stone-hearted cynic would conclude that this early Autumn zephyr doesn't bring a spark of joy.
Alan Corr @CorrAlan2