As with the first Mamma Mia! movie, it's the ABBA songs that are the real stars in this prequel/sequel
I didn't know where to look while viewing this toppling (Muriel's) wedding cake of a movie. Hugh Skinner playing air guitar on a baguette to Waterloo in a Parisian brasserie, or maybe Diamante diva Cher doing a near operatic "duet" of Fernando with Andy Garcia (who plays a twinkly-eyed silver fox hotel manager)?
Or maybe the sight and sound of suave old devil Pierce Brosnan hitting peak Nordic melancholia on a Greek island as he half sings/half talks a snippet of S.O.S. during one of the Mamma Mia! Here We Go Again's sad counterpoints to the mostly non-stop euphoric fun and double entendres.
Watch our interview with Benny Andersson and Björn Ulvaeus:
Anyway, this frolicking and strangely unreal looking follow-up to 2008's global smash Mamma Mia! is a kind of prequel/sequel that tells the origins story of how Meryl Streep's character Donna met her three suitors and possible fathers to daughter Sophie (Amanda Seyfried).
It's probably the most over the top movie of the year (and that includes the new The Rock vehicle, Skyscraper) and it's all the better for it. This is maximum ABBA and maximum slush and it has the great good grace to send itself up in the process.
Like the recent Star Wars reboots, most of the action focuses on the new and younger cast members, making it clear that this Mamma Mia! franchise is set to run and run, even if it means we have to hear fine songs like Waterloo and Super Trouper over and over again in different settings, sung by different characters at different stages of their lives.
Watch our interview with Dominic Cooper:
Not that Mamma Mia: Here We Go Again (or MMHWGA, if you will) casts about for a story that differs greatly from the original film and stage play.
Set five years after the first movie, Sophie is now well ensconced on the island of Kalokairi and is determined to turn her mother's dream of opening a hotel into reality. Meanwhile, her partner Sky (Dominic Cooper) is elsewhere, studying hotel management and keen for her to join him. However, Sophie has her heart set on a grand opening night.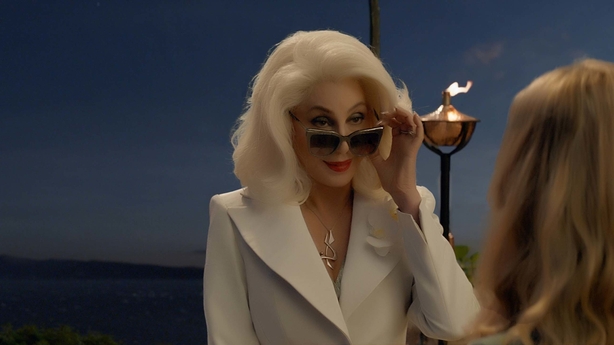 This leads to a gloriously cheesy transatlantic duet of ABBA's heart-string tugging One of Us shot in split screen, which must be a homage to Kylie and Jason's Especially For You video.
Sky and Sophie's romantic crisis, sets her wondering about her mother's story and how she met Sam (Pierce Brosnan), Bill (Stellan Skarsgard) and Harry (Colin Firth) in a series of whirlwind romances, which we might refer to as Gimme! Gimme! and Gimme!
We cut between 1979 and the present day and it's a credit to a well-lubricated script and some fluid direction that the time shifts never jar or confuse. Lily James plays the young version of Donna as a very glam hippy who decides to see the world (or at least the Greek islands) after graduating from Oxford University.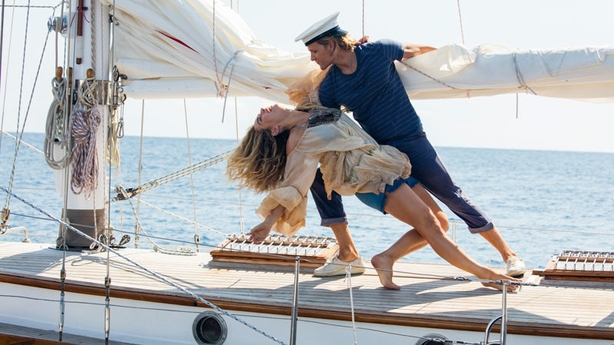 She fetches up in Paris where she encounters the first of Sophie's potential daddys and this being Donna, she doesn't wait for a man after midnight. This is the younger version of Firth's character Harry, who is played by Hugh Skinner, probably best known as Will, the bumbling, eager to please intern in W1A.
From there, Donna's late seventies Greek odyssey sees her fall into the arms of the younger Sam (Jeremy Irvine), and the younger Bill (Josh Dylan) in quick succession before she finally settles on the golden isle of Kalokairi.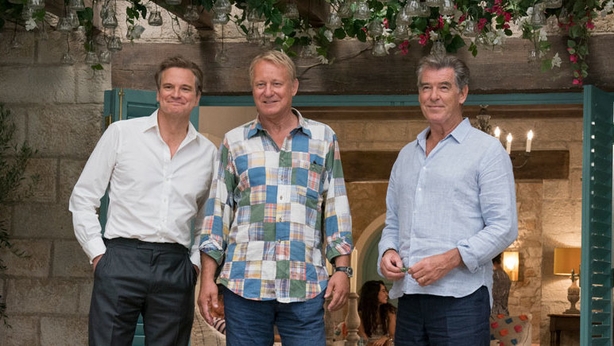 ABBA's brilliantly happy/sad songs have been rearranged and re-orchestrated by Benny Andersson and Björn Ulvaeus and the highlight could be a great graduation day rendition of When I Kissed The Teacher among the dreaming spires and lazy punt rides of Oxford University.
Like Lee Marvin croaking out I was Born Under a Wandering Star in Paint Your Wagon, the sound of a bunch of actors tackling ABBA classics hasn't lost any of its novelty value.
MMHWGA is brilliantly breathless and bonkers, and it elevates pure silliness to an art form. As juke box musicals go, it knows what the audience wants - forget the bewildering and meandering plot, it's ABBA's peerless and timeless songs that are the real stars here.
Alan Corr @corralan