This unsettling debut from writer/director Aoife McArdle is likely to divide audiences. It's set in a post-Troubles, Irish border town but that's as much as is made explicitly clear in the hallucinogenic, bleak and fragmentary 103-minute running time.
Is it a coming of age movie about a troubled teenage girl called Candice? A gritty tale about small time gang members? Or a head trip that blurs all kinds of lines and ends up as an impressionistic art house experiment - a kind of Irish noir meets lurid 1950s teen psychodrama?
Kissing Candice is all of those things. But it can also be patience-sapping in its downright refusal to stick to any narrative cohesion. McArdle made her name directing highly stylised TV ads and promo videos for U2 and Bryan Ferry, among others, and she seems to have taken that episodic and non-linear approach with her big screen debut.
We need your consent to load this YouTube contentWe use YouTube to manage extra content that can set cookies on your device and collect data about your activity. Please review their details and accept them to load the content.Manage Preferences
A very impressive Ann Skelly (Rebellion, Red Rock) is Candice, a 17-year-old who is bored witless and wants out of the seaside town where she lives with her police sergeant father (a great John Lynch). She is both troubled and enticed by vivid dreams about a handsome young man (Ryan Lincoln) who may be her way out of deadsville.
She also suffers from epileptic seizures and a mix of medication and alcohol may not be what the doctor ordered. Her vertiginous waking dreams (large dogs padding down school corridors, pools of blood ebbing under doorways) seem real but as the increasingly agitated Candice confides to her mate, "I don't know if I'm dreaming or awake."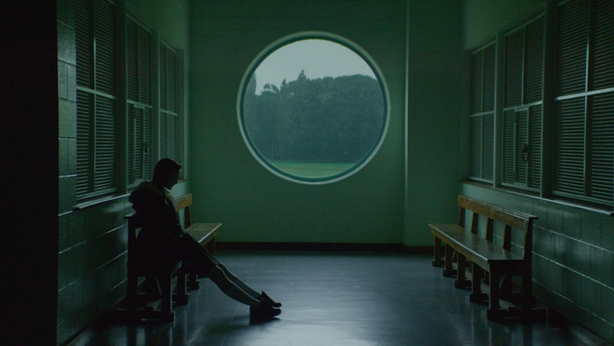 When her (literal) dream boy materialises in the flesh, he turns out to be a member of a particularly thuggish local gang of teens. Meanwhile, the search for a missing local boy looms large over the already bleak environment. "It was a lot safer here during the Troubles," the sergeant growls at one point.
Everyone in this unnamed seaside town seems to be living a life of quiet desperation and an oppressive score of strings and techno add to the mounting claustrophobia. It's enigmatic, transgressive and full of maverick visual flair but Kissing Candice may leave you looking for answers. Possibly McArdle's intention all along.
Alan Corr @corralan