Trumpeter Kenny Dorham rustles up a bright, airy and indeed Cubano-tinged selection of tunes on Una Mas which was first issued in 1963 and now reissued as a vinyl.
Writer Nat Hentoff doesn't mince his words on the sleeve notes to this short 37-minute album. He noted how Dorham was working with Dizzy Gillespie, Charlie Parker and Billy Eckstein in the 1940s, trying to find a voice, a tone of his own, an individual mode of expression. According to Hentoff, there were "the evident signs of a young player trying to transcend his influences and only intermittently succeeding.'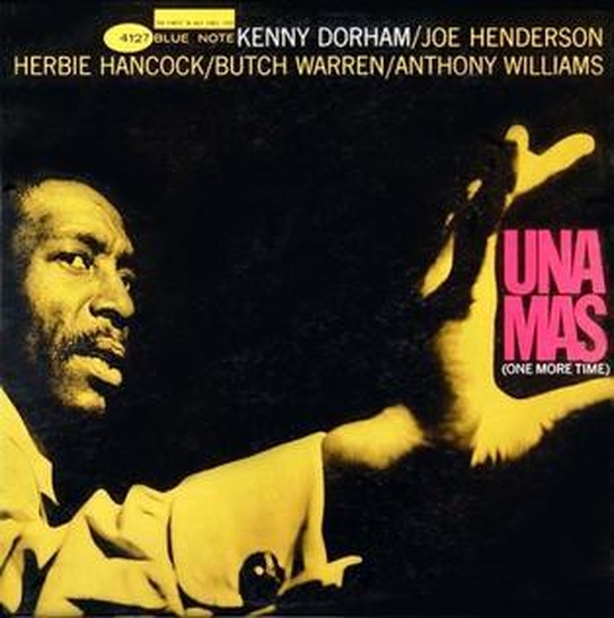 That's pretty much telling it as it is, but by 1963, Dorham, who was then in his late thirties, had become a fluid, confident player who had carved his own niche in the tower of sound.
On this focused, yet free-ranging exercise (on the various solos), he is joined by empathetic players. They are namely, the illustrious Joe Henderson on tenor sax, the still-going-strong Herbie Hancock on piano, the legendary Butch Warren on bass and the equally feted Tony Williams on drums.
The title track occupies the entirety of side one, with Straight Ahead and Sao Paolo the sole tracks on side two. Hentoff signals the presence of `logic, alert wit and rhythmic resiliency' in Kenny's solo on the title piece.
"The groove was very good," Kenny said at the time. "And when you get that relaxing is a groove, you just don't stop. Besides, the enthusiasm of the other guys seemed to be rising as we went along so there was no danger of losing freshness."
This is an infectious, tuneful jazz, without cerebral or hard bop probings, perfect for that dinner table gathering when Covid is gone.
Read Paddy Kehoe's review of the Kenny Dorham album Trompeta Toccata here
We need your consent to load this YouTube contentWe use YouTube to manage extra content that can set cookies on your device and collect data about your activity. Please review their details and accept them to load the content.Manage Preferences