The final album as leader from trumpeter Kenny Dorham, reissued on vinyl from the original 1964 release, thrives on tremulous sweetness and a flighty but controlled lyricism.
"If you keep on living, you have to keep on growing. That is, if you keep your feelings and your ears open." That was trumpeter Kenny Dorham speaking sometime in the 1960s, around the time Blue Note released this session.
Dorham was born in 1924 and passed away in 1972, following a battle with kidney disease. A new flowering or sense of maturity had not gone unnoticed, even though this highly-imaginative musician and composer was only 40 in 1964. The jazz critic Don Heckman wrote that Dorham " with maturity ... seems to be gaining additional articulateness, a surer voice than he had in the days when he was a more publicised player."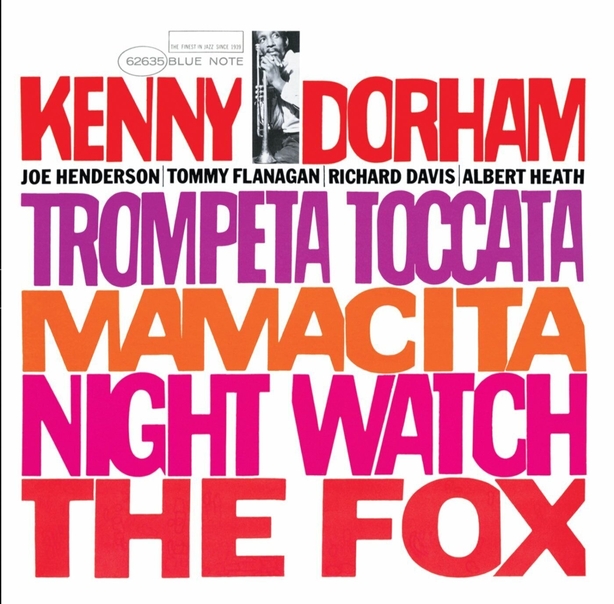 The legendary trumpeter is aided and abetted on this highly appealing session by his frequent collaborator, Joe Henderson on tenor sax, Tommy Flanagan on piano, with Albert Heath on drums. Richard Davis is the bassist, who improvised so memorably on early sessions for Van Morrison's Astral Weeks some three years later. 
There is tremulous sweetness here, that high-soaring trumpet seems to fly beautifully above or lock in dulcet harmony with Henderson's sax, it's all moving in a scintillating unity. There are just four tracks in total but each are packed with something numinous and effulgent in sound. The title track, Trompeta Toccata, Night Watch and The Fox are Dorham' compositions while Joe Henderson's Mamacita is the first track on side two. 
Dorham felt he had achieved something original when he escaped somewhat the influence of Charlie Parker, when he, as he put it himself, "got out from under Bird's shadow, as important as Bird was for me. And it's been going on ever since. There's more and more I feel I can do. And these days it strikes me that the sky's the limit."
Sadly, Trompeta Toccata was the last album that the revered trumpeter and composer would record as a leader. Essential stuff.