Horns in a tight ensemble setting, with borrowings from rhythm'n'blues and gospel in the mix - the Jazz Messengers were at their musical peak when drummer Art Blakey led them on this set from 1964, his last for Blue Note.
Blakey (1919 - 1990) was one of the enthusiastic pioneers of hard bop in the 1950s, that side-road away from the bebop highway. The Jazz Messengers had been in existence for exactly ten years, albeit with frequent personnel changes, when they set to recording this album in Van Gelder's New Jersey studio in 1964. Indestructible was in fact Blakey's final album for Blue Note and the band were at their best.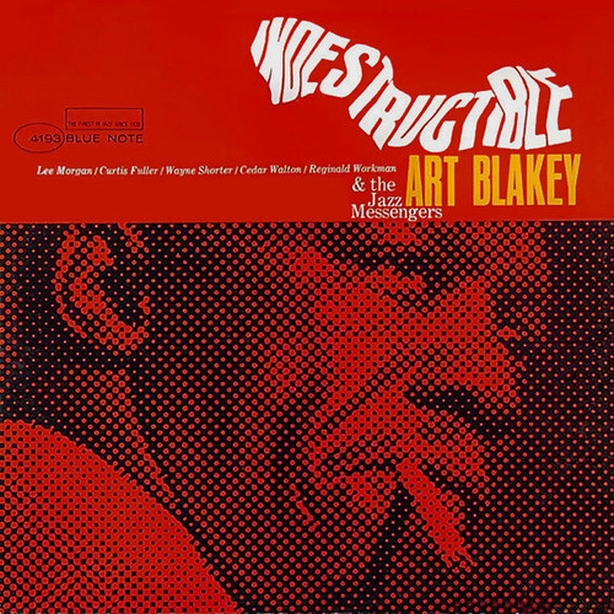 In what might be described as a game of musical chairs, trumpeter Lee Morgan had rejoined The Messengers, replacing Freddie Hubbard, who had departed (he had replaced Morgan in the first place). Pianist Cedar Walton and tenor saxophonist Wayne Shorter contribute one track each - When Love is New and Mr Jin respectively - while trombonist Curtis Fuller brought The Egyptian and Sortie to the session. Bassist Reggie Workman joined Art Blakey, who, of course, bestrode the drum stool.
It is a bright confident recording, dependent in large part on the busy, almost relentless interplay between trumpet, sax and trombone. Shorter's Mr Jin has a mildly Oriental flavour, but not so you would really notice, and the horns are mellifluous and expressive.
Walton's tender ballad When Love was Young has an air of Jean-Pierre Leaud possessed by love in one of Truffaut's slices of life from a monochrome Paris. That is the only tune where things get intimate, otherwise everything is kind of out of there, brassy and colourful.
Read Paddy Kehoe's review of the album Just Coolin' by Art Blakey and The Jazz Messengers here and also from Blakey and The Jazz Messengers, Buhaina's Delight here
We need your consent to load this YouTube contentWe use YouTube to manage extra content that can set cookies on your device and collect data about your activity. Please review their details and accept them to load the content.Manage Preferences