This previously unreleased studio album by Art Blakey & the Jazz Messengers should be Mannah from heaven for lovers of hard yet curiously easeful hard bop.
The six-track album was recorded on 8 March, 1959 in Rudy Van Gelder's famed New Jersey studio in Hackensack, his actual living room whose walls must speak endless jazz lingo and reverberate with the imperishable notes committed to tape for all our delectations.
Just Coolin' is of particular interest because it was the product of a short-lived Jazz Messengers line-up, in which Blakey was joined by Lee Morgan on trumpet, Hank Mobley on tenor saxophone, and pianist Bobby Timmons and bassist Jymie Merritt.
This was March 1959, as we mentioned, following on the heels of 1958 and the release of the Jazz Messengers' Moanin' which did extremely well and was going top be some kind fo hard act to follow, no matter what the Jazz Messengers would magic up. Moanin'  featured Benny Golson on sax, now replaced by the equally inventive and now legendary Hank Mobley. Yet by July 1959, Mobley would been replaced by Wayne Shorter.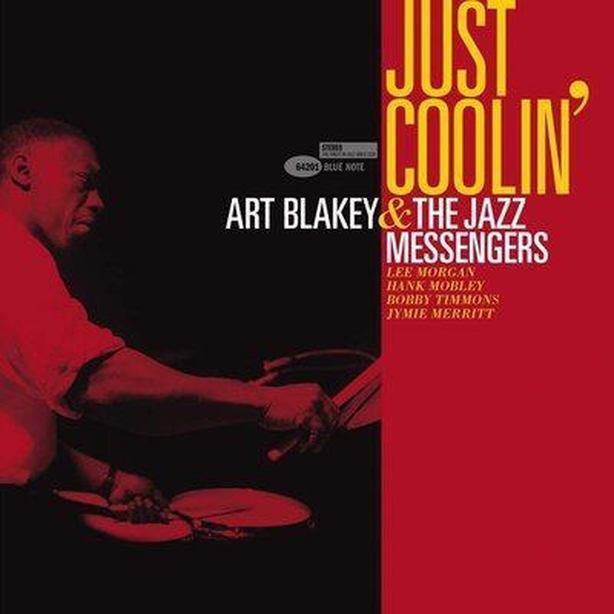 Nevertheless, Mobley left his mark and wrote three of the six scintillating tracks, the zippy opener Hipsippy Blues, the equally exhilarating M & M (named for Mobley and Morgan) and the gentle swing of Just Coolin.' Curiously, the session would remained unreleased until now, due to the fact that on April 15, Blue Note Records co-founder Alfred Lion chose to record the same band at the famous Birdland club in New York. 
We need your consent to load this YouTube contentWe use YouTube to manage extra content that can set cookies on your device and collect data about your activity. Please review their details and accept them to load the content.Manage Preferences
The result of that performance was the two-volume live album Art Blakey & The Jazz Messengers At The Jazz Corner Of The World, which was released that year, 1959. Just Coolin' was left on the proverbial shelf until now.
That live album had new versions of the material included here, some of them played at a markedly faster tempo. No problem, this will do nicely, and as one wise commentator wrote, any extra time spent in the company of Lee Morgan's tremendous trumpet playing is time well spent. Check out the ebullience and feel-good vibe of Just Coolin'. Just Cookin' would have been an equally apt title.
We need your consent to load this YouTube contentWe use YouTube to manage extra content that can set cookies on your device and collect data about your activity. Please review their details and accept them to load the content.Manage Preferences