Here we have impeccably groomed music from guys who know their stuff, loose yet supple bebop from a 1961 New Jersey session with Wayne Shorter to the fore on arrangements.
Drummer Art Blakey's Jazz Messengers saw some new occupants of his game of musical chairs that year. Trumpeter Freddie Hubbard replaced Lee Morgan, while pianist Cedar Walton took over from Bobby Timmons. Curtis Fuller was the new trombonist. Already sitting pretty in the line-up was Wayne Shorter on tenor saxophone and Jymie Merritt on bass. This new sextet first recorded together on the album Mosaic, and the gathering regrouped a mere four weeks later to record Buhaina's Delight.
The session took place on November 28 and December 18, 1961 at Van Gelder's studio in New Jersey, eight years after the original Blakey Quintet had recorded their landmark session with Clifford Brown. On this occasion there were six tracks, Backstage Sally, Contemplation, Bu's Delight, Reincarnation Blues, all Shorter compositions. The tenor player also arranged four of the album's six numbers, although not on the piano, at which instrument he usually devised his arrangements.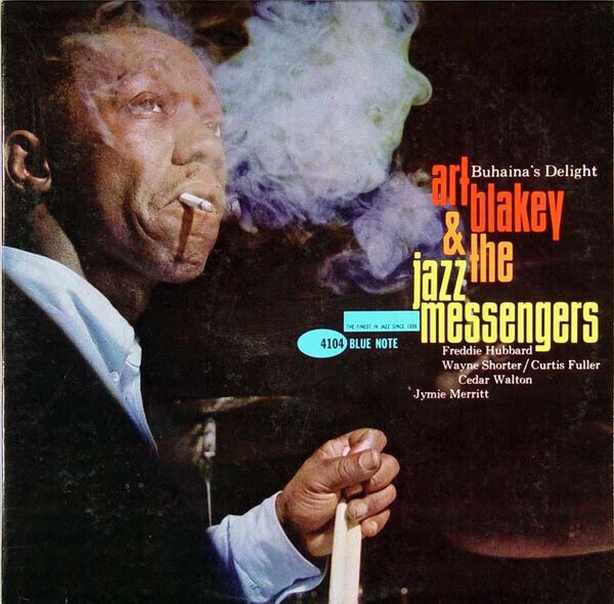 The final two tracks were readings of Cedar Walton's Shaky Jake and the Henry Mancini classic, Moon River, transformed from its original slow waltz croon into a swinging 4/4 beat.
Blakey was in ebullient form at the time of the album's release in 1962, as quoted in Leonard Feather's sleeve essay. "You know, people can dance to our music now, and, the office is talking about booking us on some college dates, where we can play a concert followed by a dance. I can dig that!"
Feather follows up on this, noting how the sextet 'does not indulge in such devices as violent changes of mood, meter and tempo in the middle of a number.' He observed how Art's own contribution, 'supported by Jymie Merritt's and Cedar Walton's, never buries the essential basic beat, for all its astonishing complexity.'
At the time, Blakey used to called his colleagues "the youngsters" - Shorter, for the record, is now aged 86, no youngster). Feather writes: "It's true that Art has been on the scene a while, but let's not forget he's still a couple of years younger than our young President."  That would have been a certain JFK.
As for the 'Buhaina' of the title on this new vinyl reissue, that refers to Abdullah Ibn Buhaina, the Islamic name chosen by Blakey, though he did not use the name professionally. Buhaina's Delight is impeccably groomed music from guys who know their stuff. Loose yet supple too, the effect is a kind of perfect tension. 
Paddy Kehoe