Recorded in December of 1964 and released in 1965, two years before his death at the age of forty, A Love Supreme is saxophonist John Coltrane's enduring account of finding - and settling in - a spiritual way to live.
Born in North Carolina in 1926, the young Coltrane lost his father, his uncle and grandfather in the space of two years before his mother relocated to Philadelphia. These were inauspicious beginnings for a musician who would cause seismic rumbles on the New York jazz scene with ground-breaking albums like Blue Train and Giant Steps.
He died in 1967, his legacy assured forever, not least with the A Love Supreme album, which is generally regarded as his crowning achievement. "No road is an easy one," Coltrane wrote in a prayer at the end of his liner notes for the record, "but they all go back to God."
Coltrane re-discovered his attachment to the divine in 1957, following years of heroin abuse and alcoholism which had jeopardised both his performing career and, clearly, the generation of fresh musical ideas for man who was a fan of Ravel and Debussy. Miles Davis, whose own modal experiments inspired Coltrane had let him go from First Great Quintet for his addictions, though indeed he would call on his services again.
In the liner notes for A Love Supreme, Coltrane revealed the dramatic shift in his self-destructive existence, to wit, "a spiritual awakening which was to lead me to a richer, fuller, more productive life."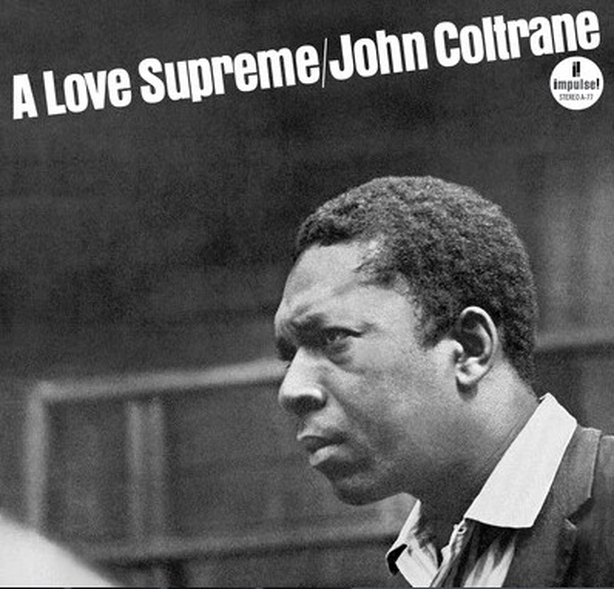 The contract he signed with Atlantic Records boss Neshui Ertegun in 1959 was worth $7,000, an unusually large sum at the time. He even received a brand new Lincoln Continental as a bonus. Giant Steps, his debut album for Atlantic, was the highly-innovative saxophonist being the leader in his own right. Yet his final album for Atlantic was released in May 1961, when he signed to Impulse, with a $10,000 advance.
Giant Steps was released in 1960, the year he began to collaborate with pianist McCoy Tyner and drummer Elvin Jones. Coltrane subsequently switched to Impulse! records during which bassist Jimmy Garrison joined the line-up.
Led by Coltrane's saxophone, the quartet's music seems to fizzle and steam up from the primordial earth in early sections before the music hits a calmer stretch of the river for pause and reflection in sound. The album seems to roll in one long continuum, like Davis's In A Silent Way, though it is in truth entirely different music.
The musician envisaged four sections for A Love Supreme, namely Acknowledgement, Resolution, Pursuance and Psalm. "I humbly asked to be given the means and privilege to make others happy through music," Coltrane wrote. In plain terms, it is fair to say that the visionary saxophonist used his instrument to praise the Lord for the final ten years of his life. 
Also re-released on vinyl is the earlier Ballads an entirely different kind of album, featuring readings of eight tunes already in the classic American song-writing canon. Drummer Elvin Jones features on all of the music and Jimmy Garrison on all tracks except for one, yet the rhythm section is more understated than on A Love Supreme. The music seems designed for Coltrane and Tyner to take the lead, interacting on invigorating but curiously intimate readings of songs like Say It (Over and Over Again) and Too Young to Go Steady.