For an album which has a kind of cult following still, it's still hard to credit that Blue Train was recorded in one day, September 15, 1957, at the legendary Van Gelder studio, Hackensack, New Jersey. Moreover, it is striking how young the players were at the time - Coltrane on tenor sax was 31, pianist Kenny Drew was 29, drummer Philly Joe Jones was 24, bassist Paul Chambers was 22, and trumpeter Lee Morgan was a mere 19.
Confidence, chutzpah, call it what you will, these qualities are the order of the day on Blue Train. The listener can never tire of the strange urban energy and peculiar stately stride of the opener, Blue Train itself, with those cool signature opening bars. Moment's Notice charges along in companionably bluff mode, while Locomotion is busy as a bee with an exhilarating hand-over of horn solos.
Born in North Carolina in 1926, the young Coltrane lost his father, his uncle and grandfather in the space of two years before his mother relocated to Philadelphia. These were inauspicious beginnings for a musician who would cause seismic rumbles on the New York jazz scene with ground-breaking albums like Blue Train and Giant Steps. He died in 1967, aged 40, his legacy assured forever. Coltrane Time, the second album in this 3-CD set was recorded in New York on October 13, 1958 and features Kenny Dorham on trumpet, Cecil Taylor on piano, Chuck Israels on bass, and Louis Hayes on drums.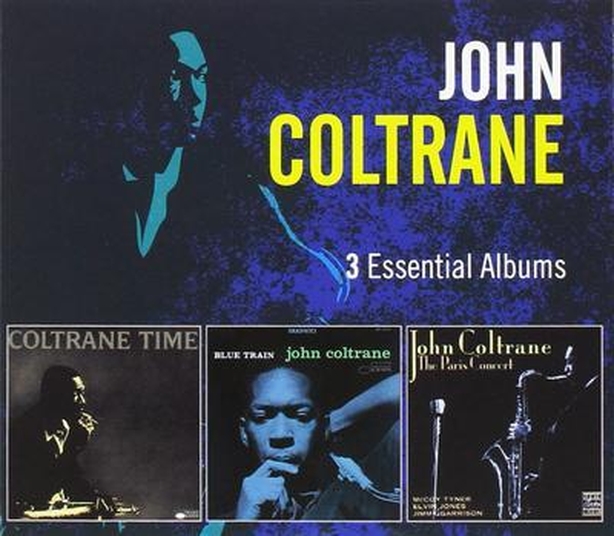 It is hard to mark any changes or progress from one year to the next, - 1957 to 1958 that is - but Shifting Down and Just Friends appear to romp through with even more confidence and the suggestion of a mellow, reflective element that is new. The Paris Concert, recorded 1961-1962 concludes the trio of albums with Coltrane accompanied by the peerless innovator McCoyTyner on piano, Jimmy Garrison on bass and Elvin Jones on drums. Three tunes only are the matter in hand, Coltrane's own Mr PC in a spirited reading runs to over 26 minutes and is followed by the band's take on Frank Loesser's The Inch Worm, finishing with Cole Porter's Every Time We Say Goodbye. Essential listening.
Read also Paddy Kehoe's review of the Coltrane New Directions 3-CD set, his review of the 4-CD set Out of this World and his review of the Chasing Trane documentary film soundtrack