Born in 1929 in Oklahoma, the legendary trumpeter and singer Chet Baker came to a tragic end in Amsterdam in 1988, having fallen from the window of his second-storey room at the Hotel Prins Hendrik. Heroin and cocaine were found in his hotel room and in his blood in a subsequent autopsy.
The quietly-spoken musician had taken to hard drugs in the 1950s and by 1969 the one-time heart-throb was a heroin addict. In 2015, Ethan Hawke played Baker in the biopic Born to be Blue, as he was in that year, 1969, when his teeth had been punched out in a brawl.
The movie's title Born to Be Blue came from the Robert Wells-Mel Torme ballad of that name and Chet's version features on Baby Breeze, the second CD in the three CD-set. The voice sounds pure and pristine, in time it would get a bit ragged, arguably richer, as the ravages of misspent years took their toll. Sprightly, supple playing is the hall-mark on Baby Breeze, Chet in fine fettle on things like Hal Galper tune, This is the Thing, looping well with Frank Strozier on alto sax and Phil Urso on tenor. Matters get wistful, but also kind of jaunty on I Wish You Love, Baker's sensitive reading of the beautiful Charles Trenet classic, Que reste-t-il de nos amours.
The first CD, Stan Meets Chet is an equally blithe and agile affair, with (Stan) Getz on tenor sax and Baker on trumpet, trading phrases to wonderful effect at a Chicago recording session n 1958. There are versions of Vernon Duke's Autumn in New York, and George and Ira Gershwin's Embraceable You, with Jodie Christian on piano, Victor Sproules on bass and Marshall Thompson on drums.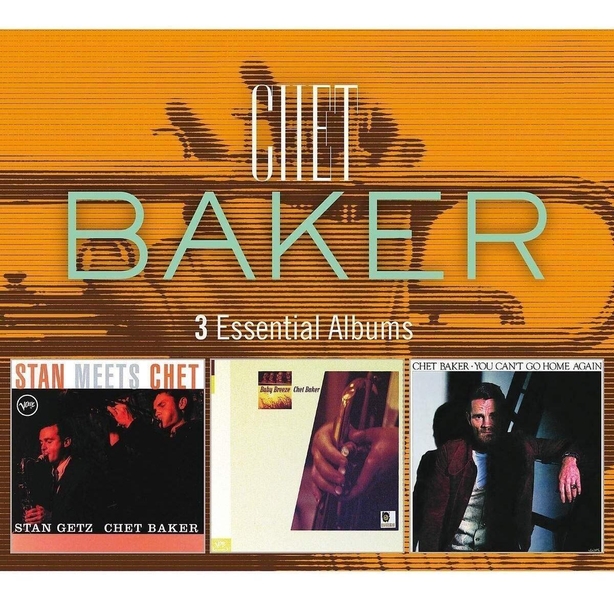 The Baby Breeze album, recorded in 1964, is chock full of songs and tunes - 15 in all - on which album Chet is credited with flugelhorn and vocal (no trumpet.)
You Can't Go Home Again, the third disc in the pack is straight out of the sonic texture of 1977 (the year it was made) and it is a wild, ostentatious affair. It's like they throw the kitchen sink at Chet, who steps back for long sections. For openers, the man himself presides over an unusual, funky reading of Cole Porter's Love for Sale, which boils towards mini crescendos over the course of its 13-minute duration, calming down for solos, such as that perky little run from John Scofield. In sum, the improvisational push and pull is electric stuff.
Richard Beirach shines on clavinet on that opening track, while the presence of bassist Ron Carter, Michael Brecker on tenor, Kenny Barron on piano, guitarist John Scofield and drummer Tony Williams make the whole album a lively, exuberant affair. All legends in their own right, but Williams and Brecker have since passed on. Scofield, who was born in 1951, still tours regularly as does Kenny Barron, while Ron Carter is still drawing crowds at 82. Long may they continue.
Track two on You Can't Go Home Again, Bud Powell's Un Poco Loco, charges along, for all the word like Weather Report - we have indeed come a long way from the tender intimacies of late-Fifties era Chet. Don Sebesky produced, arranged and conducted the veritable mini-orchestra that played on You Can't Go Home Again.
Sebesky also composed the title track, it's a negligible affair, Chet's trumpet-playing swathed in a mildly syrupy arrangement. By contrast, Sebelsky's second composition here, El Morro turns punchy and humming with percussive vim after a faltering start. Brecker's sax and Hubert Laws' flutes appear to dominate before things quieten down for Chet's probing trumpet lines.
Piero Umiliani was the first Italian composer to bring jazz to the Italian big screen. Chet Baker worked with him on the scores for a number of important Italian films, released some years ago as Italian Movies.
"Twenty-eight years have gone by since I first met Chet Baker, and six have passed by since I last saw him," Umiliani wrote. "He was a sad and dramatic man, his only joy was to play."
Paddy Kehoe