Blur fondly embrace middle age on an album of majestic melancholia. You'll weep, you'll sigh . . .
"I f***ed up . . . every generation has it's gilded poseurs," sings Damon Albarn, half defiant and half sheepish, on the best song on Blur's new album and their ninth since they first scampered out of Blighty 33 years ago.
We need your consent to load this Spotify contentWe use Spotify to manage extra content that can set cookies on your device and collect data about your activity. Please review their details and accept them to load the content.Manage Preferences
This is St Charles Square, a squalling, bug-eyed fever dream that sounds like Bowie-era Scary Monsters meets The Specials in a house of horrors. All careening Frippy cartwheels from boyish guitarist Graham Coxon and horror show howls, Albarn sounds like he's cracking up; "There's something down here and it's living under the floorboards, it's grabbed me around the neck with its long and slender claw."
Crikey! It's a real phantasmagoria and already belongs somewhere at the very top of the Blurography, However, it is one of the few eh, bangers on an excellent new record that is firmly in the sad ballad man tradition of Blur world.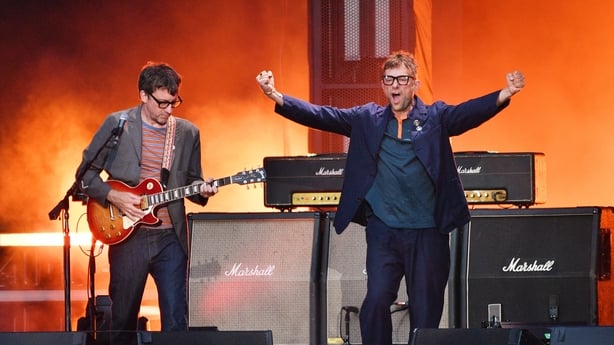 The hint is in the album title (it's named after Darren "Smoggy" Evans, one of the band's former security guards) and these ten tracks capture a tranquil mood of nostalgia and a graceful acceptance that all things must pass. Albarn, the one-time art school prince of Britpop, no longer swaggers, he possibly aches in the places where he used to play, and this is not so much a case of "oi" as "oh."
They're up on melancholy hill for sure. Middle-aged spread and rheumy-eyed rapprochement between old friends is distilled on the gorgeous string-drenched opener The Ballad, while The Narcissist, the first single from the album, is described as "an aftershock and comment on where we find ourselves now" and reflects on fallen friends like soul great Bobby Womack and drummer Tony Allen.
Barbaric, another early highlight, is all twinkling runs and swooning harmonies from Coxon. It's a doleful but chirpy guitar pop song, which, like everything here, comes with an undertow of happily dazed sadness.
Older, wiser, and wounded, Blur are wrapping themselves in the cotton wool of resigned contentment. Inertia and ennui has rarely sounded more blissful. "We are not going to shy away, we are growing tall with the pain," Albarn announces on the elegantly windswept The Everglades (For Leonard), before slamming it all home with the closing line, "Furthermore, I think it is just too late."
At a mere 36 minutes, The Ballad of Darren is Blur's shortest ever album, but it still sounds epic, matching expansive soundscapes with Coxon's restlessly inventive guitar runs, Albarn's fragile croon, Dave Rowntree's economical drumming and the giddy bass thrum of Blur's secret weapon, Alex James.
Blur's dignified reformation is a thing of pure joy and artful cool. The Ballad of Darren further burnishes their position as the best English band of the past thirty years. All together now - Tesco disco!
Alan Corr @CorrAlan2