The first part of Denis Villeneuve's Dune adaptation is a staggering vision of a medieval far future
Long before Luke Skywalker romped around the galaxy in his billowing satin pyjamas, another young hero with extraordinary powers emerged from a desert planet to battle forces of unimaginable evil. He was Paul Atreides, the conflicted protagonist in author Frank Herbert's acclaimed 1965 sci-fi epic Dune.
The fantastical and labyrinthine spaceport novel (if you will), set millennia into the far future, is often called the greatest science fiction book ever written and it certainly aspired to the status of great literature in a genre that is often unfairly maligned.
Obviously talk of a film adaption was there from the start. In 1975 Chilean director Alejandro Jodorowsky planned to cast Orson Welles, Mick Jagger, and Salvador Dali but his elaborate vision turned to grand folly, Star Wars creator George Lucas has long acknowledged his debt to Herbert's novel, but David Lynch was so unhappy with his 1984 version that he disowned it.
So, in the same way that we used to think of Lord of The Rings before Peter Jackson arrived, Dune seemed to be destined to reside for ever more in the revered company of the "unfilmable" novel. Then a few years ago word got out that Denis Villeneuve was finally going to do the story of the royal House of Atreides, the Freman, those frankly bonkers giant sand worms, and the evil Harkonnen clan justice.
Watch our interview with Denis Villeneuve
We need your consent to load this rte-player contentWe use rte-player to manage extra content that can set cookies on your device and collect data about your activity. Please review their details and accept them to load the content.Manage Preferences
If anyone was ever going to bring Dune to the big screen with the respect and seriousness it deserves it was the French-Canadian director who has already proved his genius for arty and thoughtful sci-fi blockbusters with Arrival and Blade Runner 2049 and his gift for telling very human stories with Sicario and Prisoners.
This is his masterpiece. Anyone who kept a torch spluttering for Lynch's flawed but hugely enjoyable version (and I, for one, will never forget that image of Sting in a space nappy) will be stuck by how very dark, brooding, and unsettling Villeneuve's Dune is. An atmosphere of mounting dread and a profound sense of mystery hang over every second of its 155 minutes. This is a story in which myth and religion collide with politics and war with very messy results (Some things never change, eh?).
Villeneuve knows that Dune is a tragedy and that out there in the vast reaches of the known universe menace and evil radiate but so does the human capacity for goodness and love.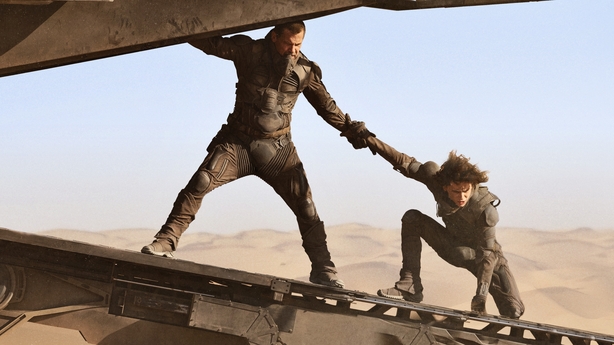 It is also the best-looking movie you will see this year (and I'm not just referring to leading man Timothée Chalamet). Dune has a strikingly original look and feel, a mesh-up of ancient civilization and unimaginable future technology that sees monolithic spacecraft hang in the inky vastness of space like Bronze Age or Inca artworks while down below chivalrous knights do battle with sword and dagger.
And then Hans Zimmer's vertiginous score strikes up suddenly and slices through the lingering stillness and you just know that something very, very bad is going to happen. It's a thrilling space adventure for sure but Dune also addresses big themes such as ecology, religion, and politics in a far future universe which has reverted to a feudal society ruled by a constellation of royal planets all vying for the favour of the Machiavellian emperor.
Our hero is Paul Atreides (Chalamet) the fearful but brave scion of the noble House Atreides, who are rising in popularity among the royal leagues. Feeling threatened, the emperor sets a trap when he tasks them with bringing peace to the inhospitable colonial outpost of Arrakis, the desert planet known as Dune, where the most valuable commodity in the universe is mined. This is the spice melange, a deeply trippy substance that looks like golden glitter and is produced by ocean liner sized sand-worms who inhabit the vastness of the desert. This spice imbues the user with the ability to fold time and space and achieve travel across unimaginable distances in seconds.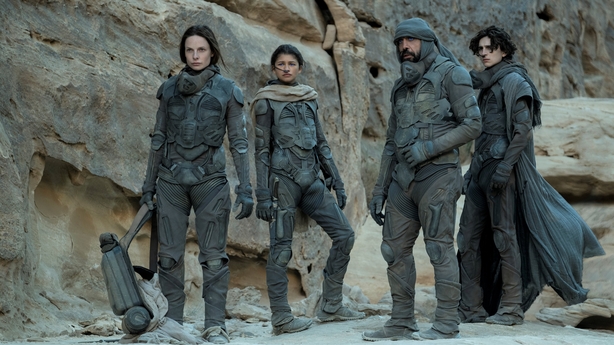 Dune has been ruled for generations by the operatically evil Harkonnen dynasty, led by Baron Vladimir Harkonnen (a brilliant Stellan Skarsgård), an obese and petulant tyrant who gets around using gravity suspensors to keep his vast carapace upright. When I saw his pet spider, which really is the size of a Buick, scuttling around his gothic palace, I eyed the cinema exit in panic.
Enraged that he is about to lose Dune to the Atreides but aware of the Emperor's chicanery, the Baron sets in motion the movie's superb second act, a sequence of non-stop action that reveals all of Dune's myriad complexities and wonder.
But while Dune may look extraordinary and be possessed by an unknowable weirdness, there is plenty of sub-heraldic phrase-making and gnomic babble that can sap the story of momentum, which seems to be the main reason people give up on the book. It's a valid criticism and some of the overly expository dialogue is scorched away in the dead heat but Villeneuve is fiercely loyal to the text. After all, this was Herbert's attempt at a literary take on the hackneyed space opera genre popularised decades before his book was published.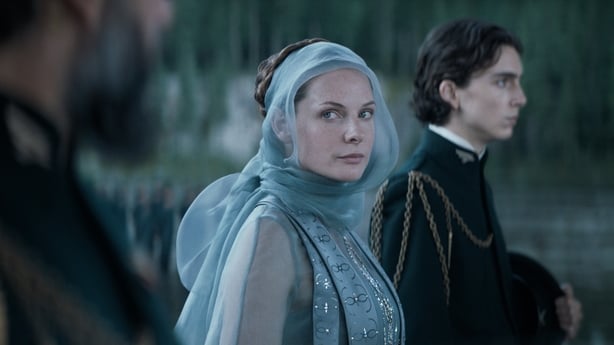 And to paraphrase Herbert himself, Chalamet makes a fine Paul, the teenage Duke in waiting who will become a messiah and change the universe forever. He may seem effeminate and rather solemn at first sight, but he grows in stature as his task and talents become more apparent to him. The rest of the cast do not fare quite as well. There is barely a grain of chemistry between Chalamet and an inert Rebecca Ferguson as his watchful and terrified mother, Lady Jessica, and Oscar Issac as Duke Leto is left with little to do except look noble and watchful.
However, Villeneuve has several Han Solos to choose from in the book's stock of action heroes. Josh Brolin's scowling imperial enforcer Gurney Helleck is great value, while Javier Bardem's Freman warrior Stillgar is a lugubrious and testy tribal leader. A Sphinx-like Charlotte Rampling is imperious as the Reverend Mother of a secretive religious order, the tormentor and judge who sets young Paul a terrible test in the opening moments of the film.
This is only the beginning of the saga and while purists may quibble, and newcomers may be baffled - and even bored - there is no doubting the terrible beauty of Villeneuve's vision of Herbert's medieval future. Dune is an awesome triumph.
Alan Corr @CorrAlan2