A ghoul-hardy return for more not so spooky silliness
Anyone who revisits The Addams Family following Barry Sonnefield's superb pair of movies about America's kookiest family is a brave man or women. To attempt it twice may just be foolhardy and ghoul-hardy but here we go again just two years after the Addams' last animated outing with another slice of not so spooky silliness.
This time around, child genius Wednesday (looking like a mournful tablespoon) goes through a crisis of identity when she learns that she may have been switched at birth and may not be an Addams at all.
Watch our interview with Cherlize Theron
We need your consent to load this rte-player contentWe use rte-player to manage extra content that can set cookies on your device and collect data about your activity. Please review their details and accept them to load the content.Manage Preferences
To bring the family closer together at this time of crisis, Gomez whisks the whole creepy clan on a road trip across the country during which Wednesday finds out more about her upbringing. Off they go in their outlandish RV, leaving a vapour trail of gothica behind them as they hit the Grand Canyon, Niagara Falls, and Death Valley (natch), putting the frighteners on nerds and norms everywhere they go.
As with the first animated Addams adventure, there is some great voice talent here, from the ever-in-amour fou Morticia (Cherlize Theron) and Gomez (Oscar Issac), to Bette Middler as party-loving grandma Addams.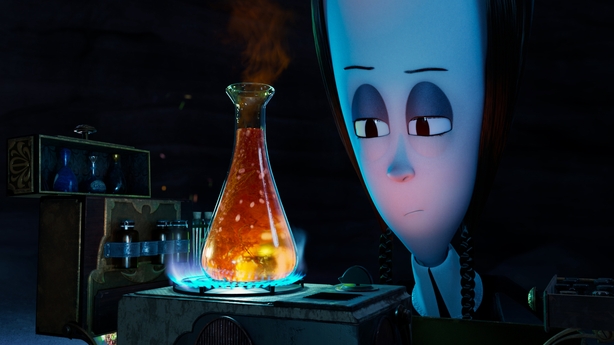 But it's Chloë Grace Moretz as the solemnly sarcastic and perpetually unimpressed Wednesday ("I've been socially distancing from birth") who steals the show. Meanwhile, Lurch has a great musical interlude in a roadhouse full of bikers that put me in mind of Young Frankenstein, and as for Thing, well, he deserves a one-hander film of his own.
There's a good Carrie reference, a decent Billie Eilish gag and a terrible Talking Heads gag. It's fast-moving, zippy fun but this Addams Family doesn't quite click, click.
Alan Corr @CorrAlan2