It's got a neat premise and plenty of potential for laughs but the latest misfire from Netflix ends up as a foamy mess of cliché and cutesy tosh
Jennifer Garner is just a girl who can't say no in Yes Day. She plays Allison and when we first meet her, she's an adventurous and Tiggerish spirit, prone to going rock climbing and taking exotic holidays with her hunky hubby-to-be Carlos (Edgar Ramirez)) at the drop of a cliché.
We need your consent to load this YouTube contentWe use YouTube to manage extra content that can set cookies on your device and collect data about your activity. Please review their details and accept them to load the content.Manage Preferences
But then marriage sets in and giddy YES becomes urgent NO (or "nope on a rope") as she struggles to herd her three young kids through the perils of a happy valley Sunday suburban LA. This is also known as parenting. Meanwhile, workaholic hubby gets to be fun dad, consenting to his kids' demands in the full knowledge that killjoy mum will detonate their dreams.
Jennifer Garner wants new Netflix movie to 'spread joy'
Nobody is happy so when mum and dad find out about Yes Day, apparently a real and hideous thing that sees parents letting their kids do anything they want (within reason) for a full 24 hours, it seems like the way out of the family flunk.
So rebellious teenage daughter (a very good Jenny Ortega), cherubic pre-teen daughter, and science geek son get to rule the roost for a day and take their folks on an eventful play date around a version of LA that only exists in an ad man's dreams.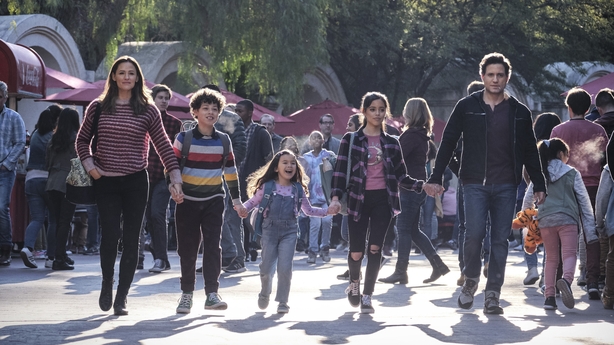 It's cute, it's cuddly and Brady Bunch wholesome but this well-meaning feelgood flick falls flat with a lack of decent gags, good slapstick, or interesting characters.
Ageless American sweetheart Garner channels some of the charm and energy of her role in the hugely entertaining 13 Going on 30, but this is entirely mindless (fine) and mirthless (not fine) stuff. Perhaps its greatest sin is the use of a truly egregious cover version of The Ramones' We're a Happy Family which edits out the punchline lyric.
Just say no.
Alan Corr @CorrAlan2
Yes Day is available to view on Netflix from Friday March 12th