The film Max Richter's SLEEP introduces composer and musician Max Richter and his creative partner Yulia Mahr as a performance of his celebrated eight-hour opus is staged in Los Angeles's Grand Park in July 2018.
"Maybe turn off the phone....., " gently exhorts Max Richter the composer and interpreter of SLEEP,  "and we'll see you on the other side." The British composer is addressing the potential sleepers in the Grand Park in Los Angeles, as the supine audience members prepare themselves for eight hours of slumber interrupted by Richter's eight-hour musical composition.
Or should that be be eight hours of music interrupted by gentle snoring, dozing, napping? It's all kind of open-ended, whatever happens happens in this unique musical event. An American woman talks of "a deep memory of being a child and being sung to when you're drifting off." A guy with a distinct Hispanic accent sits on a beach, wrapped in a rug, watching birds fly through a grey, Bergman sky over what might be the unfurling waves of a Californian dawn.
"Max's music cleans your soul," he says. "It's like he (Richter) has found something that has existed for thousands of years but is familiar to humans."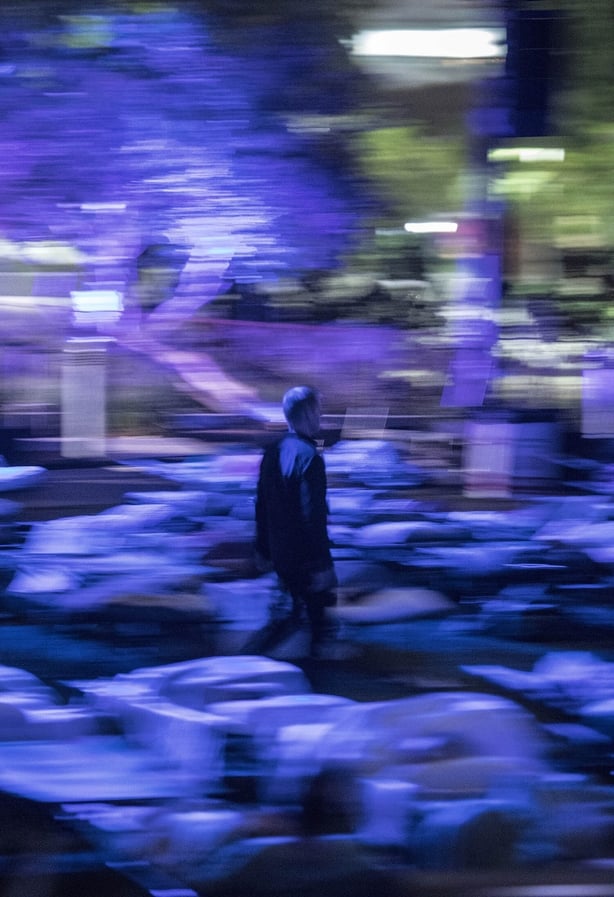 Hearing the music for this particular fan "was just like a continuation of something that you already knew very well, like kissing your mother, or being with someone you love very much." An older French woman was a bit morbid about the listening experience. "Very strong, we almost felt death coming," she says darkly, mustering a thin smile.
In line with such associations of sleep and oblivion, the listeners in LA were assigned one of 560 numbered cots. The structures look more like fold up-beds, they are not your traditional cot with wooden railings.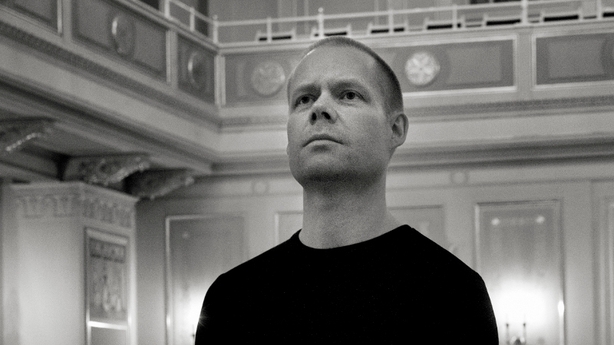 However, 'cot' sounds more like the required denomination for music that is soothing and ethereal, along with all the associations, the child-like turning, the stretching on awakening, the rubbing of the partner's back, the bit of yoga here, the bit of yawning there. Well, no, as you might have guessed you don't see one person yawn in the entire exercise, thanks to editing. Surely somebody yawned, somewhere. Surely somebody snored no doubt. Max and Yulia have had a few laughs about this for sure, they are not po-faced.
That's Yulia Mahr, the composer's partner in love and in the adventure of his musical caeer. She was the daughter of a refugee family who arrived on England's shores and Max describes her as 'the brains of the operation.' It hasn't always been uninterrupted sleep, as it were, and there were times when the couple had little money to live on, with three children to rear in the early days. Ultimately, they decided that his film score work would fund the staging of the eight-hour composition.
54-year old Richter hasn't always been welcome in classical music circles either, there have been rebuffs and rejections. "Things happened that would have sent me to bed crying, " says Yulia, who, despite that sobering revelation, is a resilient, cheerful individual. The couple are very much in love. "I still love his smile 27 years later, " she says, revealing that she would love Max whether he was a composer or not.
We need your consent to load this YouTube contentWe use YouTube to manage extra content that can set cookies on your device and collect data about your activity. Please review their details and accept them to load the content.Manage Preferences
SLEEP has been performed indoors too, at Sydney Opera House, at Amsterdam's Concertgebouw, in a cathedral in Antwerp and another cathedral in Berlin where families slept side by side on 400 beds. Its world premiere at London's Wellcome Collection in 2015 was recorded by BBC Radio 3. It was re-broadcast last April in Ireland (RTÉ Lyric FM), in the USA, Canada, New Zealand, Germany, Luxembourg, Greece, Estonia, Spain, Denmark, Slovakia, Lithuania, Belgium, Italy, France, Slovenia, Netherlands and Latvia. These countries received the Radio 3 re-broadcast through the European Broadcast Union.
The radio concert promised "listeners worldwide the chance to unite in a moment of meditative stillness." The performance was heard by thousands of listeners overnight during the Easter weekend as part of a Radio 3 series of music for the mind in the period of lockdown.
At the time of the downtown LA performance in 2018, Max and Yulia had received 200 enquiries for performances, eighteen of which have been mounted to date. There is obvious stamina and staying power required of the composer, as Richter plays the piece himself on piano. Synthesisers are also a key element in Richter's compositions. Hearing Kraftwerk's Autobahn for the first time was a turning point, he started making his own synthesisers, when one would have cost the price of a house thirty-five years ago.
We need your consent to load this YouTube contentWe use YouTube to manage extra content that can set cookies on your device and collect data about your activity. Please review their details and accept them to load the content.Manage Preferences
The same stamina is required of his string quartet to keep going through eight hours, but everybody takes breaks. Max reckons he is on stage for seven-and-half hours, processing 200 pages of piano music for the performance. He pauses for coffee or to grab something to eat, he likes to wander around the audiences, seeing how people are responding, be they asleep or half-awake.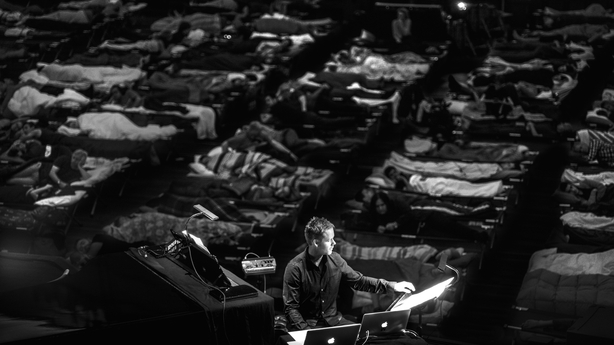 "Life is busy and life is getting busier, " says the composer, reflecting on the resonances of his soporific work. "I've never heard anybody say: 'Oh things are getting so much slower.... ' Things just speed up. That in a way suits corporations but does it suit individuals as well? " He remains tactfully non-committal about that question, rhetorically posed in a pre-COVID era two years ago. "I don't know," he says quietly in voiceover.
Nevertheless, Richter acknowledges that there is an element of  'quiet protest' about his eight-hour musical exercise. He has investigated the mechanics of the sleeping mind with the help of a neuroscientist who features briefly in the film. "It's just a different cognitive state," says the composer of that large fraction of our lives when we are dormant.
He cites precedents all-night performances before he came up with the idea for an eight-hour nocturnal work. He is aware of overnight ragas in India and Bach's Goldberg Variations, he suggests, were supposedly written for overnight performance.
Yulia explains that SLEEP is written in 'a plain-spoken language because he (Max) wants to connect to a lot of people.' The work has roots in the Renaissance, Richter explains, when music was structural. Music, he believes lost its 'connection'with people in modernism, he wanted a language which had a directness. "I began to think what kind of music would I like to hear if I was sleeping,"  he says.
Max Richter's SLEEP can be viewed on demand from September 11 and can be seen in certain cinemas. See Dogwoof for streaming details.
The album SLEEP was released in 2015 on Deutsche Grammophon as digital download and 8-CD/1 Blu-ray set