Winner of four Oscars, Palme d'Or 2019 and Best Foreign Motion Picture at the Golden Globes, Parasite boldly attempts satire about Seoul's haves and have-nots. 
The South Korean film won Best Picture, Best Director, Best International Feature Film and Best Original Screenplay. It has also made cinema history by becoming the first foreign language film to win Best Picture.
So far, so ho -hum. You could see it as a toothless screwball comedy about the haves and have-nots in contemporary South Korean society, or you might see it as brilliant satire. Rumors about its excellence, however, are greatly exaggerated. Sure, it could have been great, if it hadn't lost purchase on its premise and the movie intrigues and holds one's interest certainly for the first half.
And so to the story. Teenage bright spark Min (Seo-joon Park) is going abroad and while he is away, he asks his pal Ki-woo (Woo-sik Choi) to look after Da-hye (Ji-so Jung), the young girl whom he loves. Min suggests Ki-woo take over the private tuition in English at her wealthy family home.
Ki-woo is hardly the ideal replacement teacher. He has done the university entrance exam four times but for whatever reason - probably poverty - he has not embarked on a course of studies.  A spot of resourceful bluffing is in order. Ki-woo blags his way into teaching the rich teenage girl with documents forged by his sister Ki-jung (So-dam Park) who is also something of a talented actress. Both skills will prove useful in what becomes an ambitious Kim family project in deception and subterfuge.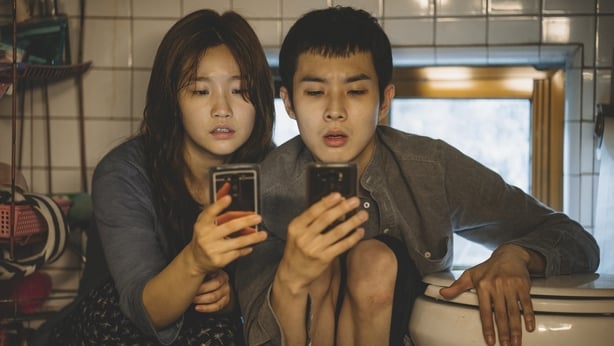 So not just Ki-woo, but his sister, mother and father, all the members of the penurious Kim family, will, through an elaborate con job, leave their basement hovel to take up employment at the luxurious home of the Parks.  No longer will they prepare empty pizza boxes for delivery purposes.
They are indeed a determined family, who are not concerned about the casualties in their upwardly mobile operation - the incumbent chauffeur and cook are both let go through the machinations of these bold usurpers.
The employers, of course, are the English language student's parents, the exquisitely superficial Mercedes Benz executive, Nathan Park (Lee Sun-kyun) and his equally shallow, flaky wife, Yeon-kyo (Yeo-jeong Jo). The pair run the pampered household, totally oblivious to urban poverty and the run-down ghetto from which Ki-Woo and his family come.
Thus the mother sufficiently charms the parents to become the cook, while dad wangles his way to become the well-regarded chauffeur. Any family relationship between the members is undisclosed, otherwise the whole scheme is rumbled. Ki-woo's sister gets a gig teaching art to the younger brother, a spoiled brat. Meanwhile, the worker family crawls back to their basement squalor each night,  scheming their financial betterment.
In short, it's a manic Upstairs Downstairs, South Korean-style, with the basement of the luxurious Park household playing a significant part in the screwball antics that ensue. We will not spoil by divulging just how the story plays out.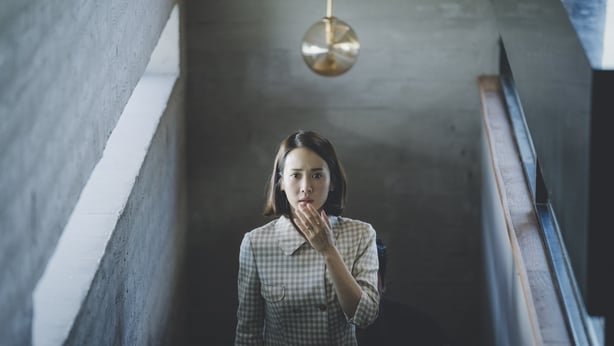 This mildly engaging comedy is certainly among the weaker of the foreign films that were available to the Golden Globe and Oscar adjudicators this year. Moreover, passing over Almodóvar's Pain and Glory (Dolor y Gloria) - which also featured in the category - for the rather tired comedy that is Parasite must speak volumes about the selection process for those much-vaunted awards. Antonio Banderas did, however, win the Best Actor award at Cannes for his role in Pain and Glory, so there was some justice.
At last year's Cannes Film Festival, the director Alejandro González Iñárritu explained how the jury, of which he was chair, came to a unanimous decision on Parasite, which won the Palme d'Or. Iñárritu declared that Parasite  "spoke in a funny way about something so relevant and urgent and global in such a local film with efficiency".
Your reviewer, on the other hand, saw nothing terribly relevant or urgent in Bong Joon Ho's insubstantial farce. Almodóvar's  profoundly sensitive creation, on the other hand, was, arguably, his best film in a long and distinguished career,
If Parasite is what passes for satire - and the film seems to preen itself as such - then the moneyed elite of South Korea have absolutely nothing to fear. And, no, I have not lost anything in the nuances and subtleties of translation, I got it all.
There is nothing much here that your reviewer can discern to frighten the horses, much like the Japanese director Hirokazu Koreeda's Shoplifters, which won the Palme d'Or in 2018. That film was equally fun-loving - would you be up to the poor amongst us, the rascals? - but it manages at least to be humane and credible and it doesn't lose its narrative steadiness. 
The intention may have been to draw attention to an urban Japanese underclass through the use of comedy, which is fair enough. Bong Joon Ho clearly has the same intention, but the film is inferior to Shoplifters in terms of holding a cohesive story-line and it descends into a tiresome anarchic denouement.
In Parasite, the rich get stabbed and we couldn't care less. The poor blow an opportunity but are able to see the funny side, if they are lucky. No doubt Asian capitalist interests are well-served in the end and  there won't be rioting in the streets on the back of this one. A film is hardly effective satire if it doesn't point up a route, however obliquely, towards radical change. Normal service resumes, in other words, and, as one argument would have it, blushes have been spared with this award for diversity. One does not wish to be churlish about these matters, but the decision to grant the film so much Oscar glory may have been hastily arranged following controversy about diversity and the new cry for balance.
One must also be careful about being blindsided by the film's fame through its multiple Oscar awards. The Cannes and Globe and Academy Award juries appear to have welcomed Parasite as a sharply satirical exercise with lots to say about wealth and deprivation.
Yet it is quite possible that the director intended nothing too profound in the first place and was merely, in his own mind, launching a few subtle barbs. If these illustrious film juries have decided in their wisdom that Parasite is a sharply relevant exercise, the director is unlikely to deny the film's special knowledge about South Korea, something which, for the life of me, your reviewer failed to discern. 
Read Dr Rebecca Chiyoko King-O'Riain (Maynooth University) on Parasite here at RTÉ Brainstorm
Paddy Kehoe
We need your consent to load this YouTube contentWe use YouTube to manage extra content that can set cookies on your device and collect data about your activity. Please review their details and accept them to load the content.Manage Preferences