Spanish director Pedro Almodóvar's 21st feature, Pain and Glory (Dolor y Gloria) is his most autobiographical film and like all his films which are not elaborate farce, it moves us with reflective passages and profound encounters. Anyway, even the ones that were elaborate farce often have their thoughtful moments.
Is this his greatest? I suspect many of us who sit and watch each new Almodóvar film in recent years must find themselves asking that question, with the exception of the shallow farce, I'm so Excited (Los Amantes Pasajeros).
Once again. the same question is asked watching Pain and Glory in the inevitably rapt state. Your reviewer watched 2016's Julieta in the same absorbed state and found himself asking if it was his greatest film.
However, with Almodóvar, there is never that indefinable factor that tips it over into 'his greatest film'. He is rather, consistently good most of the time. Moreover, to talk of a mature, richly meditative period in the director's late career - he is now 69 - is beside the point.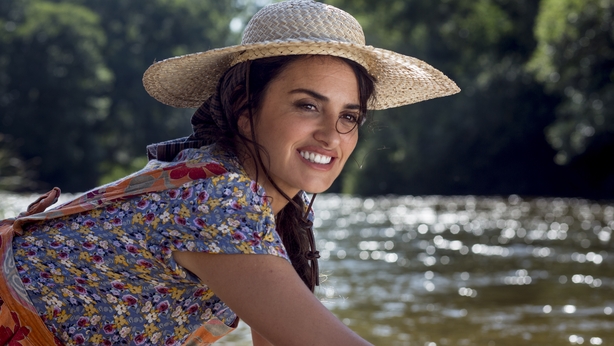 For there have been moments and set-pieces in many of Almodóvar's films through the past two decades or so that have struck one as deeply percipient about life, radiant with his instinctive emotional precocity.
As far back as The Law of Desire, which was released in 1987, and in succeeding films such as The Flower of My Secret, All About My Mother, Talk to Her, Broken Embrace and Volver the director showed with striking conviction how people can suffer in affairs of the heart. By seeming to lay bare the essence of heart-break, he appeared to place himself in a great European tradition. When Almodóvar was young, he was filming mature stories, in other words.
This new film has strong autobiographical traces. The protagonist Salvador Mallo (Antonio Banderas) is a film-maker and writer whose creativity has effectively dried up. His greatest success was the film Sabor (Taste), a classic released 30 years ago which still holds legendary status for his fans.
We need your consent to load this YouTube contentWe use YouTube to manage extra content that can set cookies on your device and collect data about your activity. Please review their details and accept them to load the content.Manage Preferences
A chance encounter one day between Salvador and an actress acquaintance prompts him to travel to the village where the actor Alberto Crespo (Asier Etzeandia) lives behind a locked gate.
The star of the aforementioned Sabor was  Alberto but both the director/ screen-writer and the actor have not seen each other since the premiere. Salvador believed that Alberto had not portrayed the part he had written with the correct lightness - Alberto was doing heroin at the time, he brought an unsuitable heaviness to the performance.
This does not appear to have diminished the film's legendary status one whit and has very probably been noticed only by Salvador himself. Whatever the case, it has been sufficient to alienate the men from each other and break their friendship.
The peeved disgruntled Alberto reluctantly invites the director in and Salvador tells him he would like him to attend a Question & Answer interview session following a screening of Sabor in Madrid. Once the initial social awkwardness is past, Alberto initiates Salvador into smoking heroin.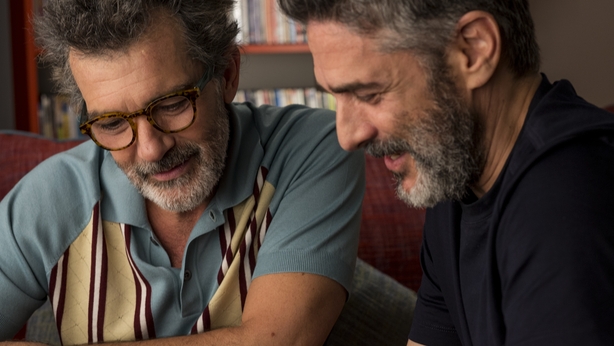 The two men meet again, and though they meet up at the time of the event, both director and actor fail to attend the special screening. They answer a few questions over the phone, but are more concerned about getting their fix.
During this meeting at Salvador's apartment in Madrid - Almodóvar's own flat in fact - Alberto surreptitiously reads the director/writer's prose work, Addiction, on Salvador's computer while its writer nods off in a drug haze. Alberto is determined to perform Addiction as a solo theatrical piece, he will even fight 'the slavery' of heroin by decreasing doses so that he can concentrate on his performance.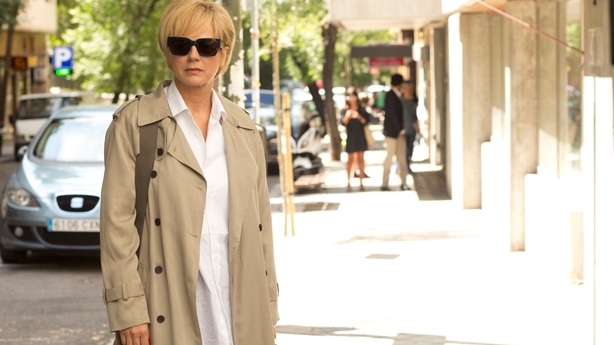 Thus it goes, the contemporary story, but Almodóvar's complex plot also traces the boyhood of young Salvador, and his relationship with his mother Jacinta, played by Penélope Cruz. The young Salvador is played by the brilliant young actor Asier Flores. The narrative also encompasses the more conflicted relationship between Salvador and his mother in old age (Julieta Serrano).
The spectres of the past and how they haunt the protagonist prove as engaging as they did in the similarly layered Julieta. Almodóvar devises complicated scenarios as a writer but he gets so much out of his actors that all is reduced to a cogent simplicity and we, as viewers, are alert at every moment to what will happen next.
Call it suspense then, but it's suspense of a very sophisticated kind. Superb. 
Paddy Kehoe