At this stage, Star Wars is the movie franchise that ate itself. However, this final part of the rebooted trilogy does rediscover a sense of adventure and maybe even a sense of wonder.
I have a bad feeling about this... There, in the now iconic opening scroll of the new Star Wars movie, is a mention of a "phantom emperor"... Un-oh. Can Jar Jar Binks be far behind? That's the thing about this trilogy reboot of the second most successful film franchise ever - how many more archaeological digs can they do on the source material before it becomes one long exercise in fanboy and girl nostalgia?
We need your consent to load this YouTube contentWe use YouTube to manage extra content that can set cookies on your device and collect data about your activity. Please review their details and accept them to load the content.Manage Preferences
J.J. Abrams is back on board as director for this final chapter and there is a sense of righting the ship after The Last Jedi, a good film which nevertheless appalled the faithful by having the cheek to try something different.
Abrams' job here is to close a narrative arc that was in danger of becoming far too convoluted and weighted down by its own self-importance. He mostly pulls it off with panache in a two-and-a-half hour movie bursting with spectacle, rip-roaring action scenes and maybe even a few tears.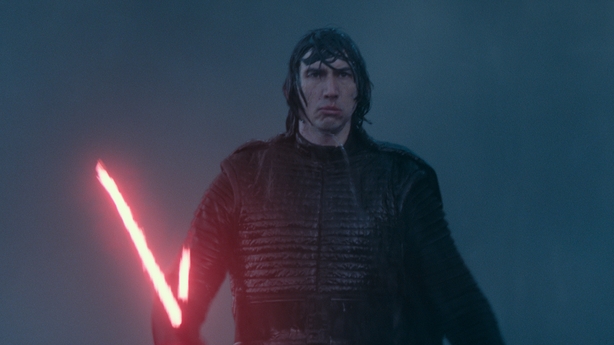 This is a Star Wars movie about redemption, learning to let go, identity and coming home. Fan boys and girls will love it. The naysayers should sit back and just enjoy the pure spectacle of it all.
Scene set by that opening scroll, we are in a whole new galaxy of darkness. Forget all that talk about the First Order; now it's all about the Final Order, which just might be the evil empire to end all evil empires. Millions of light years away in an uncharted corner of the galaxy, a dark figure from the past is plotting quite a comeback...
Meanwhile, in the rebels' secret base, Rey (Daisy Ridley) is losing faith as she completes her Jedi training under the watchful but bemused (well, it is Carrie Fisher) eye of General Leia Organa. In between aerobatic leaps and shinning up trees, Rey is also terrified by visions of her own possible future and this leads to some familial revelations that would be laughed out of a daytime soap script meeting.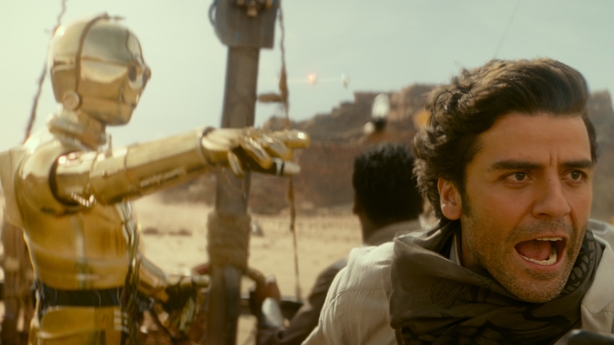 Sadly, Kylo Ren (Adam Driver, turning the space opera pulp into spun gold) has lost his tantrum-throwing fury and resolved his daddy issues. He is far more assured and well, dull in his naughtiness in this movie.
It certainly looks spectacular. Our brave crew of Finn, Rey, Poe, Chewie, BB-8 and C-3PO (RD-D2 has very little to do) sure get around in a race against time to locate a vital navigational tool that may foil the Final Order's plans. They go planet-hopping, fetching up on a water world with a constantly-churning sea and a desert planet, where they crash what looks like Electric Picnic for walruses.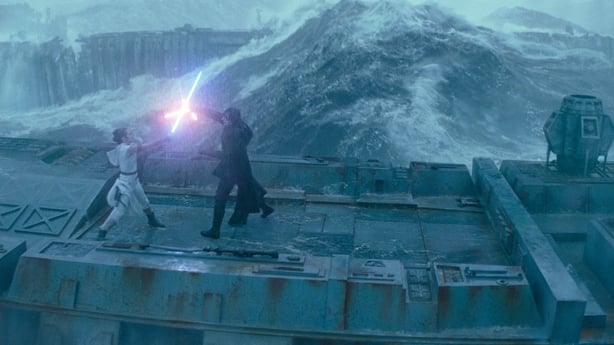 Their sojourn here does have the film's best executed scenes - a speeder chase through canyons, which is essentially a re-run of the speeder chase on Endor from Return of the Jedi, and a desert showdown between Rey and Ren which sees them locked in a battle of wills over a stormtrooper transport suspended in mid-air.
We finally get to find out why General Hux has been so very fidgety in the first two movies and I'd like to have seen more of Richard E Grant, who turns in a fantastically lip-curling performance as the truly dastardly Allegiant General Pryde. There's also a new droid by the name of D-0, who may be suffering from social anxiety but who doesn't look like he's going to swell the coffers at the merchandise stand much. You could easily make your own D-O at home using some superglue, an old rubber wheel and an anglepoise lamp.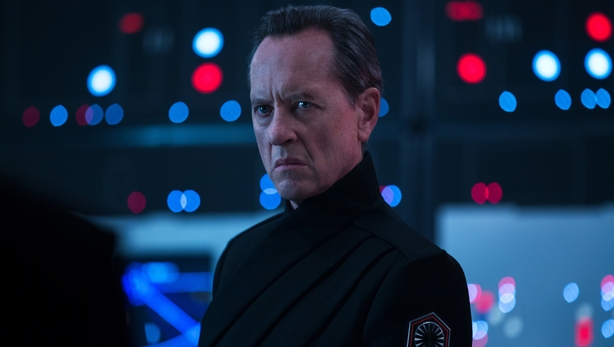 Abrams keeps up the pace in-between meaningful glances and military mumbo jumbo about weak points on Imperial star fighters, communication towers and pensive ruminations about the Dark Side. There's not just a sense of an ending with The Rise of Skywalker but also a sense of fatigue that we have seen this all before, especially in the mad dash of the closing battle. The once awe-inspiring visual flourishes and world-building spectacle have become merely quick rushes of nostalgia. There is, after all, a fine line between the gravitas and profound Jedi-babble of Star Wars mythology and cornball sentiment and wooden dialogue.
So after decades of intergalactic war and bloodletting family feuding it all comes to a end with a closing scene that may even leave you with a lump in your throat the size of the Death Star. However, be warned! Those bloody Ewoks do make a brief appearance. 
Alan Corr @CorrAlan