The KLF's Bill Drummond believes that shining shoes, baking cakes, fashioning wooden beds are all artistic endeavours, so much so that he is on a 12-year-tour of the world - 12 cities, 12 countries, the so-called 25 Paintings Tour. Is it art? You decide.
The Scotsman is an artist, musician, writer, and record producer and founder of The KLF and the K Foundation. Is he atoning for what he might subconsciously perceive to be the indulgence of art-making, the frittering, frippery aspects of it?
He is the son of a Presbyterian minister and it's hard not to think of him as a chip off the old block. At the age of ten, Jim found himself living for three months in the town of Lexington, North Carolina, where his father was doing an exchange programme. Only actors and pop stars flew in 1963, so the family left the UK on a ship, sailing from Southampton to New York.
At Grand Central Station in New York, as they waited to board a train for North Carolina, Jim saw a black man sitting on a high chair. He realised that this man was in the shoeshine business, the very thing Jim loved doing at home. And this man gets paid for shining shoes, he thought to himself, in wonder.
Mightn't you think that an artist might put behind him anything that resembled the work he once did on construction sites? It is possible but not so in the case of Drummond, who was once a joiner or carpenter, before he became an art student.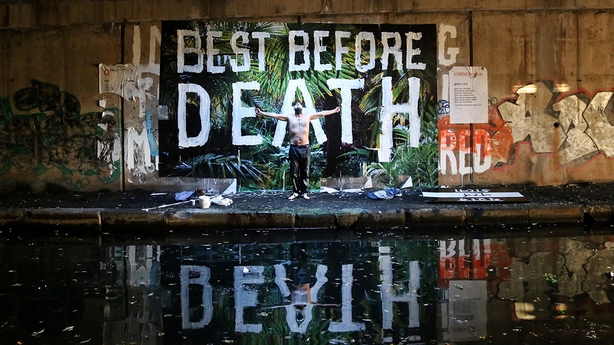 And he hasn't given it up. As part of his 12-year tour of the world, he is making beds the old way, mortice-and-tenon, mallets and screws, wood throughout, all fitting tightly in the frame.
"The art is not in the bed it's in the dreams that are dreamed on the bed,"  explains Drummond. He sleeps just one night in each of his beds, that is the ritual, and then raffles the bed.
He is also shining shoes for free, in the 12 cities on his tour. He is baking five cakes and handing them out to lucky or reluctant recipients at different points on the circle whose mid-point he occupies as baker. The five journeys radiate along the five spokes of the wheel.
Thus the Kolkatta Cake Circle in 2016 or the Lexington Cake Circle in 2017. The circle is complete when the cakes are accepted by the random householder he finds at each equidistant point in the circle.
Another thing he insists on doing as part of his obsessive performance art is banging a big drum strapped around his shoulder as he enters each of the cities, be it along the Hoarah Bridge in Kolkatta or down the principal street in Lexington, concluding his ominous entry to that city at the courthouse. There he sets up his shoe shine business with a big placard declaring "Man Shining Shoes", to go along with the other painted placards declaring things like "Man Baking Cakes" or "Man Making Soup".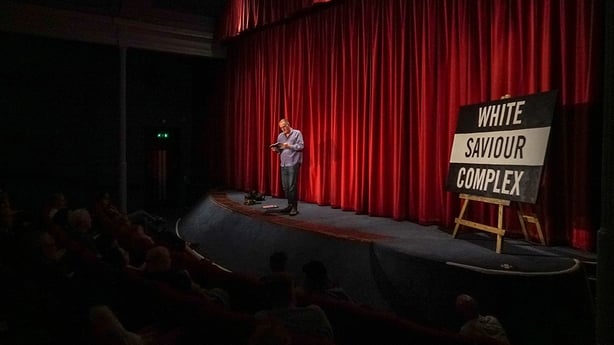 So, a chip off the old block then perhaps. Is he messianic or evangelical as his father was before him, or is that stretching the point? Is all this purpose and inclusivity - everybody is welcome into Bill's magnetic circles -just like what his father might have espoused?
It is hard not to see it this way, particularly given that he carries his father's pocket bible on his travels around the globe. He is off hand about this, however and says that he is not so religious.
What is quietly mesmeric about this film is the way ordinary working people are drawn into his artistic plans, and the sporting way they go along with it. Or they admit to being flummoxed about it, like the young drummer in Lexington who admits that what the artistic enterprise is making him try to process in his mind about himself is as relevant as trying to understand Drummond and his grand tour. By the way, the drummer is there because he has been rehearsing with his three band-mates, Drummond's song True to The Trail from his 1980s solo album, The Man.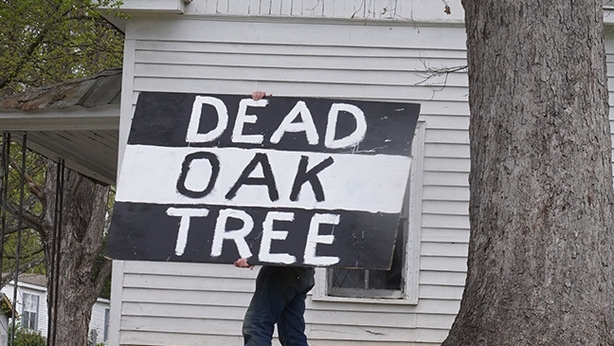 In each of the cities, Jim finds musicians whom he asks to interpret his tune freely. A tabla and harmonium player do it justice in Kolkatta and the young four-piece play with real feeling in an alt-rock vein. Drummond, who is in his mid-sxties, used to manage Echo and the Bunnymen and the Teardrop Explodes, by the way.
It's easy to see why he doesn't want to explain things to the passersby who stop and gather around him. They ask him questions but it's not about explaining. The elderly Indian female artist's face suddenly turns dark and serious as it dawns on her why it is not good for Bill to talk about what he is doing.
She renders back to him a gloss on his own feelings which is wonderful in its insight. "It's a loss of inner meaning," she says, Drummond himself elaborates. "I don't want the painting to express emotions, I want the painting to have a job "
So he is chary of talk about what he does and he certainly resists talk of his days in the K Foundation, which he co-founded with Jimmy Cauty. They famously burned £1 million in 1994 as an exercise in media manipulation, a sensational artistic statement. Or maybe not.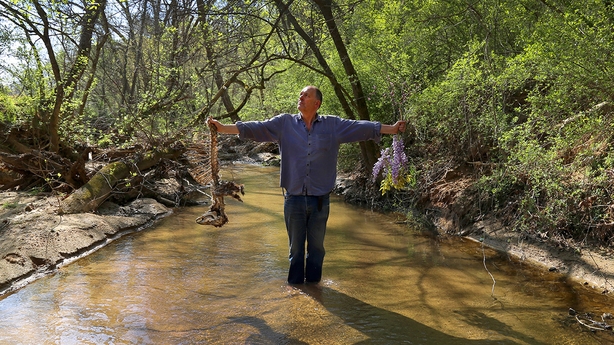 Yet he cannot resist his own epigrams or aperçus about art. "If you can understand a thing, it starts losing something." Or ponder this one. "Why, What Where and When are the four handmaidens of evil," he tells the Indian lady. His aim as a young art student, he explains, was to make art for the masses and to make it cheaply. He didn't want to make paintings that might end up with a huge price tag on them in New York.
Still, you cannot fail to suspect that there is a certain amount of martyrdom and penitence about it, although Drummond might question such an assertion. "I've got seven children and there are four mothers - it's complicated." he says to someone in Kolkatta, a rare personal revelation. He is not there because it the city in a Third World country, he insists, there are other reasons, spiritual ones, involving the Temple of Kali.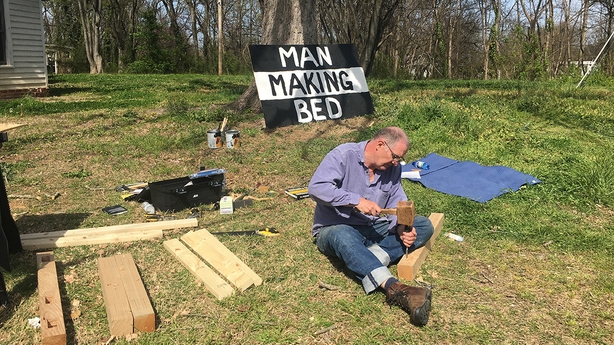 He always has two pairs of jeans and he steps into water in the Ganges or Lexington or Birmingham to shrink the second pair by letting them dry naturally. There are, indeed, baptismal references as Tracy Moberly acknowledges, the woman who is following him around to take photographs for a forthcoming book documenting Drummond's activities. He makes some money from ventures such as these, and he gives talks too but money does not seem to be a big concern.
But he is not sure about this and he is not sure either about Paul Duane, the film-maker who is chasing him around. He relents, not so much because he craves any kind of publicity but because he is essentially a nice man, if a willfully eccentric and driven one.
So, in  conclusion, a slightly fusty air of nineteenth century good works and leatherette prayer books meets a version of late English hippiedom and unshowy sharing. Unshowy even if that film-maker insists on recording it all. 
Paddy Kehoe
Director Paul Duane reflects on Bill Drummond and  Best Before Death, his film about the artist here