Brooklyn director John Crowley makes an ambitious attempt to adapt Donna Tartt's Pulitzer Prize-winning novel 
On paper this film adaptation of The Goldfinch, Donna Tartt's labyrinthine doorstep of a novel, has everything going for it.
John Crowley, the director of the Oscar-nominated Brooklyn is behind the lens; acclaimed cinematographer Roger Deakins brings his exquisite vision to every scene; Peter Straughan (who also untangled Tinker Tailor Soldier Spy for the big screen) wrote the screenplay; Nicole Kidman is among the cast; and that Pulitzer prize-winning book is, after all, the source material.
We need your consent to load this YouTube contentWe use YouTube to manage extra content that can set cookies on your device and collect data about your activity. Please review their details and accept them to load the content.Manage Preferences
However, transferring a multi-layered 800-page book to the screen has proved too difficult a task, even for those considerable talents. At two and a half hours in duration, every detail of the celebrated (by some) text seems to have been crow-barred into some kind of place and while such fidelity is admirable it makes this tale of art world skulduggery, occasional violence, childhood trauma and adult obsession ponderous and sluggish.
An excellent Oakes Fegley and a largely dormant Ansel Elgort play the young and grown-up Theo Decker, a young man who becomes the victim of cruel and blind chance throughout his life. In the opening scene, we find him contemplating suicide in a hotel room in Amsterdam before a series of flashbacks - and The Goldfinch plays with time structures and narrative a lot - takes us to the terrible day 14 years previously when his mother died in a terrorist attack on the Metropolitan Museum of Art in New York.  
In the ensuing chaos of the explosion, a dazed Theo is entrusted with a mysterious ring (save the LOTRs gags) by a dying old man. But the teenager also decides to snaffle The Goldfinch, a famous painting by Dutch artist Carel Fabritius, which has been flung from the wall in the blast. It is his mother's favourite so young Theo steals it and makes his way from the building.
We need your consent to load this rte-player contentWe use rte-player to manage extra content that can set cookies on your device and collect data about your activity. Please review their details and accept them to load the content.Manage Preferences
Watch our interview with director John Crowley
The priceless painting will become both a talisman and a curse, the obsession that drives the plot and his one solid connection to his previous life.
With his deadbeat father having absconded years ago, Theo is essentially orphaned and is taken in by the Balfours, the family of a school friend, and comes into the orbit of the upper echelon on Park Avenue. He learns about antiques, art and music under the tutelage of Greenwich Village furniture restorer Hobie (Jeffrey Wright) and befriends Pippa, a fellow survivor of the terrorist attack. As Mrs. Balfour, Nicole Kidman, always dressed like she's off to the Governor's Ball, will glide in and out of Theo's life at key moments.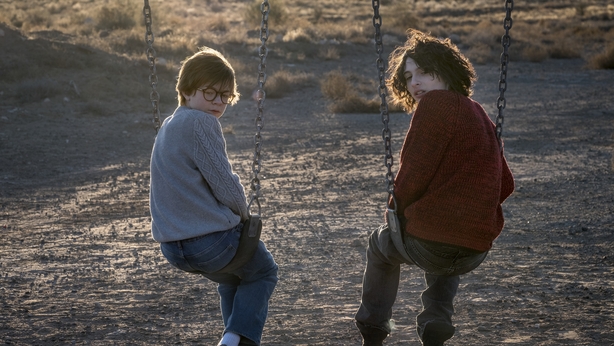 However, the wicked winds of fate are always at his back and Theo will be buffeted from his gilded life on Park Avenue and whisked to the exurbs of Nevada when his deadbeat father (played with a seedy charm by Luke Wilson) and his girlfriend Xandra (Sarah Paulson) turn up to claim him. He will befriend a wild child Ukrainian goth called Boris (a very good Finn Wolfhard of Stranger Things) and enter into a teenage demimonde of drugs, vodka and petty theft out in the desert . . .  
The Goldfinch goes on like this, drifting with occasional bursts of manic activity, which often come across as symphonically silly, as Theo picks his way through the geographical and narrative sprawl. It's all cool surfaces without any underlying grit. An intrusive and overwrought score doesn't help and, like an artwork by Robert Ballagh, a lot of people stand around looking at paintings.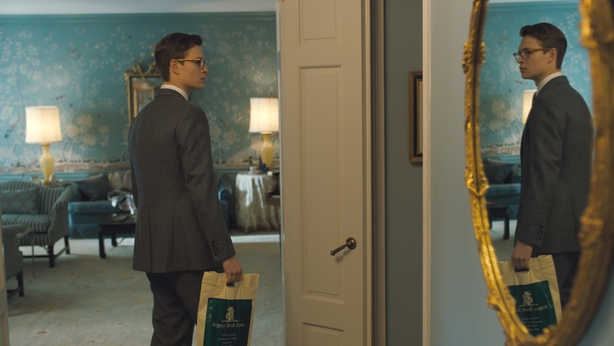 Critics have been circling like vultures over The Goldfinch but to be fair, it does have some saving graces. The young cast (particularly Wolfhard and Fegley) are excellent and the scenes in Nevada crackle with an energy sorely lacking in the rest of the movie. When she's on screen, Kidman exudes a kind of apologetic sense of privilege as Mrs. Balfour, and Wilson and Paulson's characters are two of the only believable people in the movie.
There is never a sense that Crowley has brought this occasionally silly and always portentous story under his full control. Perhaps, like the titular painting, we are being invited to gaze in wonder and divine some greater meaning from what's unfolding on the screen. You'll be gazing for a long time. Our advice? Read a good book.
Alan Corr @CorrAlan2