The Egyptian and Israeli borders are effectively closed, the Kerem Shalom crossing, managed by the Israel Airports Authority being the only commercial crossing between Gaza and Israel. Young people in the prime of their lives are confined and restricted and cannot realize their aspirations.
Garry Keane and Andrew McConnell's captivating documentary shows the harsh reality of life in Gaza, described as an open prison by one of its many articulate contributors. This moving film should be seen by us all, and your reviewer said much the same thing about Capernaum, the equally compelling cine verité film set in Beirut, which was shown at the IFI last year. That film, though not a straight documentary as such, was equally freighted with sadness and despair.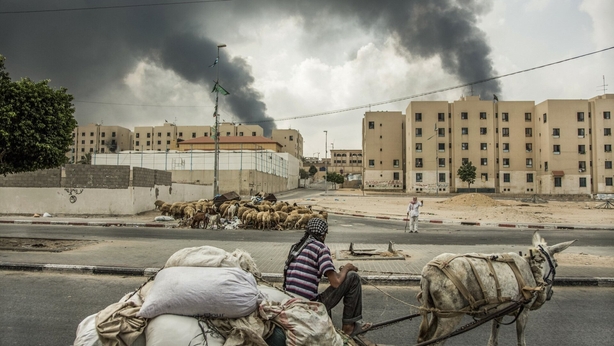 19-year-old Karma Khaial says that sympathy is not what she wants to hear, she wants rather that people to know how much deeper Gaza is in terms of its culture and heritage. Her mother Manal Khalafawi has worked as Projects Manager at UNDP for the last 25 years and is married with four daughters and one son.  Described by her mother as sensitive, Karma, who plays the cello is her youngest daughter, two of her sisters also feature. One of the girls talks about wearing the headscarf, which, she says, serves as a reminder that she is not shallow, that her essence is about more than how she looks.
Listening to Karma play her instrument along with her teacher, you wish her all the success possible. The young woman is currently studying Law at Al Azhar university in Gaza and would love to secure a scholarship to do a Masters in International Law or Political science abroad, an unlikely prospect under current circumstances. Other young people talk about their lives, kids who clearly want to live in their native land without being killed or wounded, to wake up each day to relative calm without the threat of violence.
Most young teenagers in Gaza are aware they have been dealt a raw deal and that they have had a raw deal for years. They know precisely how fortunate teenagers in other countries are. They want a piece of that normality and it is heartbreaking to know they cannot have it in their native land, which is 41 kilometers  long and between 6 to 12 kilometers wide.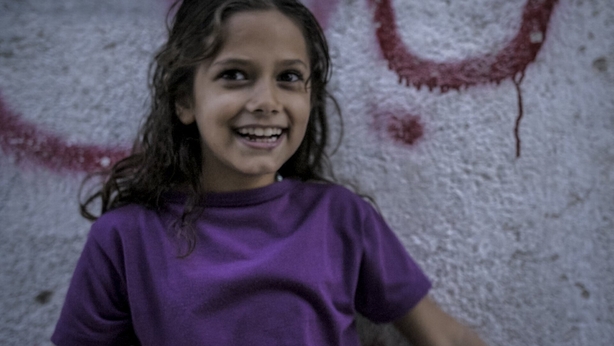 On the other hand, life is incredibly tough, even without the threat of violence breaking out at any moment. If you are a fisherman trying to feed your family you are restricted to fishing within a three kilometre limit in the Mediterranean. There is nothing much to be caught within that band of water by way of a lucrative catch.
If the Israeli gunboat comes across the Gaza-based fisherman outside of that three kilometre band, you might be shot at, they might leave you naked, they might spray sewage at you, it is humiliating, as an elderly fisherman says. Fishing is in the blood for many, no matter what the obstacles are these men will keep going out to sea. There is something admirable about this steely desire to persist with what they have known for centuries.
A gang of boys gather around an impromptu grill on hot coals, as small fish, white bait or sprats or sardines - are poured on to be just as speedily scooped up. The meal - at least one has a wedge of that flat bread too - looks delicious but a young boy mentions that some days all he has to eat is salt.
The film also visits Deir Al-Balah, Gaza's smallest refugee camp which is host to 21,000 refugees who fled from villages in central and southern Palestine as a consequence of the 1948 Arab-Israeli war. Deir Al-Balah is where Ahmed Abu Alqoraan and his 13 brothers and 23 sisters live.  Ahmed's father has three wives and his is the largest family in Gaza.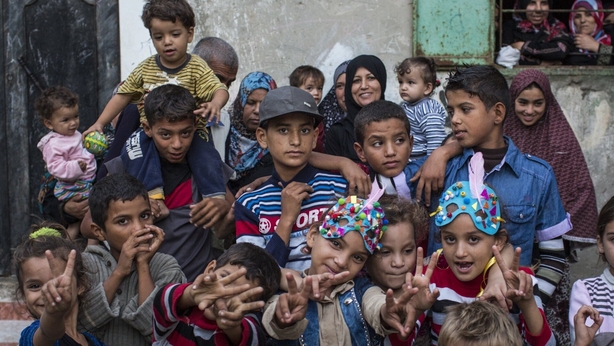 The film does not investigate the political nitty-gritty of the situation by which the Islamic resistance movement Hamas came to power in free elections in 2006 after defeating rival Fatah in a short conflict. Hamas began governing the territory in 2007 and the same year Israel imposed its blockade, completely sealing Gaza's borders. There have been three wars with that country in the past decade and armed, balaclava-wearing members of Hamas are seen standing guard on a street.
One elderly man, a tailor, can avail of only four hours electricity a day, when the blackout comes his sewing machine ceases operating. He says that if Hamas were removed from the equation, the border crossings would open again. In that event, he suggests that the "reconciliation" - referred to twice by different contributors - might become a possibility. 
Meanwhile, stones are flung at the Israeli forces at the infamous border fence, ambulances ferry away the young men who are throwing stones because they have lost hope, their best years wasted, their bodies maimed, with missing limbs not unusual. Few believe peace is possible,
Keane and McConnell's film does not spare the punches and their presence during the aftermath of an Israeli bombing raid results in footage which is not for the faint-hearted. Gaza is compelling because we hear of life there in the people's own words, we can judge the tone of the revelations and observations, look at the weary expressions. Some seems fatalistically resigned, others are resilient, hopeful somehow. More than a few are determined not to let the Israeli-imposed economic embargo grind them into the dust.
Aside from their directorial duties, Gaza was produced by Keane and McConnell, along with Brendan J. Byrne who made the brilliant Bobby Sands: 66 Days. The documentary was funded by Screen Ireland, Filmoption International, ZDF/ARTE with support from Northern Ireland Screen. Opens Friday.
The 6.30pm screening on Friday August 9 will be followed by a Q&A with directors Garry Keane and Andrew McConnell, hosted by Deirdre O'Kane.
Watch an interview with the film's directors here at RTÉ Culture
We need your consent to load this YouTube contentWe use YouTube to manage extra content that can set cookies on your device and collect data about your activity. Please review their details and accept them to load the content.Manage Preferences