Following its world premiere at the 2019 Sundance Film Festival, Garry Keane & Andrew McConnell's acclaimed documentary Gaza will be released in Irish cinemas on August 9th.
The film was inspired by a photo series Andrew McConnell completed in 2011 about the surfers in Gaza. Documentary filmmaker Garry Keane met McConnell in 2012: both shared a passion for the plight of the trapped and tortured people of Gaza, so they decided to combine their skill sets and make a film to highlight the issues there, from the point of view of the ordinary citizens of the strip. The film was made between 2014 and 2018, with McConnell spending almost the entire 2014 conflict with Israel on the ground in Gaza filming.
McConnell: "At its heart, Gaza is a film about promoting understanding. Whether it's the Palestinians in Gaza, or refugees from Syria, or immigrants from South America, there is something inherently flawed in basing our understanding of foreign peoples on flash news reports". As Karma, one of our main characters in the film says - "People should look deeper".
Keane: "In the film, we reveal the beauty, colour, vibrancy and human warmth on display in Gaza. It really is an extraordinary and unique place and sadly, because of the blockade, Gaza is never properly seen by the outside world, who are fed only a one-dimensional view. We believe this is the first time audiences worldwide will see Gaza as more than just a battle zone, and come to realise that, yes, Gaza is devastated by recurring conflict but is certainly not defined by it".
McConnell: "The film follows a broad range of characters: A young boy from a refugee camp lives by the sea with his large family, a teenage girl plays the cello and dreams of studying abroad, an old fisherman waits to see his son released from prison in Israel and a taxi driver interacts with the ordinary people of the Strip. A people who struggle for normality amidst the rubble of perennial conflict".
Keane: "It has been a long road, and there were many times when we thought the film would never get made, so it feels so good to finally be able to get it out into the world. We hope the audience comes away from the film with a new perspective on Gaza and a better insight into the situation there. This film needed to be made and we are heartened by the response to it so far".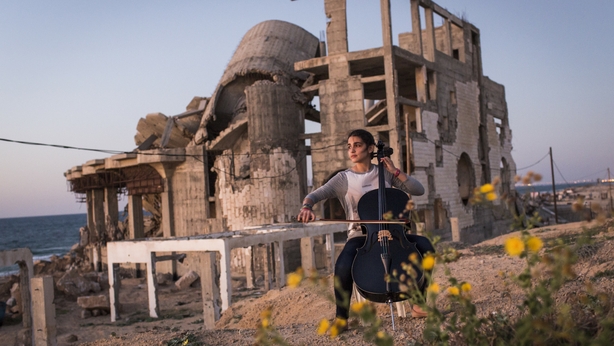 McConnell: "We hope the film will instil in people a compassion and a realisation that the blockade is completely inhuman. It is the collective punishment of an entire population, it is the cause of so much suffering...and it must end".
Keane: "Bad politics, both internally and externally is strangling the people of Gaza. And coupled with that, the international community seems to have turned their backs on these tortured souls. Everyone seems to have become desensitised to the cruelty that's been inflicted on them. The United Nations have said that by 2020, Gaza will be uninhabitable. Think carefully about that statement. That's next year!! It's truly criminal what's happening to the people of Gaza and someone needs to shout stop very soon".
Read Paddy Kehoe's review of Gaza here
Gaza is in cinemas from August 9th: the 18.30 screening at the Irish Film Centre on August 9th will be followed by a Q&A with directors Garry Keane and Andrew McConnell, hosted by Deirdre O'Kane - more details here.