Rike (Susanne Wolff) is the highly-skilled yachtswoman and paramedic who finds herself at the centre of a tense refugee drama in the open seas in Wolfgang Fischer's compelling and disturbing Styx.
Fischer's deliberately functional drama builds the tension incrementally from a low base until you are stone-cold riveted. Rike is a Cologne paramedic, established by a rather non-sequitur-style opening scene which details the aftermath of a car crash where we see her attending to the critically-injured driver.
The action then cuts to Gibraltar, with its vast Rock over-towering the airport and the football pitch, filmed in brilliant panoramic shots. Barbary apes clamber up and down, one of them wanders through a quiet street.
What is all this getting at and what is the link with the car accident in Germany? One's interest has been whetted but there is in fact no plot-related link with the accident. That's okay, by the way, it's part of the movie's oddly disjointed mystery. Grungy, trippy electric guitar plays over the Gibraltar scene, but after that the soundtrack is mostly the sloshing of sea water and long stretches of silence. Rike pilots her boat, named Asa Grey, towards Ascension Island, located between Africa and South America. She is interested in Charles Darwin who cultivated trees on that island, trees which grew into a forest which she wishes to see.
Meanwhile, the lone yachtswoman deals with her smartly-equipped vessel and attends to the routine work with organisational skill. She battles a force ten gale in blinding rain and wakes up, hours later, wrapped up in her rain gear in dead calm conditions. She is a bit shattered but not so as to call the whole thing off. She is made of stern stuff.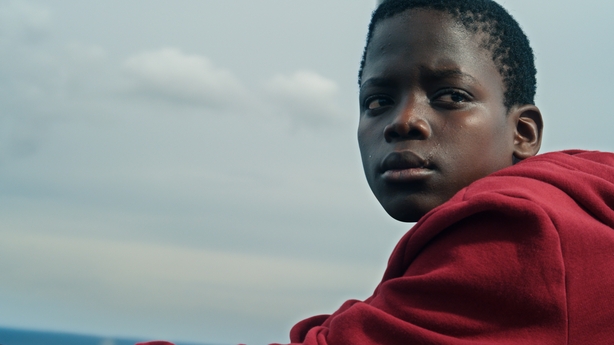 Thus in her purposeful, solitary way, she resumes the ocean journey, steering confidently, writing in her logbook, reading, eating, resting, swimming and communicating with the captain of a passing ship. The latter exchange is a slightly awkward gung-ho conversation between strangers, conducted in an English that is not Rike's first language. The oddness of it, this disembodied encounter in the open sea, deepens the highly-charged quality of the silence that is the dominant note throughout. Silence has rarely been used so well in European cinema.
We need your consent to load this YouTube contentWe use YouTube to manage extra content that can set cookies on your device and collect data about your activity. Please review their details and accept them to load the content.Manage Preferences
All is apparently well, despite that loaded quiet. Then fate strikes off Cape Verde when she sees through her binoculars a fishing trawler with people waving on deck. Some are jumping off in hopes of swimming towards her vessel.
Thus begins the core dramatic thread of Styx in a work of high drama that is superbly executed. Through a measure of suggestive narrative guile, the film cannot help but make us think about the plight of refugees who risk it all in the Atlantic to try and get to Europe. Bureaucracy and by-the-book policy come into play and there is intense moral pressure exerted on the sailor to not engage.
Styx has its moral conscience calibrated at, in or about, the same point of the dial as Capernaum, another recent and equally powerful film about economic migration and the global refugee crisis. Both films deserve to be seen by all and shown particularly in all the classrooms of countries where the far right is in the ascendancy.
Join members of the IFI team for a discussion following the 6.15pm screening on Monday 29.