Zain (Zain Al Rafeea) is the young boy from the slums of Beirut who thinks he might be aged 12, he is not sure as he has no documents. Whatever the case, he ends up carrying far too much responsibility in this magnificent but harrowing Lebanese film.
This utterly gripping work, directed by the Lebanese-American Nadine Labaki, begins with a court scene. Zain is in the dock, currently serving five years in prison for stabbing an individual whose identity is revealed as the movie progresses. In the body of the court are his careworn, troubled parents whom, he declares, he wants to sue for allowing him to be born in the first place.
Then the film resorts to flashback, expertly handled. Zain leaves home because his mother and father are forcing his beloved sister Sahar (Haita 'Cedra' Izzam) into marriage at 11 years of age. Children, in such traumatic or dysfunctional family situations, can unwittingly become commodities, even when in essence they are loved. Thus their eldest girl is valued for the dead-end marriage she is forced into on the cusp of puberty.
Outside the family circle, children are also potential sources of earning power for individuals like the wily, conscienceless Aspro (Alaa Chouchnieh.) He is a wheeler dealer of the ugliest kind, an unashamed people trafficker. His business is milking poor people like the Ethiopian single mother, Rahil (Yordanos Shiferaw) of her  hard-earned cash in return for a the prospect of a forged residency permit.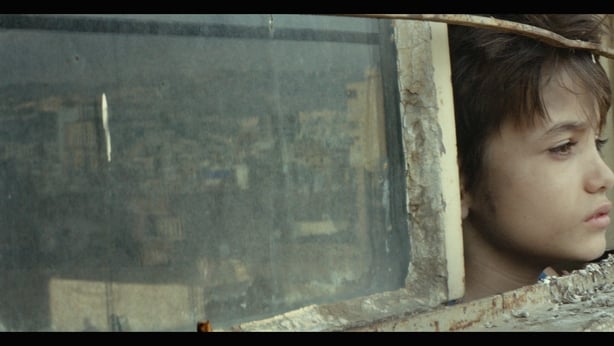 On his travels away from home throughout the ragged streets of what seems like an endless shantytown, Zain ends up looking after Rahil's toddler son Yonas (Boluwatife Treasure Bankole) in return for food and shelter from the mother. He is in effect the child-minder, confined to a metal container, instead of attending the school that could make all the difference. School, an actual aspiration for Zain, was utterly discouraged in any case by his parents, as he, in his turn, is valued for his earning power. He is paid for delivering groceries, he sells fruit juice on the streets.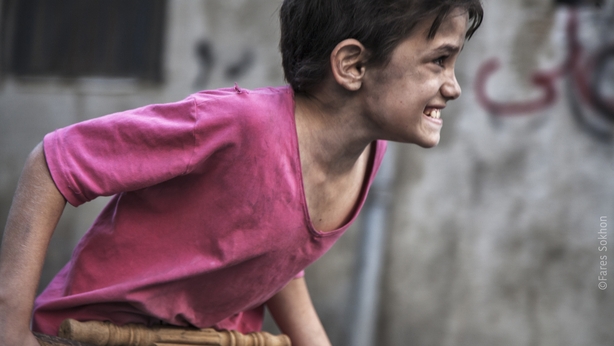 All who see this profoundly moving film will leave with three abiding images. Firstly there is the permanent state of chaos and tension in which Zain's family live - the placename 'Capernaum' is translated as 'chaos' in the opening  credits.
The second image is the poor of Beirut, the multitudes of migrants and refugees, shuffled back and forth in front of desk-bound bureaucrats or confined in crowded prison cells, with little hope of release from this hellish slum life.
The third and most abiding image is the face of Zain himself. He has lost the ability to smile and has effectively bottled up his tears, except when at the point of despair or suffused by the memory of his sister.
 Capernaum is a sobering film for the times that we are living in and we should all see it, beginning with school pupils for, despite its fictional premise, it concerns the lives of migrants, humiliated in so many ways in their will to survive, and frequently abused by the strangers they meet. See Capernaum at the IFI from Friday 22.
We need your consent to load this YouTube contentWe use YouTube to manage extra content that can set cookies on your device and collect data about your activity. Please review their details and accept them to load the content.Manage Preferences