Frank Shouldice's charming documentary looks at the lives of two elderly brothers in County Cavan and the dream of one to fly an aircraft.
Well settled in the locality, the Cootes go back 150 years in the County Cavan town-land of Dromore, which is close to the town of Bailieborough. Ernie and Bobby are the two brothers, living in the same yard in adjoining dwellings, a sensible arrangement. Ernie is the CB fanatic, still cultivating the art of talking to strangers through waves of crackly sound, rather than indulging the sterile, if streamlined reception, afforded by the likes of WhatsApp.
Two men holding on to old traditions doggedly but bemusedly - Bobby likes fixing clocks and watches, ancient timepieces. He  plays music in traditional sessions, and heads off in the car of a night to play the accordion in a pub in Bailieborough. There is a brilliant little sign in the pub - No Wi-Fi Here  - Talk to each other.
He used to make fiddles, there is footage of him on a Frank Hall Teilifís Éireann report, a younger, more debonair Bobby chatting about the craft. Things are taken lightly enough in the recall of events, the only dark passage is the one the brothers take to remember the third brother who died in England. Ernie's face darkens, he is still upset. Bobby spent years in London too, working at different jobs. There were girls. "Nothing bad about women or anything like that but I'd rather be on my own," he says, adding that it's not so easy to meet girls in rural Ireland.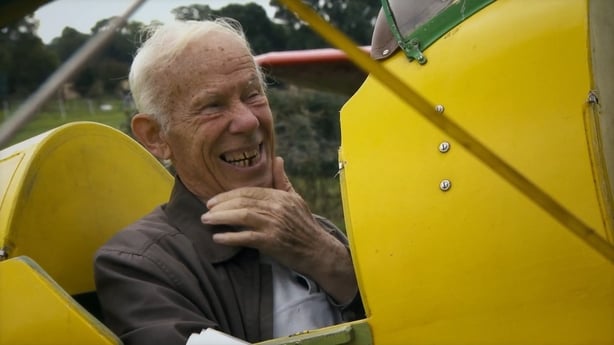 The long and the short of it, however, is that 82-year-old Bobby wants to pilot a plane. He has the cash to buy a microlight aircraft, he has been saving for about 13 years. What use is hoarding money? He wants to spend it, money will be of no use to him later on. What's more, he has his field of dreams in the parish of Maudabawn. A helpful neighbour, Seanie McBride, has mown a field cross-ways for the runway. There is even a hangar for the plane. This is no fly by night operation.
Ernie, a dedicated fly fisher, with a passion for songbirds, thinks the flying is a daft idea. What happens if Bobby tumbles from the sky? He prefers to stay on terra firma, to sit in and watch a Spaghetti Western, or trick around with a model helicopter. He is the more cautious or astute one. Meanwhile, despite setbacks, Bobby is determined to lift that microlight well above the drumlins and the rolling low hills.
We need your consent to load this YouTube contentWe use YouTube to manage extra content that can set cookies on your device and collect data about your activity. Please review their details and accept them to load the content.Manage Preferences
There is a ready audience for such singular even unlikely ambitions, it's part of an abiding curiosity about senior citizens, as evidenced by the documentary Older Than Ireland. The Man Who Wanted To Fly is a thoughtful, unassuming film about one man's ambition to take to the skies.
Bobby's late-flowering ambition is maybe a lesson to us all about things we would like to do and the obstacles we often let get in our way out of the comfort zone. "Clear the sky, the old man is coming," jests Bobby Coote as the fateful day arrives.
Paddy Kehoe
The Man Who Wanted to Fly can be seen in The Lighthouse and IFI, Dublin, Palás Ireland, Galway, Gate cinema, Cork, Odeon, Cavan, and it is also showing in regional arts centres around the country. The film opens on Friday March 29.
Read further on this remarkable film here