Creed II is twelve rounds of awesomeness – by the end of the 130-minute running time, viewers won't know what hit them.
Director Steven Caple Jr, taking over the reins from the great Ryan Coogler, is at the top of his own game, and orchestrates the franchise's trusty formula while standing on his own two feet.
Now a heavyweight champion, Adonis 'Donnie' Creed (Michael B Jordan) is taunted into fighting by Viktor Drago (Florian Munteanu), the hulking son of Ivan Drago (Dolph Lundgren) - the Soviet machine who killed Donnie's father, Apollo, during an exhibition match in 1985's Rocky IV.
A similar blueprint to previous boxing movies plays out as the grudge match unfolds: Rocky (Sylvester Stallone) refuses to coach Adonis, while Adonis struggles to focus as something eats at him from within. But don't be mistaken, Creed II is much more than a fist fight.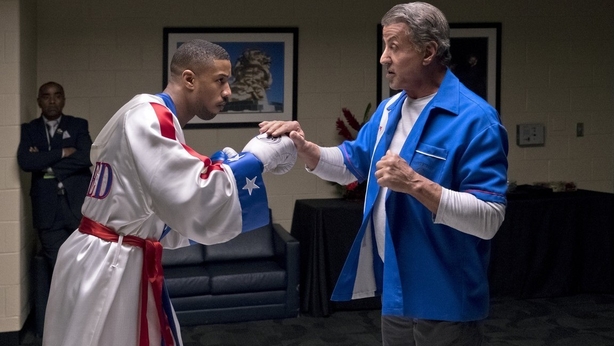 Co-writers Juel Taylor and Stallone respect Rocky Balboa's 40-year screen odyssey, and have created a rare sports movie in which we don't want to see either opponent lose.
The dialogue can be bruising in parts, and at times you can see the next jab coming, but the script boldly delves into the shadows of human morality and packs an emotional punch.
The beating heart of the movie comes from the combination of Caple's undeniably rousing direction, Jordan's magnetic on-screen presence, Tessa Thompson's vigour as Donnie's fiancée, and what might be the Italian Stallion's best performance to date.
Dolph Lundgren, who makes his first appearance as Ivan Drago since Rocky IV, gets a commendably meatier role, while newcomer Florian 'Big Nasty' Munteanu, a boxer and fitness model from Romania, brings rawness to the ring.
Grammy Award nominee Ludwig Göransson's (Creed, Black Panther, Fruitvale Station, Atlanta) score once again hits the right notes, pounding out well-crafted R&B and hip-hop, while weaving in iconic Rocky beats. The six-minute training montage track is Oscar-worthy.
Creed II is a knock-out – here's hoping the franchise doesn't throw the towel in anytime soon.
We need your consent to load this YouTube contentWe use YouTube to manage extra content that can set cookies on your device and collect data about your activity. Please review their details and accept them to load the content.Manage Preferences