Edie (Sheila Hancock) has dutifully nursed her husband George for 30 years following a stroke. Now that George has passed on, she wants to fulfill a lifelong wish to climb Mount Suilven in the Scottish highlands.
Thus begins a passage of reflective looking back. Edie still keeps the old postcard that her father sent many years before, after he had climbed to the summit of Mount Suilven in the Scottish Highlands. The affectionate, pithy wording had urged her to climb the mountain herself sometime.
83-year old Edie - short for Edith - never did get that chance, although she has cherished the desire all her life. Her marriage, though it yielded a daughter, was dutiful, functional, her husband denied her freedom and affection, nipped in the bud her desire to climb the mountain. In her newly widowed state, the idea begins to ferment that now, with no one there to protest, she might climb this mountain and fulfill the dream or obsession.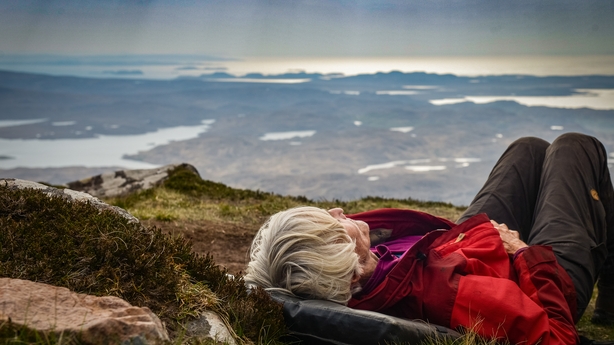 After a futile and depressing stay in a rest home, arranged by her daughter, she makes a run for it on a Northbound train from London. In Inverness she happens upon Jonny, a young man who is curiously driven to help her despite her crankiness and suspicion.
It is almost as if Edie is going to help him learn something about himself – did Edie remind him of a grandmother, did he recognise in her ambition some loved one's dream?
Did Edie's project at a risky age chime somehow with something from his past? In any case, I found myself wondering as much about John's motives as I did about Edie's. He drives her to the Lochinver area where they contemplate conquest of the mountain, a risky thing indeed for an 83-year old woman to contemplate. Cue spectacular mountain scenery, desolate moorland, the Scottish Tourist Board must be happy.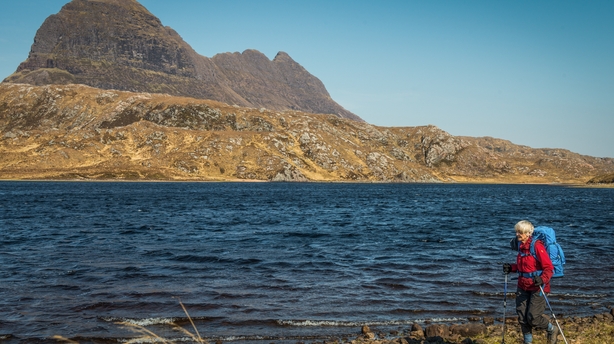 Thus is forged an unusual bond between the young man and the old woman. Ultimately Jonny does not want the money which she forces on him, he sees only her dream and wants to help her with his similarly obsessive drive. Both are strong-willed personalities, Jonny is fiery, determined, she is essentially the same. Edie is determined to pursue the dangerous trek and climb in desolate wilderness, haunted by the memory of her father and finally doing something for herself.
Despite some gaucheries and instances of stilted dialogue, the core premise of trying to become intimate with your father's ghost while engaging in a bit of self-realisation before it is too late supervenes. That dynamic keeps the film somehow real and affecting. Is John the son she never had? Is he the caring male who, if he wasn't more than half her age, could have been the Mr Right she never met?
Edie leaves these charming possibilities lingering and trembles with a poignant sense of mystery and loss. It is indeed a film which augurs well for Galway writer, Elizabeth O'Halloran, in the realm of screen-writing and perhaps in fiction too.
Read Elizabeth O'Halloran's account of making the film here