Alan Gilsenan's adaptation of Carol Shields' final novel Unless has the delicate touch and the humanity that characterise his documentaries. Yet somehow one is left wanting more, and thinking too that Gilsenan's screenplay should have been based on a stronger novel.
We are in surburban, snowy Toronto and two decidedly middle-class parents are suddenly challenged by bad news. Dad, Tom Winters (Matt Craven), is a doctor, mum, Reta Winters (Catherine Keener), is a novelist. One of their three daughters, Norah (Hannah Gross) has dropped out of college and is sitting outside a bargain emporium on a sidewalk downtown. She is holding a piece of cardboard bearing the single word 'goodness'.
The impact of this disturbing news, particularly on the mother, is wonderfully enacted, the attractive, brooding score enhancing the sense of emotional upheaval. The family must come to grips with the young girl's absence, it is like a death, they suffer a kind of bereavement. They visit the girl who remains mute, unresponsive. They try to persuade her to come home, they sit beside her on the sidewalk. Yet each of them fail to get into her zone, as it were, not to mind getting her to talk.
The family also bring her food, which we never see her eat. They bring along the cuddly toy she once cherished, hoping it will provoke some light in those expressionless eyes. They discover she lives in a woman's shelter in the city, they visit the shelter.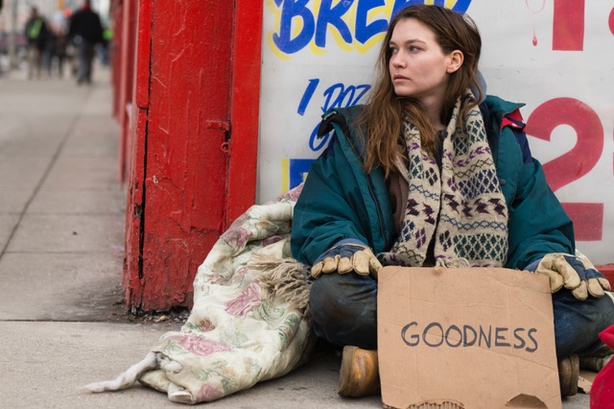 The family are deliberately kept in the foreground, everybody else becomes secondary. A kindly neighbour makes an ill-judged observation about the daughter's begging, although in her catatonic state, Norah is not actively pan-handling. A pushy journalist (Brendan Conroy from Downton Abbey) asks Reta a few clichéd questions about her writing when what he really wants to talk about is the daughter - word has got around.
Meanwhile, Reta's new editor at her publishing house meets her to discuss the novel she is working on. Both journalist and editor are depicted as cyphers, and their speech is made to seem like they are talking over Reta's replies, which are truncated in the editing as though it were all a charade. Technically, that editing ploy is a rather heavy-handed device, and the depiction of both these ancillary characters as people with no real presence is ineffective. are people too and one has to be careful how to portray them. Journalists and editors should have been given as much credibility in their cameos as Gilsenan bestows on his principal characters on the longer stretches.
The veteran German actress Hannah Schygulla makes a perfunctory appearance as a celebrated author talking, in fact, utter nonsense. Her cod therapy observation on Norah's plight only increases Reta's confusion as she grapples with rescuing her daughter. In her heyday, Schygulla was the shining star of some great films made by the the late German auteur, Rainer Werner Fassbinder. Your writer never thought he might have to describe Hannah Schygulla as 'veteran', but veteran she clearly is in the year 2018 and time rushes on.
An impressive but occasionally flawed film, Unless opens in Irish cinemas on March 16
We need your consent to load this YouTube contentWe use YouTube to manage extra content that can set cookies on your device and collect data about your activity. Please review their details and accept them to load the content.Manage Preferences