Christian (Claes Bang) is the museum director who ends up in serious trouble in Ruben Ostlund's The Square which was pipped to the post for Best Foreign Film by A Fantastic Woman at the Oscars. File under 'ho hum' or 'much ado about nothing,' although it is engrossing.
It all begins with the wealthy museum gallery director Christian, whose phone, wallet and cuff-links (yes) are stolen in a three-person scam in a public square in Stockholm. Christian is on his way to work and having arrived there eventually he is more amused at his carelessness than angry. In fact you could say he almost admires the ingenuity of the scam.
So he sets about recovering his belongings and discovers on his computer that his phone is pinging at a certain address in the Swedish capital. He and his assistant, Michael (Christopher Læssø), a young man of African or Arab origin, team up as impromptu detectives. They print out 50 copies of a letter in which the dapper museum director threatens violence on the resident of the block of flats in question hoping to target the robbers.
In a laborious, painstaking and faintly ridiculous exercise Lars and Michael drive in Lars' high-powered model to the flats in question, loud music blasting from the speakers. Omar backs out of doing what he said he would do i.e distributing the letters, so Christian must distribute the letters himself. He explains to Michael that he is a semi-public figure, asks for a lend of his jacket to disguise himself and begins the distribution job inside the building. The letter instructs that his belongings are to be returned to a nearby 7/11 store.
That is just one strand in what is a fantastic, disturbing tale that enjoyed a significantly bigger budget than Ostlund's previous film, Force Majeure. In that film, a father and husband in survival mode runs away from a restaurant, abandoning wife and children as an avalanche threatens the lives of tourists at a Swiss ski resort. The sudden decision has serious consequences, albeit in the sphere of one family only and the few friends who hear about dad's careless or unthinking action.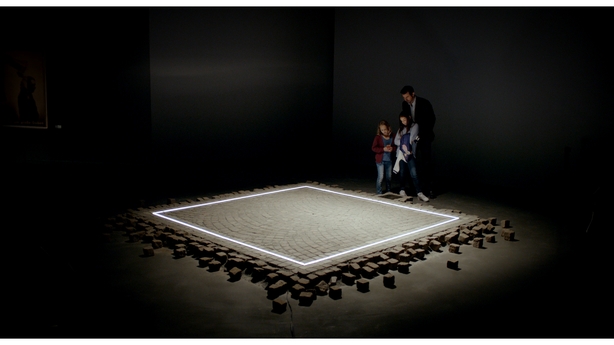 There is a more public air about The Square, decisions have wider consequences. So Ostlund Is interested in comedy of the absurd and there is plenty of that on offer in The Square - the eponymous public place is to be transformed as an ambitious art installation as the film begins. However, this, civic-spirited museum project will be threatened by everything that can possibly go wrong, basically because in the end of the day because people are just too complicated to be overly civic-spirited.
There are truly disturbing scenes, like the posh dinner that is ruined by a demented performer who feigns a four-legged beast, stripped to the waist. There is a Youtube clip featuring a particularly nasty explosion, devised as an ill-judged PR exercise, which backfires terribly. Or does it after all? The marketing campaign pushes the boundaries far, but it is a moot point whether much of the public offence caused is genuine.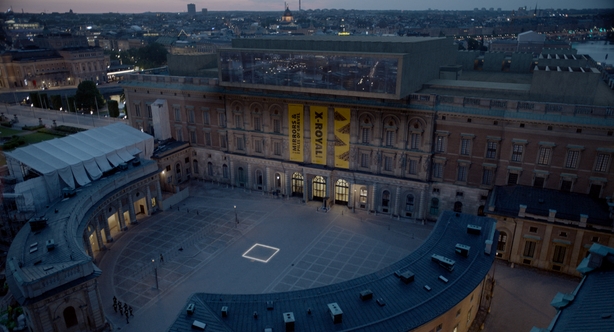 Dominic West (The Wire, The Affair) plays Julian, an American artist while the truly brilliant Elisabeth Moss (Mad Men) plays a flaky journalist who wreaks her own squirmy revenge on Christian for sleeping with her and moving on. Christian is estranged from the mother of his two daughters who have to endure as best they can all this dysfunction and dystopia.
Like his fellow Scandinavian Dogme gang, and like Michael Haneke, Ostlund wants to fabricate a moral tale about racial tension and prejudice, the class system, the lies we tell ourselves, the self-protective caution that makes some of us shut out the poor and marginalised.
Why in the end though does this film seem just over the top, just too sensational, too diffuse about its motives and kind of shallow? I had the same feeling at the close of Haneke's most recent movie, Happy End. The Square is a wild, restless film which was tipped for Oscar glory, but A Fantastic Woman , which actually won the Best Foreign Film gong, is the superior work. Ultimately, the philosophy at play is just too shallow and simplistic.
File under 'addictive sensationalism' or 'sophisticated, accelerated soap,' as well as, er, 'ho hum' and 'much ado about nothing.'
Paddy Kehoe
We need your consent to load this YouTube contentWe use YouTube to manage extra content that can set cookies on your device and collect data about your activity. Please review their details and accept them to load the content.Manage Preferences